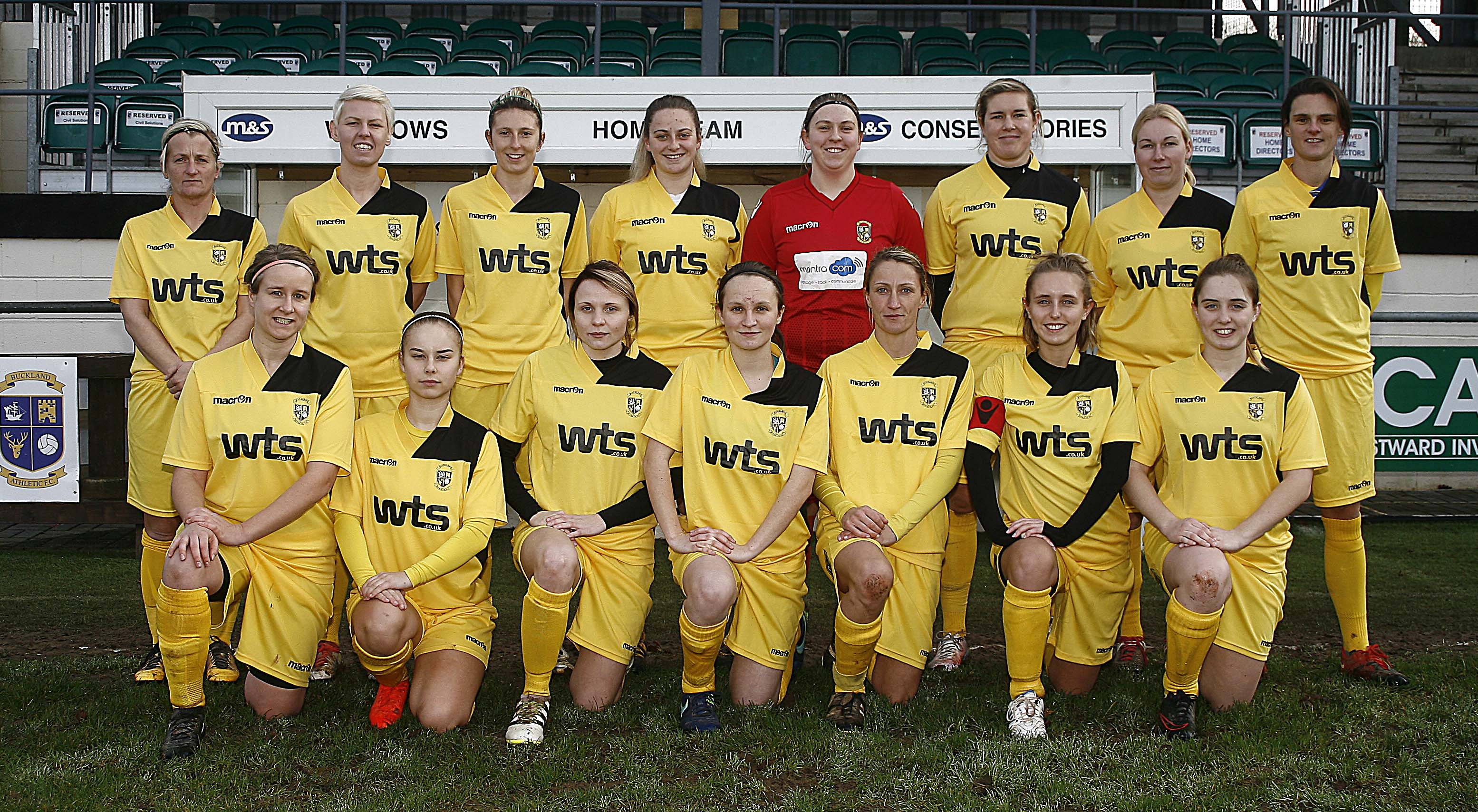 New Year Special Feature 3/4: Dreaming Big at Buckland LFC
In Part 2 of our four part New Year's special feature, we focused on Buckland Athletic as a football club and how ladies team manager Grant Fisher and captain Maria Warman feel the club has supported what they are trying to achieve .
Part 3 looks at exactly what those overall ambitions are and why creating a means for progression through the club may be pivotal to bringing that dream to fruition.
With Buckland Athletic LFC sitting comfortably at the top of the South West Women's League Western Division and almost certain to be promoted to join Torquay United in the Premier Division next season, the Yellows are yet to find their level. The next step up would be the Women's Premier League South West Division One and they have already had a taste of competition at that level with their FA Cup and County Cup ties against Keynsham Town and Exeter City respectively, the first ending in narrow defeat, the second seeing Buckland make it through to the semi-finals (where they will play another Premier League side – Plymouth Argyle – on 22nd January).
So how far could Buckland Ladies ultimately get. Fisher's ambitions are about as lofty as they get:
"The dream for the team and the football club is that we get to the top and become a Women's Super League side," Fisher revealed. " People laugh and doubt it but with the facilities we have at this club, the backing we have from the committee and the various sponsors we have there is no reason why we can't become a very, very good established side in the women's football pyramid. Doing it week in, week out will be our hardest task but our real ambition is to strive to be the best and to get into that Super League."
To achieve his ultimate dream, Fisher believes that building a pipeline of talent through the club from the youngest age groups right through to the women's first team is vital. It is something he is endeavouring to bring into Buckland Athletic with the introduction of two more junior sides next season to complement the existing Under-12 girls' team.
"It's about us giving a progression to girls right the way through to ladies," explained Fisher. "I think there's fabulous players in Devon across the whole of Devon. You look at Plymouth Argyle at the moment, they're doing well in their league; Torquay have got a side; Exeter have got a side; Plympton have got a side. What I fail to see is progression from youngsters right the way through to adult ladies football and that's what we want to provide.
"It's not about necessarily having the best talent always but we want a team culture, give the girls great coaching and try and progress players into our first team. Part of the dream is that we create our own players every season. I struggle to find teams that progress their own players; they take from here and take from there but we want to try and change that to make it that they join us at ten and they finish with us at 40.
"That is again part of the big dream and the big picture."
First team captain Maria Warman is also convinced that building such a progression is the way forward.
"I think it's massive because we have some girls in their thirties and they're not going to be playing forever and they know that. They're brilliant players and they're experienced so you need those younger girls coming up, playing with those older girls, absorbing that experience, watching them, envying them and wanting to be like them.
"I think the earlier on you get that, the better player you are going to be in the long run because you're learning from such a young age and you can absorb it all and take that into your later years. Over the years it will build a really firm, strong core of players.
"On the development side, we've had a few girls that have come up and played with us and the younger girls train before us and we get to stay and watch them. So for a club, if you're going to keep going and keep expanding, especially if you want to move forward, development really is one of the key things. If you don't have that the team falls apart really doesn't it? If you lose those experienced players and you've got nothing to back them up with you end up falling because you can't even pull 11 girls together to play football so it's huge."
The men's team, with three adult sides and numerous junior teams, are already reaping the results of such club progression and by building a similar structure into the women's set-up Fisher is hoping the club can benefit from the growth in the women's game.
"There is no doubting women's football has come on in leaps and bounds," re-iterated Fisher.  "Every season women are becoming better, stronger and more physical and I think that's shown in the women's game with England doing really well.
"I think in time as more money comes into it and teams have better facilities, better organisation, strength and conditioning coaches, etc., they will get better as we've seen in the Super League with Man City and teams like that; it's a real professional set up now and that's all for the better of women's football."
If you are a girl or woman looking to try something new in 2017 then you will want to read our final part, released tomorrow, where we speak to captain Maria Warman about her views on the changing attitudes towards women's football, the benefits of joining a club like Buckland and how to overcome those initial worries. To find more about the set up at BALFC contact Grant Fisher on 07533 861064 or email [email protected]