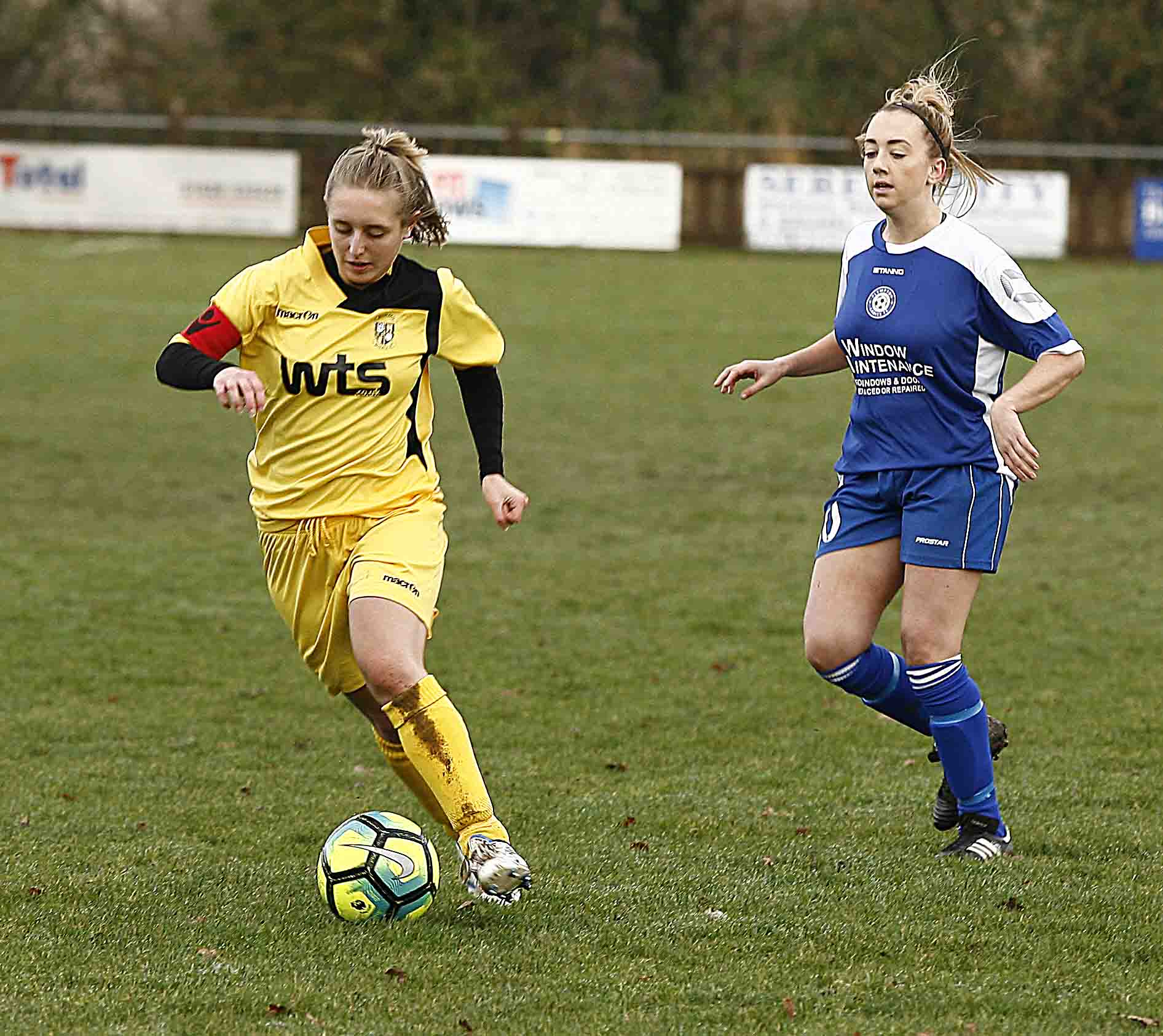 New Year Special Feature 4/4: Why Join BALFC? A Skipper's Perspective
In Part 3 of our four part New Year's special feature, we heard from Buckland LFC manager Grant Fisher about his Women's Super League dreams and how important it is to ensure progression through the age groups.
In our final part we speak to first team captain Maria Warman about changing attitudes towards women's football, the benefits of joining a ladies football team and what to do if you feel a bit unsure.
Described as a 'high tempo midfielder, full of energy who will run for 90 minutes and beyond,' Maria Warman (pictured) arrived at Buckland Athletic part-way through last season and now captains the side. Having enjoyed playing football since Primary school, Warman recommends giving the sport a go:
"It teaches you to work in a team, it teaches you to talk to one another, it helps your confidence and obviously keeps you fit," she said.
"Most of my friends that I used to play football with at school ask me why I still play but I genuinely love it. It keeps me fit, it keeps me active, the social aspect of it is great; it's just something that I can't imagine not doing."
As mentioned in yesterday's article, Warman is supportive of the club's plans to develop its own players in the long-term by adding more girls' teams to the existing set-up.
"You can start at Under-12s and progress all the way up. From 16 you'll be able to play ladies football and we're going to be pushing up to try and play higher level football.
"Come along! You'll make friends. I've got friends here for life and it just becomes a massive part of your life. If you're interested in sport and you like football come to Buckland!"
Of course, starting something new is always a big step to take, particularly if you have had bad experiences in the past. Warman has some advice for women and girls who may be lacking a bit of confidence about their abilities:
"The first thing is to try and forget that feeling," she says. "Don't come in with a negative mindset. Try and just come in and think this is something new and I'm going to give it a go and go from there.
"You can't help it if you have bad experiences but there's always a way around it. If you do have a bad experience you need to speak to someone and then you try and find a way to resolve it."
Some girls may have experienced discrimination when training with boys and this is something that Warman can definitely relate to:
"I used to go to tournaments and I was the only girl playing in a boy's football team," she said. "I did find it difficult at times but then they saw that I could play football. I just think we've still got two feet and two legs, just like a boy does.
"The main thing is not to go in thinking, 'I'm not going to enjoy it,' or, 'they're going to pick on me.' Go in with a fresh mind to try and enjoy it because that's the bottom line; you have to enjoy what you're doing. I wouldn't play football if I didn't enjoy it so that's probably my best advice."
Some women may have been put off in the past by the enduring attitude that football is a men's game but according to Warman that viewpoint has changed a lot in recent years.
"I've always said that I wanted to change the perspective that a lot of people have that girls can't play football but really that has probably changed a lot in the last year," she revealed. "Since I've been playing that is slowly going. We get some of the men watch us here. We go out and play for the first team and we get a lot of support from them. Me and my sister (Natalie) play five-a-side tournaments with men and sometimes you can see them at first thinking, 'oh, it's two girls.' But when we start playing they realise we can play football.
"It's never going to be quite like men's. Men are built differently and their aggression is different but that doesn't mean to say that we can't play and we can't put on a good performance like a men's team can.
"It's good that women have finally got professional teams; they're finally having full time jobs as professional footballers. That was the turning point and that's what we still want to try and push."
On a community level, the team were given a boost when they scooped the Senior Team of the Year award in December's Teignbridge Sports Awards, an accolade presented 'in recognition of a team who have achieved local, regional, national or international success within their sport.' Warman has noticed the growing recognition when out and about and also in terms of match attendances:
"I think a lot of people know who we are. Someone approached me the other day and said, 'you play for Buckland!'
"We had a game up here and I think we had a really good turnout, maybe 150 people. We're playing Argyle in January which we're hoping will fill up as well so it's just getting the recognition, getting the support of the community behind us, really trying to drive and get to a place where Buckland Ladies have never got before.
"We're the start of a club so we're setting a precedent for all the girls that are going to come up after us in the years. Hopefully they can keep pushing the club forward."
Everything is certainly heading in the right direction on the pitch, with Buckland Athletic LFC looking to make it ten out of ten in the league next Sunday as they travel to Plymouth side Activate.
"We had quite a few players who joined us in the summer from a very good standard of football and to attract those sorts of players was special for us," said Grant Fisher, manager and head of ladies and girls football at Buckland. "But they have become a team and gelled superbly and we have become very, very strong. The team spirit and the club spirit is something that I've never had anywhere else since I've played football. It's special and it keeps all the girls involved and they want to play for the football club which is the biggest thing for us."
If you are a girl or woman looking to try something new in 2017 and want to find more about the set up at BALFC contact Grant Fisher on 07533 861064 or email [email protected]