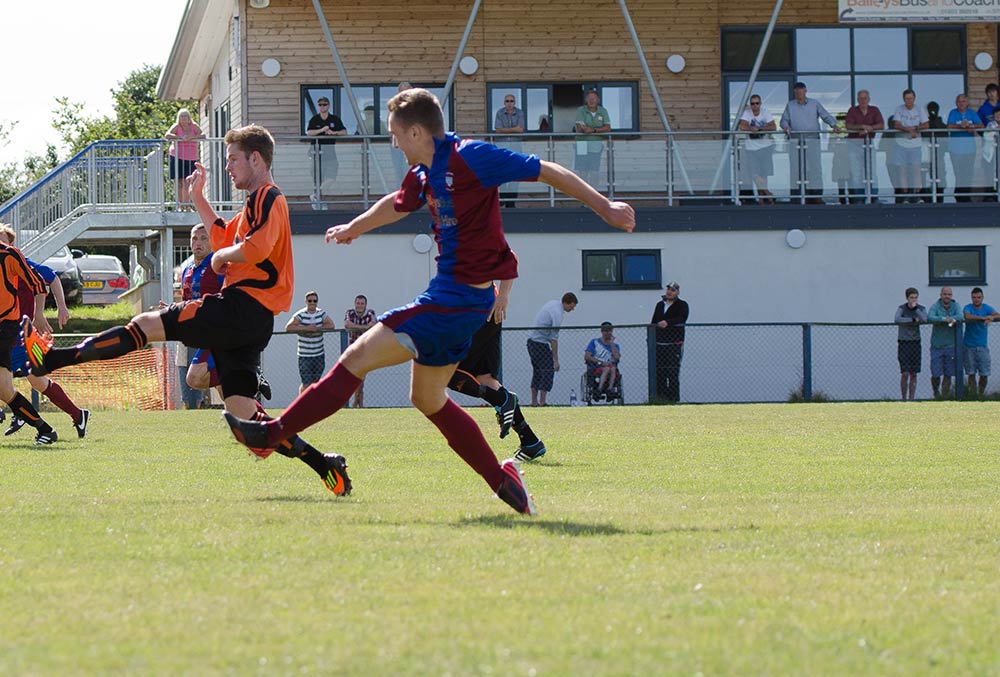 SDFL Round Up 17th – 26th April
Two wins in three days saw Ashburton climb back to the top of the Premier Division but Thursday night's loss at Watcombe disrupted their title charge. The Ashes finally retook pole position from Kingsteignton Athletic the previous Thursday night by beating Paignton Villa 2-1, Damien Francis Furnivall and Jamie Orchard with the goals. They added another three points on Saturday with a 3-1 victory at Roselands, Josh Moore with a double and Jordan Kewell with the other goal; Sam Millen found the net for Roselands. But a double by Chris Srdinko (including one penalty) and a Cieran Bridger goal saw Watcombe reign in the leaders and pull themselves to within five points of Waldon Athletic in third.
Kingsteignton Athletic remain in second place after a four goal blast from Toby Pullman led them to a resounding 8-1 win over Ivybridge Town Reserves on Saturday; Callum Leech, Ross Beer and Connor and Brad Crocombe also weighed in with goals. Substitute Christopher Winters scored for the Ivies who had picked up their first win of the season in midweek by beating Kingskerswell and Chelston 2-0, Patrick Kendall and Jack Maddock with the strikes.
Waldon Athletic fell to only their second league defeat of the season away at Dartmouth AFC last Sunday afternoon. Chris Harrity put Waldon ahead in the second half but three Danny Rushe goals, two headers and a penalty, turned the tide. The Clarets were then held to a 2-2 draw on Tuesday evening as Srdinko scored a double for Watcombe at Windmill Hill, one of them a penalty. Despite these setbacks, the Clarets still have three games in hand over the Rams as Kingsteignton and Waldon battle for the one promotion spot to the South West Peninsula Division One East.
Watcombe's George Belli Cup semi-final match against Buckland Athletic Reserves was abandoned due to injury but they have picked up eight league points from their last four midweek games. Prior to the Ashburton and Waldon games they travelled to Upton Athletic last Tuesday night and edged that game 3-2, Bridger on target along with Owen Stockton and substitute Shane Isaac. Buckland then held them to a 3-3 draw on the Thursday. Kofi Shaw scored twice and Jordan Ewing once for the Yellows while the Greens' goals came from Bridger, Srdinko and an own goal.
Sandwiching their win over Waldon, fifth-placed Dartmouth have completed a league double over Brixham AFC Reserves. They won 5-1 away on Wednesday evening thanks to a Lee Morgan brace and singles from Jordon Frost, Ben Greeno and Danny Rushe. They also beat the Fishermen 4-0 the previous Wednesday evening with goals from Morgan, Robbie Chalk, Freddie Smith and Cameron Webb. That same evening, East Allington managed a 4-1 victory over Roselands, Simon Hannaford with a brace and Dan Hurrell and Andy Davis joining him on the scoresheet; Ryan Frayne got Roselands' goal.
Mark McGregor stepped up from the reserves to score the only goal of the game as Upton defeated East Allington on Saturday. Upton, who also won 3-1 at Paignton Villa on Thursday night, currently edge the Pirates out of the top six despite East Allington's 6-3 triumph away to Roselands on Wednesday night. Hannaford scored another two, as did Davis, with Andrew King and Fred Massey also contributing. Frayne netted another two goals for Roselands with Daniel Pagett scoring the other home goal.
Buckland Reserves picked up another three points on Tuesday night with a narrow 3-2 home win over Kingskerswell and Chelston. James Moxon doubled up for Bucks with Shaw adding another from the bench. On Saturday, 'Kerswell had also fought out a 3-3 draw with Paignton Villa at Kingskerswell Playing Fields with Mark Tobin scoring twice and Jamie Chamberlain once for the hosts.
After having gone 11 league games without a point or a goal, Loddiswell Athletic collected three of each as they won 3-1 at Ivybridge Town Reserves on Thursday night. Mark Edmonds, Connaire Sheridan and Stuart Thorns were the visitors' goalscorers.
Harbertonford are back in charge of Division One after two important wins in five days. A 5-0 triumph over Babbacombe Corinthians on Saturday saw them climb back to the top of the table, Steve Sutton with four goals and Daniel Bovey the other. Then, on Wednesday evening they took a big step towards the title by overcoming Totnes and Dartington 2-1, Sutton with another two strikes and James Soper with a goal from the bench.
As for Tots, they have only managed one point in three games. They went down 3-1 at Salcombe Town on Saturday, Charlie Barnes with a brace and Ashley Yeoman with another strike; Daniel Block pulled a late goal back for Tots who had also been held to a 1-1 draw by Buckland Athletic Thirds the previous Tuesday night. Finn Roberts scored on that occasion with Robert Heaps netting for Buckland.
Chudleigh Athletic are back up to third after a 1-0 victory over Salcombe on Wednesday evening, Matthew Carroll with the winner. Beesands Rovers' Finley Bullen scored all four of his side's goals as the Bees defeated Ipplepen Athletic 4-2 on Saturday to move into the top three albeit only for a few days. James Morris and Dan Steer hit back for the Pens. Goals from Jamie Micklewright, Billy Reay and Sam Winstanley saw Paignton Saints take all the points away at Stoke Gabriel Reserves to stay hot on the Bees' tails.
Completing the top six are Newton Abbot '66 following their 4-2 home derby win over Newton Abbot Spurs Reserves on Wednesday night, goals from Spurs' Sam Hancox and Joel Patchett not enough to prevent the loss. It was the first points in three games for the Sixes. Tom Lowe scored at home to Buckland Athletic Thirds on Saturday but Danny Harry's doubled and an Owen Coldwell goal saw Bucks win 3-1. Babbacombe Corinthians hosted them at Armada Park the previous Wednesday. That game ended 2-1 to Corries, Carl Johnson and Samuel Swann scoring for the home side and Matt Clenahan hitting back.
Watcombe Wanderers Reserves enjoyed their third successive league win a week ago last Thursday. Sam Pyne scored a hat-trick and Charlie Cuss and Sean Finch singles as the Greens defeated Buckland Thirds 5-2, Joe Constantinou with both of Buckland's goals. Constantinou saw red on Monday night, picking up two yellow cards against Newton Spurs. A Ryan Fawden own goal settled that game in Bucks' favour though. Ipplepen secured a second win of the month on Wednesday night as they beat Babbacombe 2-1 away.
After numerous postponements, the last of the divisional quarter-finals was resolved as Bovey Tracey Reserves won 5-0 away at Riviera United in the Lidstone Cup. Lewis Perring was another four goal hero with Lee Pascoe also making the scoresheet. Bovey will play Broadmeadow STFC on Saturday for the right to take on Torbay Police in the final which is scheduled for Friday 4th May at Stoke Gabriel FC.
Bishopsteignton United Reserves head the Division Two table as their season heads towards the finishing line. Kingskerswell and Chelston Reserves put two past them on Wednesday evening, Ash Beetschen and Matt White scoring, but Bishops hit four to claim the points. 'Kerswell had picked up six points in their last two games, Beetschen's goal enough to win the previous Wednesday's home tie against Kingsteignton Athletic Reserves and Hookhills pulling out of their home fixture on Saturday.
The chasing pack all have multiple games in hand over Bishops. Bovey Reserves are currently second. A single Perring goal won them the points in an important game at Torbay Police a week ago last Thursday but their four game winning streak ended on Wednesday night as they were held 2-2 at Whiterock by Hookhills United, Perring and Fice with the goals in a game United may feel they deserved to win. Third-placed Broadmeadow drew 2-2 with Riviera United on Monday night. James Parker and Ben Towler scored for the home side, who also lost Calum Ford to a red card. Jai Campbell and Josh Hall were Broads' goalscorers. Parker also scored twice for Rivi on the previous Wednesday night as they edged Hookhills United 3-2, Stephen Rohan also on the score-sheet.
Torbay Police hit Liverton United Reserves for nine in a commanding performance at Galmpton War Memorial Ground on Saturday. Max Prestwood added four to his season's haul, Bobby Chancellor hit a hat-trick and Martin Luker also contributed a goal.
Barton Athletic, who won the Les Bishop Cup last season, have now made the Ronald Cup final. Goals from Lee Henriques, Anthony Jones, James Thomas and Liam Young saw Barton dispatch Chudleigh Athletic Reserves 4-1 with Chudleigh's goal a Barton own goal. With Dartmouth AFC Reserves falling foul of a cup rule, Ashburton Reserves have been reinstated into the final.
Division Three leaders Meadowbrook Athletic will hope to have got over their wobble. Following two defeats in a row, Brook made amends with a 4-0 win over Ipplepen Athletic on Saturday. Chris Fry scored twice with Matthew Evans and David Topham completing the quartet. Waldon Athletic Reserves are up to second after picking up five points in two games. They enjoyed a 3-1 home win over Teign Village a week ago last Wednesday before holding Harbertonford Reserves to a 1-1 draw on Saturday, Mark Hancock with the Fords' goal. Matthew James and James Sandbrook scored for Roselands Reserves on Monday night but Waldon also scored twice for another point. Abbotskerswell are the division's form team with another three victories to bring their winning stretch to five. Dexter Allsworth, Luke Breyley and sub Aaron Langley saw the Abbots defeat Chudleigh Athletic Reserves 3-1 away the Wednesday before last, Robert Cook with Athletic's consolation. Next came Saturday's 2-1 success over Dartmouth AFC Reserves followed by another 2-1 triumph at Fords on Tuesday night. Cameron Fewings and Thomas Hanley struck for Abbots in that game with Sam Passmore notching for Harbertonford who also drew 0-0 at home to Upton Athletic Reserves a week ago last Thursday. Abbotskerswell replace Fords in the top three with Ashburton and Chudleigh completing the top six. The Ashes romped to an 8-2 victory at Teign Village on Saturday, Sam Dicken with four goals, substitute Daniel Grute with two and Mitchell Murphy also among the goals; Dean Kelly and Daniel Martin bagged goals for the home side. Upton Reserves picked up another three points on Tuesday night with a somewhat surprising 2-1 win over Barton.
Bill Treeby Cup holders Bishopsteignton United Reserves are also in another divisional cup final although Paignton Villa Reserves pushed them all the way in their Les Bishop Cup semi. Lee Grimshaw scored twice and Alan Stuckey once for Bishops in a 3-3 draw. With no further goals in extra-time, Bishops finally made it through 4-3 on penalties. They will play East Allington United Reserves who squeezed past Riviera United Reserves 1-0 courtesy of a Chris Jebb winner.
In Division Four, leaders Dittisham United picked up their first league win in three in an eight-goal thriller with Torquay Town. Stephen Rowden struck twice for the Plums who also found the net through George Besley, Alister George and substitute Joe Doyle, winning 5-3. East Allington Reserves could scoop the double this year. They won another two games on top of their cup victory and are pushing hard in second place. Matthew Duffy's goal won them the game a week ago last Thursday with hosts Babbacombe Corinthians Reserves having Connor Charlesworth dismissed. A week later, The Pirates scored two without reply at home to Bishopsteignton United Reserves, Chris Jebb and Zacq Standish firing home. Paignton Villa Reserves complete the top three after picking up six points in their last two maches. A week ago last Wednesday, Zach Norton and Stuart McAuley struck in a 2-1 win over Kingsbridge and Kellaton United with sub Isaac Westlake scoring for United. On Tuesday night, goals from Ciaran Farley, Stephen George, Samuel Woodcock and Jamie Silvester, from the bench, contributed to a solid 4-0 home win over Newton Rovers. Riviera United Reserves' cup exit was compounded by a narrow 4-3 home loss to Bishopsteignton United Reserves a week ago last Tuesday. Zac Chancellor, Garry Drew and Shane Essam kept Rivi in contention but Bishops claimed the points thanks to goals from Jack Davies, Lee Grimshaw, Alan Stuckey and substitute Christopher Parker. A week later was a different story with Riviera storming to a 6-1 victory over Babbacombe Corinthians Reserves. Drew managed a double as did substitute Daniel Callaghan with Chancellor and David Tucker completing the rout. Corries did earn a point on Saturday though, Connor Charlesworth and Liam Bartlett on target against Newton Rovers who scored through Antony Smith and sub James Carnell to hold onto their top six spot. Babbacombe drop to the bottom of the league due to Kingsbridge and Kellaton being awarded a home walkover over Newton Abbot ' 66 Reserves.
Stoke Fleming and Strete made their first ever SDFL final by beating Barton Athletic Reserves 4-1 in the Bill Treeby Cup semi-final, Sam Bruckner and Sam Quick with braces apiece. They will take on Watcombe Wanderers Thirds who ended Ilsington Villa's fine cup season with a 3-1 victory at Long Lane. Joshua Clarke, Charlie Cuss and sub James Tozer scored for Watcombe with Michael Tapp, from the bench, on target for Villa.
In Division Five, it looks like any one of four could take the title. Paignton Saints Reserves currently lead the way after beating Chudleigh Athletic Thirds 3-1 away on Saturday. Matthew Furness scored twice for the leaders and Ian Simons added his name to the score-sheet; Gareth Hammon was awarded Chudleigh's goal. Watts Blake Bearne are a point behind with a game in hand, goals from Cameron Gill, Gregorie Grange-Rogers, Daniel Martin, Ashley Skinner and Samuel Stowell helping them to a 5-1 triumph away at Newton Rovers Reserves who scored through Nathan De'Ath. Barton Athletic Reserves complete the top three but fourth-placed Watcombe Wanderers Thirds have the title in their own hands; neither side played in the league this week. Ilsington Villa kept their faint title hopes alive with a 3-0 win at bottom club Newton United Reserves on Tuesday night. Michael Tapp, Daniel Uglow and Ryan Wills scored Villa's goals. Broadhempston United walloped Chudleigh Thirds 7-1 away a week ago last Thursday. Jack Salmons' lone strike was drowned out by braces from Dean Barter and Sehena Coulibaly and singles from Daniel Cooke-Thomas and Shaden Gagg.
(News article supplied by Neil Hocking)