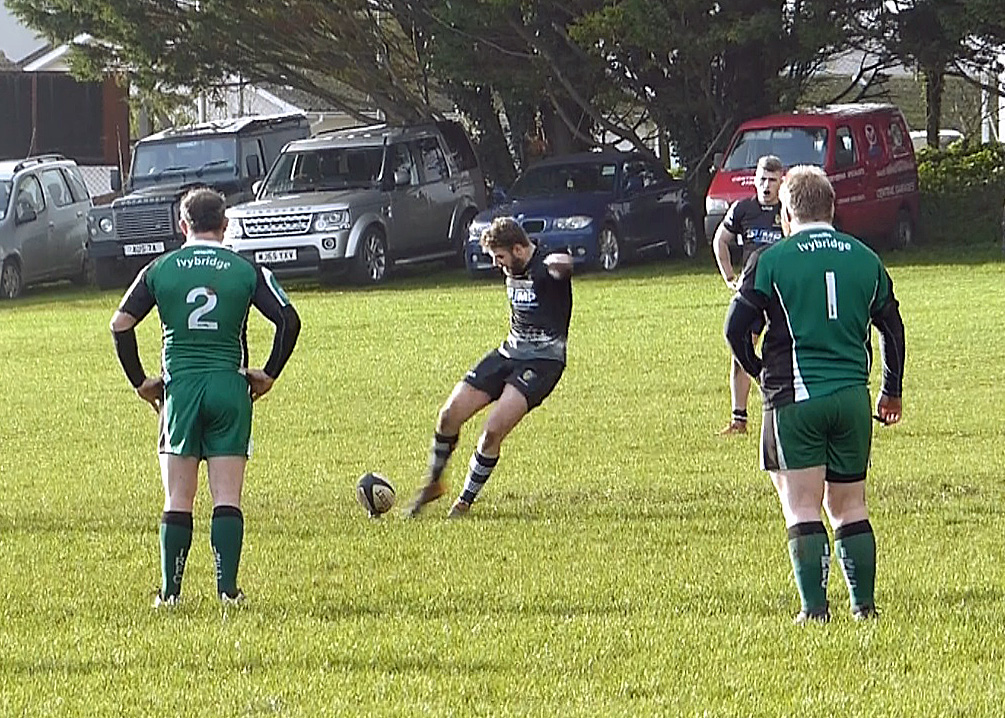 Rugby – Brixham 12 Ivybridge 13
The end of the first half of the season brought Ivybridge to Astley Park for a typical local derby – full of passion and with the result in doubt to the very end.
With a strong wind blowing down the pitch this was always going to be an important factor to the game and Brixham had the elements in their favour in the first half.
Two penalties from the boot of former Ivybridge player Mitch Pinkus in the first five minutes gave the Fishermen an early lead and a third followed when the Ivybridge captain queried a refereeing decision.
Brixham should have scored a try after Harrrison Cully broke through in front of the grandstand but unfortunately the final pass went astray and the chance had gone.
In the 27th minute the Fishermen extended their lead to twelve points with another penalty from Pinkus but the home side were having difficulty breaking through the Bridgers defensive line and in the driving rain that was now sweeping in, conditions were becoming more and more difficult.
Brixham carried the 12-0 lead into the interval, but the question was whether this would be enough to defend with the visitors having both wind and slope in their favour for the second half.
As expected the Fishermen were soon on the back foot. Ivybridge missed a penalty that would have got them on the scoreboard and then had a try disallowed – held up over the line.  Further attacks by Ivybridge brought another converted penalty.
With the visitors dominating territorially Brixham were mostly defending and attempting to gain yards the hard way – with multiple phases of possession – but the hosts made little headway.
Just over 15 minutes to play and Ivbridge missed a second penalty but ten minutes of play later culminated in a lineout for the visitors – the catch and drive brought a converted try and the Brixham lead was down to just two points.
With time running out, a long series of phases took Brixham upfield, but eventually possession returned to the visitors and a long kick upfield put them back into an attacking position.
Two minutes of attacking play for Ivybridge against the Brixham line, went unrewarded and the visitors  eventually tried a backs move that was so nearly intercepted by the Fishermen but a deliberate knock-on gave Ivy the penalty.
Despite the resoluteness of the home defence, it had not been able to defend the lead and with the last kick of the match Ivybridge sealed the narrowest of victories and ended Brixham's undefeated record at home this season.
Next up for the Fishermen is another derby, this time away against near neighbours Newton Abbot on Saturday afternoon.