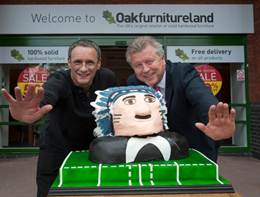 Chiefs Mascot Gets a Tasty Tribute
Big Chief, the mascot of Anglo-Welsh Cup holders Exeter Chiefs, received a tasty tribute courtesy of cake artist David Mason (pictured left). The culinary piece of art was unveiled as part of the opening of Oak Furniture Land's new Exeter store.
But whether Big Chief actually got to have his cake and eat it is uncertain, as it was shared out between spectators and fundraisers at the Exeter Foundation's Big Walk event.
Still, he has a mouth-watering opening day fixture to look forward to, with a cup final rematch away at AVIVA Premier champs Northampton on Saturday 7th September.