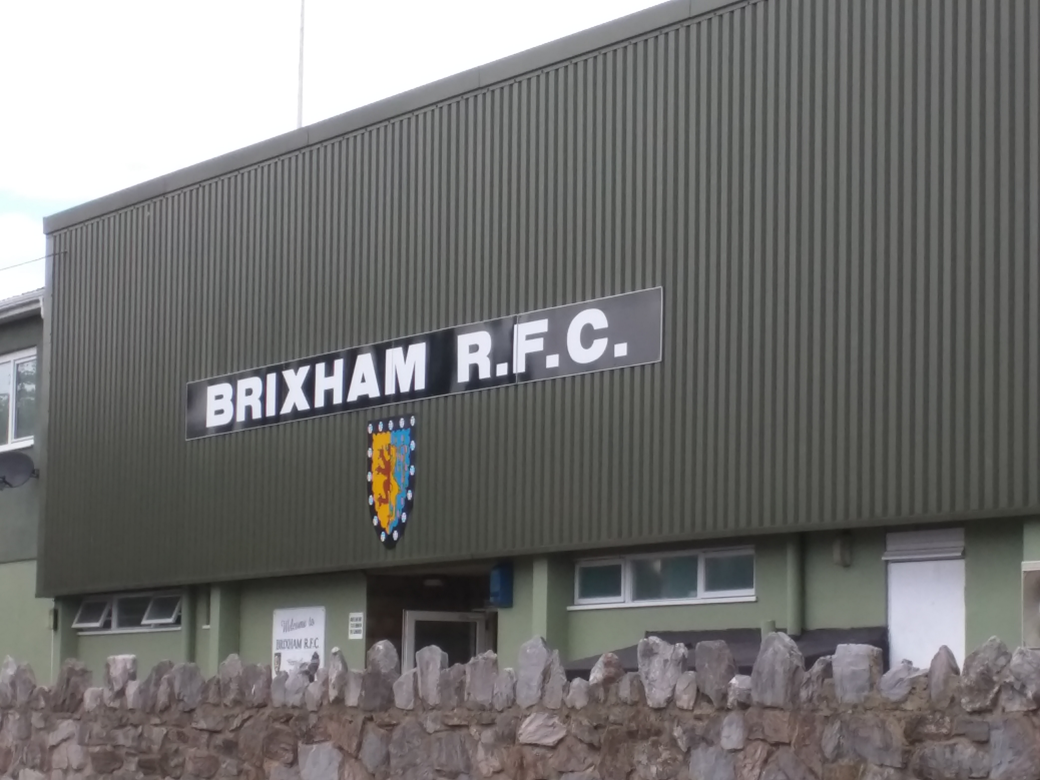 Rugby Feature: Fishermen Angling for Promotion
Photographs (c) Sport South Devon
Beating Newton Abbot in last season's Devon Senior Cup final, and finishing above them in National League Three marked another step forward for, what is now, South Devon's highest placed rugby union club, but coach Dan Parkes has his sights set on promotion as ambitious Brixham RFC prepare to welcome Gloucester side Old Centralians to Astley Park this afternoon in game one of the 2015-16 season.
"We always go for promotion every year," said Parkes. "With the league system, if you don't aim for promotion you end up getting relegated. You've got to build a team and go for it, otherwise it becomes a pointless season."
James Irvine, Brixham's Director of Rugby, took me through some of the recent changes in playing staff.
"We've brought in Ed Barnes as a ten/twelve who will bring in some experience from his time at Saxons, Bristol and Plymouth Albion," said Irvine. "He's a well-known local player who's recently been in France and will make a difference to the back line. Scrum-half Keir Murphy has come in as well, from Tavistock, with Andy Sandercock having work and other commitments; he's been doing really well in training and adds youth to the side again.
"Nathan Riley, a Brixham lad who's been through the Youth, has got a job in Shaldon which brings him back so he can play in the second row/back row; he's been playing for Old Patesians. And we've brought in a young player, Dom O'Connor, in the back row. He's been learning fast in training and showing a lot of potential.
"Martin Worthington has been coaching the second team which has been excellent in bringing through some of the youngsters in the club."
Some of Brixham's new blood was in action in their back line during last Saturday's 6-25 pre-season defeat at home to Redruth, and coach Parkes admitted that he was left with a selection headache as he has to choose just three players for the bench today.
J P Simonetti in particular will have excited the home supporters with some bright moments in the second half, while young wing Cody Dyer and Ricky Seymour also played their first matches for the first XV. The Fishermen, sporting a bright new yellow kit, defended well against their National League Two opponents and, despite the loss, will have benefitted from a preparation game against a formidable opponent.
"We've had a couple of easier games and needed a tough one before the league starts," said Parkes after the match. "It's easy to play when you're winning fifty-nil, you always look good, but it's a different mind-set when you're up against it.
"They scored a couple of weak tries which we could have done without, but apart from that the boys gave a good account of themselves. Ed Barnes pulled the strings and was very vocal in the back line, which is what he's there for, so it was ideal.
"We gave the ball away too easily at times. When you work very hard indeed to get the ball and then give it up straight away you're working again and using up all your energy to get it back."
Another bonus from the Redruth game was a clean bill of health, although lock Adam Thomas will have jangled some supporters'  nerves when he went down for five minutes with a neck or shoulder complaint in the first half.
"Ed Barnes pulled the strings and was very vocal in the back line, which is what he's there for." – Dan Parkes (Brixham Coach)
The visit of Old Centralians will give Brixham an early opportunity to make amends for their 19-8 defeat at Astley Park back in March and to put into action some of the plays they will have been working on all summer.
"The coaching has been superb this year and we've been trying different things to increase our performance on the Saturday and, so far, everybody's performing to that," said Irvine.
And he was quite clear about  where spectators could expect to see development in this year's Brixham side!
"Overall; everywhere," he said with a smile. "We don't look at weaknesses, we look to play the game from one to fifteen with an attacking style of rugby."
---
Here is the full list of this afternoon's South Devon senior rugby fixtures.
---
[box]
National League Three South West:
Brixham v Old Centralians (2.30pm)
Newton Abbot v Chippenham (2.30pm)
Tribute South West One West:
Teignmouth v Newent (3.00pm)
Tribute Western Counties West:
Crediton v TICS (2.30pm)
Saltash v Kingsbridge (no kick-off time noted)
Tribute Cornwall/Devon:
Paignton v Bude  (no kick-off time noted)
[/box]
Help Required!
We will be doing our best to get as many match reports up from the above leagues as we bid to be the first to the rugby action – all match reports (sent to [email protected] please) will be adapted and used, so please help us to help you get publicity for your club! We would be grateful for any match photographs during the season and will reward any professional snappers with an advert on all of our rugby posts and pages for the entire season – so please help us to get the word out! If you are an amateur photographer with a business we will do the same for your company!
If you are interested in being a correspondent for your club, please get in touch too!