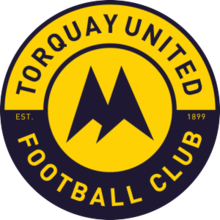 United Sign Bawling
Torquay United announce signing of winger Bobson Bawling.
Following on from the re-signings of forward Brett Williams and defender Jakub Sokolik the Gulls have added former Chelsea and Watford youth player Bobson Bawling to their squad for next season.
Bawling, 22, made 71 appearances for League Two side Crawley Town from 2014-17. He then joined Woking in 2017 making 11 appearances and scoring his first professional goal against United.
"Very pleased to get him on board," said TUFC head coach, Gary Owers.
"I was taken by his enthusiasm for our club. He's recognised what a good opportunity it is and that really impressed me. He's a versatile attacking player. He can play wide in any sort of wing position or he can do the wing back roles if required.
"I watched him – he got 70 league games or so under his belt playing for Crawley in league One and League Two. That's where I first saw him.
"He went to Woking and picked up a bit of an injury which hindered his season but he's certainly well and truly over that. He's a very fit and athletic young man which will hopefully give us good attacking options wherever he plays."
Also this week Goalkeeper Ryan Clarke has left the club by mutual consent.
Ryan joined the Club at the beginning of the 2017/18 season and made 10 appearances.
We would like to thank Ryan for his efforts whilst with the Club and wish him the very best for the future.