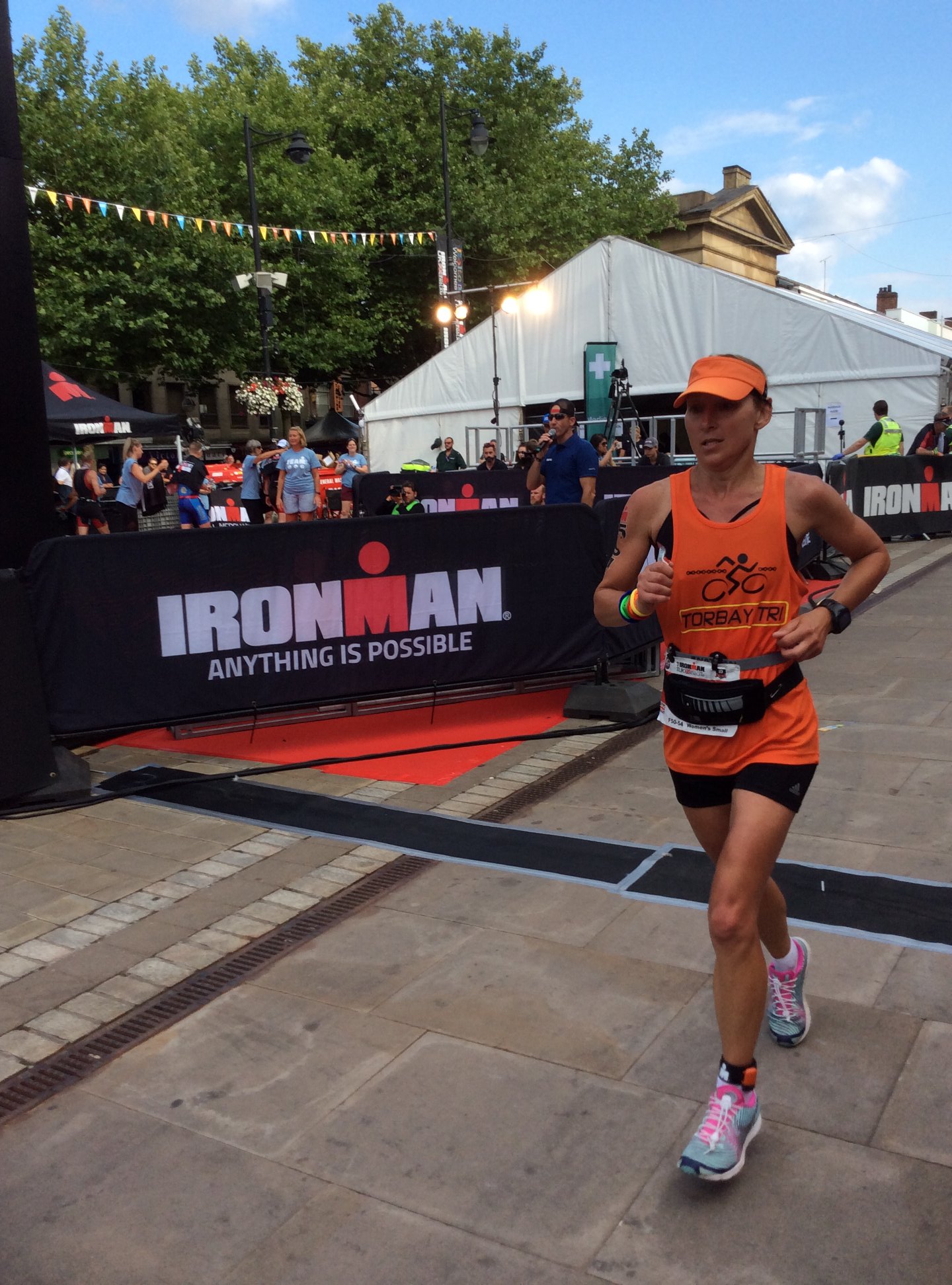 Torbay Tri Club Members Busy Weekend
Torbay Triatholon Club members had a yet another busy weekend of events around the country writes Jon Pressling. 
Ironman UK
Cathy Parkinson produced an outstanding performance in not only successfully completing her first long distance Ironman triathlon but also achieved the honour of winning her age group title at this prestigious and formidable UK triathlon.
Cheered on by husband Jon and son Josh, Cathy began the gruelling day of endurance with a 2.4 mile lake swim before making the transition to two wheels for a 95 mile bike over and through the countryside around Bolton, which offered many testing climbs.
Despite being shorter in distance due to the recent fires in the area, the additional steep hills more than made up for this before Cathy returned to the city centre for the little matter of a marathon run to the finish. Knowing this was her strongest discipline Cathy paced the 26.2 miles well and looked strong throughout to post a run time of four and a half hours, which is an impressive feat in itself let along after a previous 8 hours of racing.
Finishing exhausted but elated at completing the hardest thing she had ever done, Cathy crossed the line in 12hrs 8 minutes and 26 seconds, as a voice boomed out "You are an Ironman".
Competing in the youngest age category of 18-24, Max Churchill proved he has a bright future in long distance triathlon racing with an impressive debut at Ironman UK, finishing in 12hrs and 38 minutes.
Aquathlon World Championships 
Achieving a childhood sporting goal to represent his country on the world stage, Gary Burman travelled to Denmark to compete as an age grouper at the Aquathlon World Championships.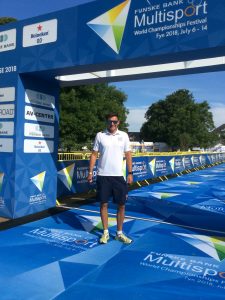 Raced over a 1k swim and 5k run the action was fast and furious from the start and even the huge amounts of jellyfish failed to deter Gary as he was out of the water in little over 16 minutes.
Running in the hottest part of the day and with the temperature above 30 degrees was never going to be easy and although disappointed with his position Gary is now focusing on the same distance at the European Championships in Ibiza this October.
Plymouth Triathlon
Lee Turner and Angela Allen impressed in claiming age group podium positions as the popular Plymouth Triathlon made a welcome return to the local race calendar.
With temperatures rising even early in the morning it was a refreshing start to the race as competitors dived into Plymouth Sound for a 1500m swim. It was then onto two wheels for an undulating and challenging ride through the South Hams to Modbury and back.
There was little respite beneath the sun and clear blue skies for the final 10k run to the finish as it involved an energy sapping route along trails and road around Mount Batton peninsula. Lee Turner claimed third place in the V40 category while Angela Allen achieved the same position in her V50 age group and Samantha Froggatt made it a trio of happy club finishers in the sun.
Results:
Lee Turner 2.21.49, Angela Allen 3.39.07, Samantha Froggatt 4.06.55
Honiton Sprint Triathlon
One of Torbay Tri Club's newest members, Bobby Singh, headed to East Devon for the popular Honiton Sprint Triathlon.
Attracting over 200 triathletes of all event began with a 400m pool swim before a 20k bike out through the countryside. The final 5k was a scenic, multi-terrain run into Coombe Hill Woods before heading along the Otter Valley.
Bobby smashed his previous best time over the distance by 7 minutes to finish in 1hr 20min 22sec.
Decoy 5K
Jon Pressling was the club's sole representative at the Decoy 5K but was rewarded with a third place finish for his efforts. Forming part of Newton Abbot's annual carnival week of events, the route took runners on a scenic route around the lakes with plenty of testing and undulating terrain but plenty of shade against the evening sun.