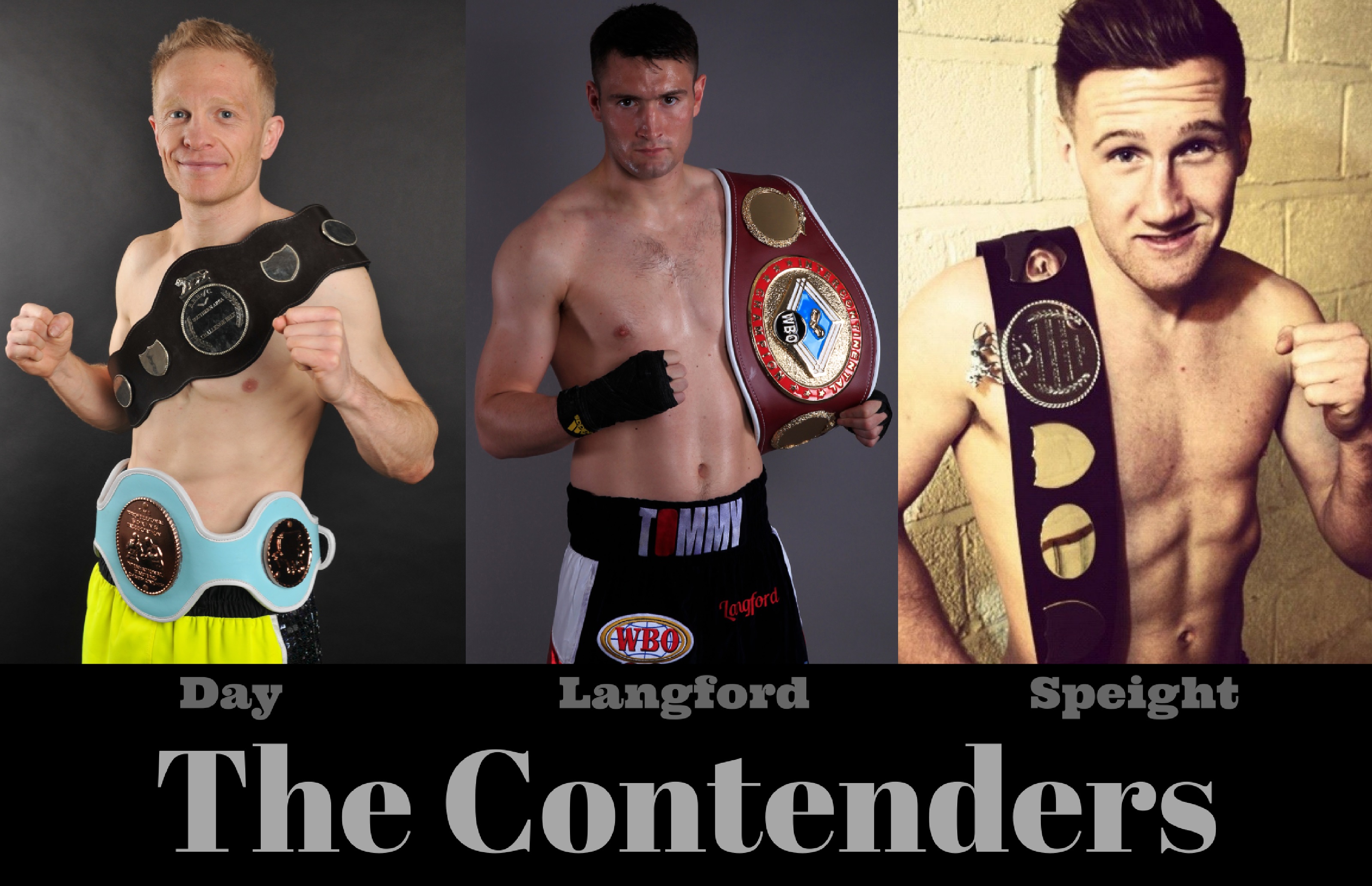 The Contenders: Langford, Speight & Day – December Exclusive
Picture of Tommy Langford (c) Queensberry Promotions; In-text Picture of Jamie Speight (c)Sport South Devon/Matt Green; Picture of Ben Day supplied by Ben Day.
There are three championship boxers from Devon, all flying the flag for the home county – Bideford's Tommy Langford, Kingsteington's Jamie Speight and Teignmouth's Ben Day.
All three Devonians have moved away from home to further their boxing careers and each one has achieved title glory by doing so and plan to challenge for more belts this year.
The Contenders will keep you updated with a monthly column exclusive to Sport South Devon on their respective journeys to the top of the world.
Bideford's Tommy Langford:
"I told you that I would do it and I did! I have looked at my brand new British title and realised that my name will be etched on there forever – no one can take this achievement away from me. I'm still on cloud nine, I haven't come down yet!
It was a harder fight than I thought it would be and I know I made mistakes in there but I'm 18 fights unbeaten with three major titles in the bag!
The support that I received on the night was incredible! Walking out to my ringwalk song – Harry J.Allstars' Liquidator – just raised the roof! It was so noisy that it really got to me at that exact point that this is it now, this is serious!
It wasn't a gripping fight but it was interesting to watch and I'm happy with the tactics. I could have gone out throwing hundreds of punches but could also have got caught silly, so it was all about being strategic and getting those rounds in the bag.
I've watched the fight back already, which I don't normally do so soon after, and I can't see how it was a split decision. I won five of the first six rounds and it was pretty even down the stretch, but I'm not going to nit-pick because I'm the British champion and that's all that matters.
It was unlucky to get cut with just seconds to go and had to have 12 stitches put in my head to close it up.
 "The support that I received on the night was incredible! Walking out to my ringwalk song – Harry J.Allstars' Liquidator – just raised the roof!" – Tommy Langford
"It wasn't until around midnight that I managed to meet up with all the fans and spend some time with them to thank them all for their support.
After all their hard-earned money spent, the travelling, the noise in the arena, I'm always really pleased to be able to celebrate with them all to show my appreciation.
I cannot thank everyone enough for coming down to Cardiff and cheering me on to win that prestigious belt. I'm so glad that I managed to win it for all the fans that have rallied behind me so well. I had over a thousand supporters in the arena on the night and by far the loudest! I'm the British champ thanks to all of you.
It's very hard to say what I'll look to do next, I could get offered a European or World title shot and I will take those opportunities that come my way.
If nothing comes up, then I'll defend the Lonsdale belt, there's plenty of good domestic contenders out there. Whatever Frank Warren puts in front of me, I'll take.
It'll likely be February next year for my next fight and will be televised live on BT Sport. I'm going to relax over Christmas with my wife and baby.
I would like to thank Ben and Rob Braddick, Doug Bushby, Simon Goodfellow, Nisa Retail, Devon 4×4, Mickey Kersey, Glenn Adair, and my dad David Langford.
I was on BBC South West TV on Monday this week and I dedicated the win to my first ever trainer Clive Whitmore, who passed away earlier this year. A lot of what Clive said to me as an 11-year-old kid has stuck with me and I know that he would be very proud of my achievement.
I'll be at Bideford boxing club this Friday night from 6pm onwards, so if anyone wants to come along and have their photo taken with British title, then please come down."
Kingsteington's Jamie Speight:
"It's fight week for me this week!
I'll be defending my Southern Area title on December 3rd at York Hall against unbeaten prospect Josh Kennedy.
He's 25-years-old from Kent, had seven fights – all wins – and over half of them have been knockouts.
So the lad has got a bit of power and I'll have to be at my best to beat him and keep the Southern Area featherweight title in Devon.
There's over 20 fights on the card including five title fights! It will be a fantastic evening of boxing and a great night out in the capital.
"The lad has got a bit of power and I'll have to be at my best to beat him and keep the Southern Area featherweight title in Devon" – Jamie Speight
"If you want tickets you can get them from 07796 081 776.
I would like to thank all my sponsors Darren Toms of JEM Scaffolding, Dale Webb of Webb Landscapes, Danny Wordsworth of Enviropure Systems, Toby Murphy and Ben Sharp of Vaping Station."
Teignmouth's Ben Day:
"November for me – two funerals for two young males. It's not been great – one was 35 and the other 37.
My girlfriend's best mate's brother, so still very connected to me. Also, my good friend Ross Bigwood; he messaged me every day asking for answers to his problems, I spoke to him every other day for a month and then didn't hear from him for three days and found out he had killed himself.
My best friend Garth McWilliams is now out of intensive care and doing really well for himself, I'm so very pleased to report.
My landlord, who is like a granddad to me, has just found he's only got a few weeks to live; that's what they say but I'm trying to get him on a plant based diet, they say it reverses things.
I'm a carpenter so I did up his house unconditionally, just because he's an old man and his door was broke so I fixed it for free and I did loads of other stuff around his whole house, I even paid to have his garden done for him yesterday. I have a close relationship with everyone I know.
So, I've had a three week training camp, after all this! My agent said to me that if it was anyone else then it would be worrying, but you're Ben Day so it has no bearing! I've got the heart of a lion and the will and desire of God!
I'm skipping to warm up and done all these rounds and forgot that I even had weights on my feet!"
"I've got the heart of a lion and the will and desire of God!" – Ben Day
"I'm gonna beat Michael Devine all day long. I see it as the Floyd Moore fight set up the Devine fight for me.
I'd like to say that Herol Graham came down my gym to show me a couple of tricks. He was a three-time World title contender and regarded as Britain's best ever fighter that never won a world title!
My trainer Greg White has been amazing in this camp. He's sacrificed his own time and money and I really respect that. Also need to say thanks to my trainer RJ, we have been working on certain things and you are all going to see a different Ben Day on fight night.
Vinny Pazienza, the five-time World champion, has been over in London all week promoting his new film 'Bleed for This', about his crazy life and astounding career. We have been texting each other every day. He came to my Ringtone Boxing Gym in Euston and we talked about struggles, life, boxing; he thinks I'm crackers and I think he's crackers!
I weighed in today with all my clothes on and two mobile phones in my pocket and was still 2lbs under! Everyone was cracking up!
I wouldn't have been able to this without my girlfriend Nerice Brosnan; she has helped me sell over £5,000 worth of tickets, been looking after me, and working all hours under the sun, so I'm forever grateful for the work she puts in. Thanks to all the fans for buying tickets and to Tim Rickson for his support."
To follow the contenders' progress via Twitter, click the relevant link:
@Tommy_Langford1
@boxerjayspeight
@benday32