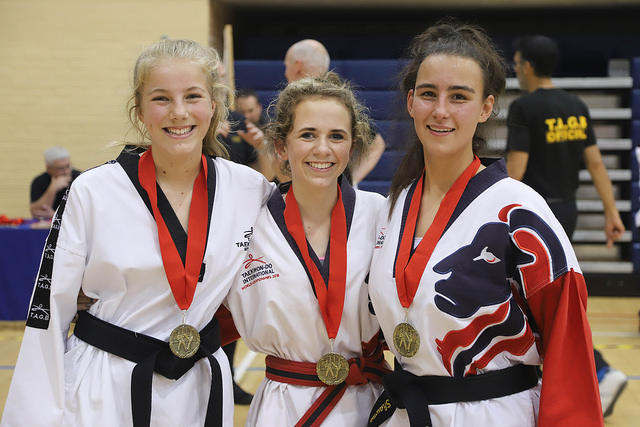 Tae Kwon-Do Torbay shine at local tournament
Saturday 6th of October saw Torbay Leisure Centre host the TAGB (Tae Kwon-Do Association of Great Britain) Southern Championships, where over 400 competitors of all grades and ages took part in over 60 events during the packed day of competition, supported by nearly 500 spectators.
Competitors from all over the West of England as well as some from as far afield as Merseyside and London took part in all the Korean martial arts disciplines including technical patterns, sparring and destruction (breaking boards with hands and feet) with the addition of new events of Tag team sparring and team synchronised patterns.
The TAGB Schools from Torbay, instructed by Andy Saunders 3rd Dan came 3rd in the medal table, bringing home 22 medals, many of which were Golds making the competitors Southern Champions.
Notable performances came from Ella Saunders who won Double Gold in team events, a host of other golds followed with wins for Kian Burman, Matthew Dickinson, Luis Hegarty, Tiuri DeJong, Matt Angell and Noah Hodges. Silver medals were won by Ayla DeJong, Rob Pickering, Charlie Pickering, Skye Kelly and Lauren Saunders. Megan Dorling picked up a bronze for sparring. Many students collected several medals over the disciplines.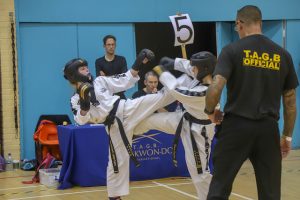 Instructor for TAGB Torbay, Andy Saunders said, "I'm so proud of everyone who took part in our local tournament, there were some fantastic performances showing that there is a massive depth of talent and spirit of all ages coming through, showing great promise for future gradings and tournaments. I'm especially proud of the team spirit and support, that is a massive part of our club and so pleasing to see.
There was also success at the recent Black Belt gradings held at the HQ of the TAGB in Bristol. Students Luis Hegarty and Ella Saunders were promoted to 1st degree black belts having demonstrated their knowledge in front of 6 of the TAGB Commitee, all of them 9th Degree Grand Masters.
Tae Kwon-Do Torbay have schools in Paignton and Torquay and have classes for all ages and abilities.
Anyone interested in Tae Kwon-Do can visit www.taekwondotorbay.com or call 07866 500756. The first few lessons are free and there are special offers for new starters.