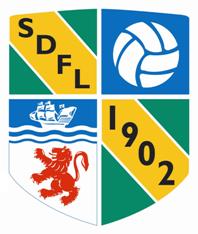 SDFL Round-Up 12th-19th April '18
The top three in the Premier Division all picked up big wins last Saturday as the SDFL finally managed to put on something resembling a full schedule of games, writes Neil Hocking. After Ashburton missed out on the chance to go top on Monday evening, with a home defeat against Buckland Athletic Reserves, they finally retook pole position on Thursday night by beating Paignton Villa 2-1, Damien Francis Furnivall and Jamie Orchard with the goals.
 Second-placed Kingsteignton Athletic made it 17 league games unbeaten with a 4-0 home win over East Allington United. The Rams' goals came from Toby Pullman, with a brace, Ashley Heyworth and an own goal. East Allington had been struggling to pick up points or goals but put things right on Wednesday night with a 4-1 victory over Roselands, Simon Hannaford with a brace and Dan Hurrell and Andy Davis joining him on the scoresheet; Ryan Frayne netted for Roselands in the first half.
As for promotion-hunting Kingsteignton, they still need Ashburton and Waldon Athletic to drop points in the run in and the Ashes duly lost out 1-0 to Buckland on Monday evening, Fraser Rudge starring in midfield and Adrian Azpiazu scoring the winner. Two goals apiece from Sam Dicken and Josh Moore had helped Ashburton to a 7-2 victory over Dartmouth AFC two days earlier though. There were also goals for debutant Jamie Orchard, Alex Harding and Leon Clifford while Danny Rushe and Freddie Smith scored the Darts' consolation goals. It was pretty much one way traffic at Wall Park as third-placed Waldon Athletic beat Brixham AFC Reserves 4-0. Josh Mason opened the scoring, sliding in on Kyle Doughty`s powerful far post header and Spike Bond soon added the second, skipping around the 'keeper and tapping into the empty net. After the break, Ash Harris put in Pete Summerfield for number three and Mason raced clear late on for his second and the visitors fourth. Brixham slipped back out of the top six after briefly climbing into sixth on the preceding Thursday night following a 4-1 success at Paignton Villa, Ryan Walton with a double and Daniel Tucker and Josh Piper with the others. Dartmouth added to the Fishermen's disappointment as they beat them 4-0 on Thursday evening with goals from Robbie Chalk, Freddie Smith, Cameron Webb and Lee Morgan.
Villa bounced back in emphatically on Saturday with nine goals and a clean sheet against local rivals Roselands. Loddiswell Athletic moved above Roselands and back out of the relegation places thanks to Upton Athletic's team bus. A breakdown meant that Upton couldn't fulfil their fixture away at The Greens. Watcombe Wanderers are up to fourth after three wins and a draw in seven days. First, they edged Buckland Athletic Reserves 2-1 on the Thursday evening before last, Sean Finch with a double and James Moxon with the Yellows' goal. Then they enjoyed a 4-2 away win at Kingskerswell and Chelston on Saturday courtesy of a Chris Srdinko penalty and further goals from Cieran Bridger, Sonwabile Mlenze and Shane Isaac; Jamie Chamberlain and Thomas Johns scored for the home side. They then travelled to Upton Athletic on Tuesday night and edged that game 3-2, Bridger on target again along with Owen Stockton and substitute Shane Isaac. Their winning run was finally ended at Homers Heath where 2016/17 champions Buckland held them to a 3-3 draw. Kofi Shaw scored twice and Jordan Ewing once for the Yellows while the Greens' goals came from Bridger, Chris Srdinko and an own goal.
After another tough week for Ivybridge Town Reserves they finally picked up their first victory on Thursday night with a 2-0 home win over Kingskerswell and Chelston. A week earlier they were defeated 4-1 by Dartmouth and then 6-1 by Buckland Reserves on the Saturday. Chalk, Morgan and Danny Rushe scored for Dartmouth with Kane Steel netting for the Ivies; Ewing claimed a hat-trick for Buckland with Shaw scoring twice and Morgan Harford also on target. Daniel Esson was Ivybridge's goalscorer in that game.
James Stafford struck in extra-time to send Kingsteignton Athletic Reserves into their second consecutive Fred Hewings Cup final. The Rams' victory was all the sweeter as they dispatched last year's winners and perennial finalists Buckland Athletic Thirds. Kingsteignton fell behind to a Matthew Briant penalty but Kyle Deakin levelled before the break with a penalty of his own. Joe Constantinou put Bucks back in front but Shaun Newland equalised to earn extra-time.
Kingsteignton will meet Watcombe Wanderers Reserves in the final after Connor Finch's hat-trick, including two penalties, helped the Greens ease past Upton Athletic Reserves, the score finishing 6-0. Sam Pyne, Toby Woodmore and Jamie Carter were also on target.
Paignton Saints and Newton Abbot Spurs Reserves will contest the Dartmouth (Division One) Cup final. Saints started Saturday's semi-final at Chudleigh Athletic firmly on the front foot, Chudleigh struggling to cope with the Saints front line right from the off. With Sam Winstanley marshalling Saints' back line and Billy Reay and Reece Jones controlling the middle of the park, it was one way traffic for most of the half. First, Luke Johnson reacted quickest to turn inside the box and fire home after only five minutes before Jamie Micklewright doubled the lead within twenty minutes gone, sprinting from the half-way line and calmly beating the advancing Matthew Ball. Chudleigh failed to make an impact up front but received a surprise lifeline shortly before half-time when Cameron Jones clumsily gave away a penalty, which was smashed in by Brett Easterbrook. The second half was a more even contest but Chudleigh still couldn't breach the Saints defence. Both teams were restricted to half chances before Micklewright put the icing on the cake, beating Ball at his near post late on to secure the win. Spurs booked their final place on Monday night with a 4-2 victory over Lidstone Cup holders Salcombe Town. Goals were supplied by Andy Eden, who netted twice, joint manager Joel Patchett and an own goal. Ashley Yeoman scored both of Salcombe's goals.
Torbay Police booked their place in the final of the Lidstone (Division Two) Cup. Jamie Bayliss, playing up front for the Bees, spurned two good chances and Max Prestwood had a goal chalked off for offside in a goalless first half against opponents Bishopsteignton United. The Police scored relatively early after the break when Luke Bowser teed up Prestwood to tap home. They kept up their work rate and remained solid at the back before Russell Cooper doubled their lead with a cracking 25 yard lob. Bishop threw everything at the Police to find a way back but the Bees held on for a very hard fought victory. Ashburton Reserves were given a walkover into the Ronald (Division Three) Cup final despite losing 4-2 to Dartmouth AFC Reserves.
Division One continues to look as open as ever with all of the top three dropping points this week. Leaders Totnes and Dartington were held 1-1 at home by Buckland Athletic Thirds on Wednesday night, Finn Roberts scoring for Tots and Robert Heap on target for Bucks. Harbertonford remain second despite going down to a surprise 4-2 reverse at Newton Abbot '66 on Saturday despite leading 2-1 with two minutes to go! After a goalless first half, the visitors took the lead through Steve Sutton only for the home side to get back on terms with a penalty. The Fords went all out for a winner and looked to have clinched the points two minutes from time when Jay Barnard scored. But in an astonishing finale, Newton snatched an equalizer almost immediately and then scored a third a minute later to lead 3-2. They were then awarded a penalty right at the death which was converted with the last kick of the game for a 4-2 win. Chudleigh Athletic also lost their league game at Buckland Thirds a week ago last Thursday. Kieran Sweet and Ryan Tovagliari scored the Yellows' goals with Aaron Paget on target for Chudleigh. Beesands Rovers were unable to catch up with the top three as they also lost, 2-1 at Babbacombe Corinthians. Sam Swann and Jack Walker found the net for Corries with Finley Bullen adding another goal to his tally for the Bees. Watcombe Wanderers Reserves moved into the top six on Thursday night by beating Buckland Thirds 5-2. Sam Pyne got himself a hat-trick and Sean Finch and Charlie Cuss also made the score-sheet along with Joe Constantinou who scored both of Bucks' goals. Newton '66 couldn't build on their surprise win over Fords as they went on to lose 2-1 to Babbacombe on Wednesday evening, Swann again amongst the goals along with Carl Johnson. Newton Abbot Spurs Reserves ticked off two more league games, winning them both. First, a week ago last Thursday, they narrowly beat Babbacombe 2-1, Andy Eden with a double and Walker with Corries' strike. Eden doubled up again on the Saturday, joining Matthew Williams on the score-sheet as Spurs overcame bottom side Stoke Gabriel Reserves 3-2. Salcombe won 2-1 in their league game at Ipplepen Athletic. Yeoman scored another for the South Hams side with their other goal an own goal; Dan Steer was on target for the Pens.
Bovey Tracey Reserves took a big step towards the Division Two title on Friday night as Lewis Perring's strike proved the difference at title rivals Torbay Police. Andrew Espley's hat-trick at Newton United helped third-placed Broadmeadow to a resounding 8-0 win, Chris Bennett and sub Edward Harte with braces apiece and Morgan Green with the other strike. Declan Cowley earned Buckfastleigh Rangers a point at home to Hookhills United in a 1-1 draw while, on Wednesday night, Riviera United beat Hookhills 3-2, James Parker with a double and Stephen Rohan with another goal. The same night, Ashley Beetschen's goal for Kingskerswell and Chelston Reserves won his side the points against Kingsteignton Reserves.
Ben Bowhay scored twice for Meadowbrook Athletic in the Ronald Cup quarter-finals but crashed out 3-2 to Chudleigh Athletic Reserves who found the net through Robert Cook, Conor Stevens and George Walne. The Division Three table is starting to look interesting with many of the front runners dropping points. Leaders Brook didn't play but Harbertonford Reserves picked up just one point in two home games, drawing 0-0 with Upton Athletic Reserves on Thursday evening and going down 3-1 against Waldon Athletic Reserves on the Saturday. Father and son Dave and Ben Clark both scored again for the Clarets and Joe Price also notched in a fine display. They didn`t quite have it all their own way though as keeper Adam Taylor saved two penalties. Waldon then beat Teign Village by the same scoreline at Windmill Hill on Wednesday evening to go second. Chudleigh remain outside the top four after sandwiching their cup win between two home league defeats. A week last Thursday, John Fleet and Ty Hawken led Barton Athletic to a 2-0 triumph at Chudleigh. Then, on Wednesday evening, Dexter Allsworth, Luke Breyley and Aaron Langley, from the bench, saw Abbotskerswell win 3-1 there, Robert Cook with Athletic's consolation. In-form Barton made it five wins in a row with a 3-1 home win over Ipplepen Athletic Reserves on Saturday, James Thomas, Liam Young and substitute Lea Alvey scoring their goals and James Bonwick finding the net for the Pens. Player-manager Craig Langley and sub Mathew James helped Roselands Reserves to their first victory of the year as they won 2-0 at home to Teign Village.
Jake Langman struck twice for Division Four double contenders East Allington United Reserves as they dispatched hosts Newton Abbot '66 Reserves from the Les Bishop Cup, booking their place in the semi-finals. Robert Hutchings and Chris Jebb also struck gold with Tom Carne scoring for the Sixes. Matthew Duffy then scored the only goal of the game on Thursday night as the Pirates won at Babbacombe Corinthians Reserves who also had Connor Charlesworth sent off. Dittisham United still lead the way but were beaten 2-0 at Paignton Villa Reserves, Stuart McAuley and Zach Norton with the goals. The same players then struck on Wednesday night as Villa moved third by beating Kingsbridge and Kellaton United 2-1 at Windmill Hill; Isaac Westlake scored from the bench for United. Riviera United Reserves had a mixed week. On Saturday they edged Buckfastleigh Rangers Reserves 3-2, David Tucker with a double and substitute Daniel Callaghan on target for United and Ian Bell and Hadyn Sibley scoring for Rangers. Zac Chancellor, Garry Drew and Shane Essam were Rivi's goalscorers on Tuesday as they scored three again. But this time, opponents Bishopsteignton United Reserves scored four times to scoop the points. Jack Davies, Lee Grimshaw, Alan Stuckey and sub Christopher Parker celebrated goals. Torbay Police Reserves won 5-2 away at Babbacombe Corinthians Reserves. Corries, who now prop up the table, scored through Connor Charlesworth and Joe Hill but doubles from Peter Andrews and Daniel Endacott and a single from Callum Brennan saw the Bees take the points.
Watcombe Wanderers Thirds and Stoke Fleming and Strete made it through to the semi-finals of the Bill Treeby Cup with away wins. Stoke blew Newton Rovers Reserves away 10-0 with goals from Sam Bruckner (3), Lee Prestage (2), Dan Bastin, Tyler Littlejohns, Marcus Copeman, Sam Patch and an own goal. Watcombe overcame Broadhempston United 4-2 at Headlands with Shane Ross doubling up and Steeve Yava and Nathan Begley completing the scoring. Sehena Coulibaly and Stephen Eccles, from the bench, notched for the Robins. It's about as tight as it gets in Division Five. Paignton Saints Reserves lead the way on goal difference and their 9-2 home win over Chudleigh Athletic Thirds was a big help on that front. David Walker scored four times for Saints with Ian Simons and substitute Matt Furness scoring two apiece and Luke Steward with the remainder. David Lloyd and Aaron Osborn scored Athletic's goals. Third-placed Watts Blake Bearne didn't play but Watcombe Wanderers Thirds, currently fourth, closed the gap with Tuesday night's 4-1 triumph at Chudleigh Thirds. The goals were shared around with Yava, Begley, Charlie Cuss and James Tozer on target. Broadhempston hit seven away at Chudleigh Thirds on Thursday night, Jack Salmons with the sole goal for Athletic. Ilsington Villa were awarded a home walkover as bottom side Newton United Reserves were unable to field a side.