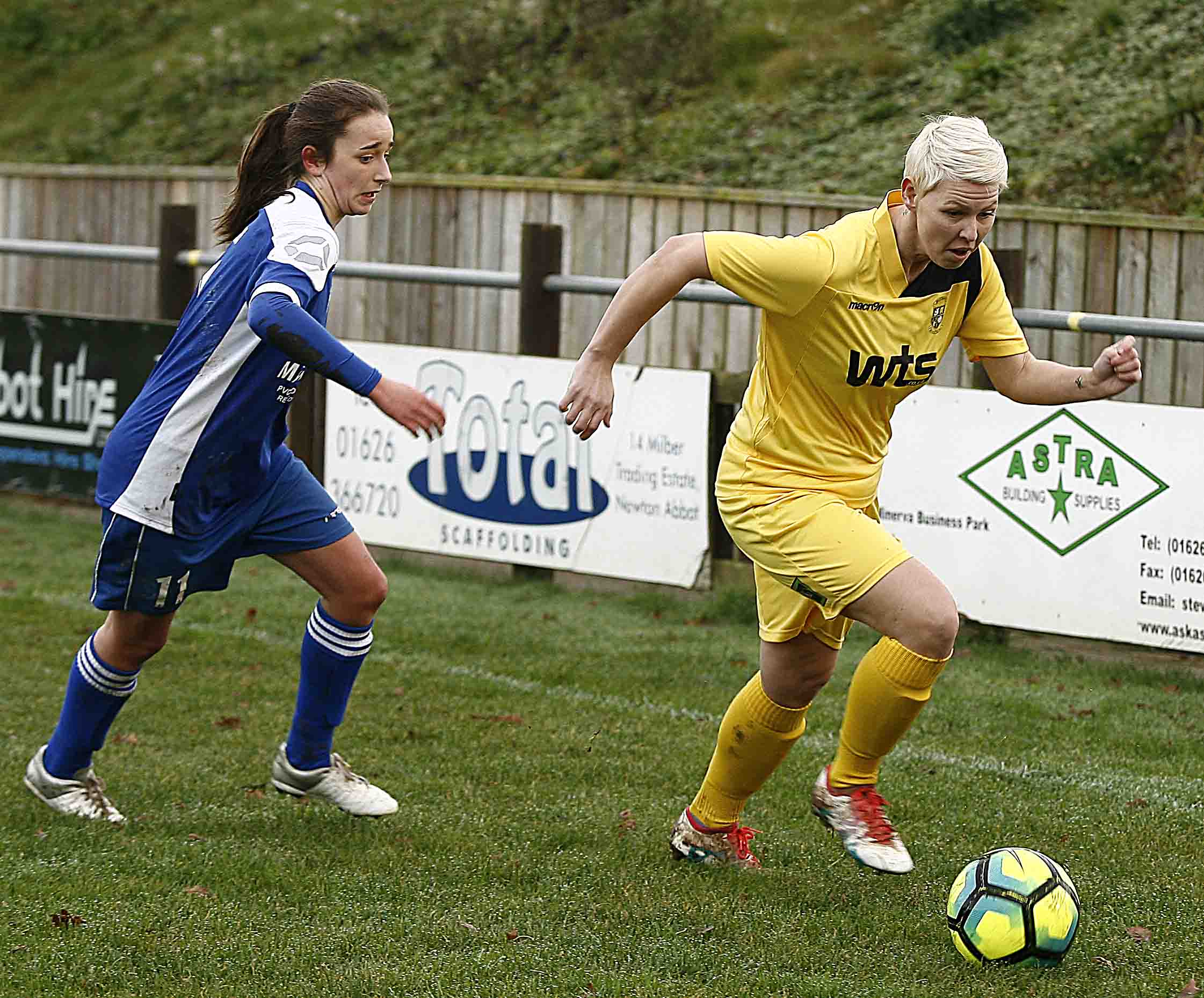 New Year Special Feature 1/4: Ladies football: It's here to stay
The New Year is a time to try new things, shaking up the carpet and moving into territory with the aim of changing our lives for the better. In a sports and fitness sense, that often means taking out gym membership, visiting the swimming pool or hitting the road with the new Fitbit you got at Christmas. It might also mean taking up a new sport.
 If you're a woman or girl, of any age, looking to meet new people, keep fit and embark upon an exciting challenge with one of the top ladies football clubs in Devon then SWWFL Western Division leaders Buckland Athletic LFC are actively looking for new players.
In Part 1 of our four part New Year's special feature, we take a wide-angled look at the current state of ladies football in the UK and find out just what BALFC manager Grant Fisher thinks about the idea that ladies football is a passing fad.
When six soon-to-be former Torquay United Ladies players approached Buckland Athletic goalkeeper Grant Fisher asking for his help to find them or establish a ladies football team he was only too happy to help. What he didn't foresee was that he would end up head of ladies and girls football at the club as well as managing the side, which would go on to be promoted twice and win the league cup in their first season.
"I came to the football club and said would you be interested in a Ladies side," explained Fisher prior to his side's recent home win over Plympton Ladies. "The committee came back and said they would love to have a ladies' side. At that time, I had no intention of managing it. However, I ended up getting into it and it's become a massive, massive passion of mine to create something in Devon that's special and can give girls of all ages and ladies a fantastic football club and platform to build off of."
So where does Buckland Athletic LFC sit amidst the wider scheme of things? Just as in the men's game, ladies' football forms a pyramidal structure. The pinnacle of that pyramid in the domestic game is the FA's Women's Super League (FA WSL) which was formed in 2010 and currently takes place over the summer months although this will be changing. The WSL currently contains 19 clubs divided into two divisions with Manchester City the current WSL1 champions with Chelsea, Arsenal and Liverpool among the other teams competing. The Westcountry, which is of course poorly represented in the men's pyramid, had a fantastic season with both Yeovil Town and Bristol City promoted from WSL2.
The FA Women's Premier League is a winter league – as in the men's game – and is split into a Northern and Southern Division with the winners playing off for the chance to move up to WSL2 (subject to league requirements). Below this level are the regional Division One leagues, including the South West Division One which includes Plymouth Argyle and Exeter City. Buckland Athletic LFC have competed against teams at this level this season, knocking Exeter out of the Devon County Cup and giving one of the title challengers a real battle.
"We've battled it out with Keynsham this season in the FA Cup who are two leagues above us and striving to win that league," explained Fisher. "They beat us in the 86th minute 3-2 and had a bit more quality but actually on the day if you saw the created chances we probably should have won that game."
The next step beneath is the South West Women's Football League which, like the South West Peninsula League, is comprised of a Premier Division above an East and West Division. Torquay United Ladies play in the Premier and Buckland Athletic LFC currently lead the Western Division with nine wins out of nine and a plus 48 goal difference.
"We're currently in the semi-final of the County Cup and we now face Plymouth Argyle here on the 22nd January," added Fisher. "Alongside that we also introduced a Development side, which now play in the Devon League, and an Under-12s which also play in the Devon Girls' league. The club has formed and become established a lot quicker than we thought."
Ladies football has definitely made the headlines recently with the England team's third place in the 2015 World Cup giving the game a real boost. Yet there are still some people who refuse to see the current focus on the women's game as nothing more than a passing fad or craze with no long-term potential. Fisher made it perfectly clear where he stands on that debate:
"I think it's rubbish!
"Women's football is coming on leaps and bounds, players are becoming better, clubs are investing more money into it at certain levels and it's attracting major sponsors. We won the Teignbridge Sports Awards this month and we were in there with a host of other sports clubs across the whole of Teignbridge. We came out on top, much to our surprise, because what we have achieved is quite incredible and what we're going to keep trying to achieve will be even better.
"If people actually want to research it there are many, many clubs, especially at the top level, investing huge money into it now because it's become more lucrative and it's becoming something that people want to be involved in. It will keep getting better because women will keep getting better footballers.
"As long as England do well, which they are, and as long as the top clubs in the country are doing well, it will continue to thrive and will catch up with men's football eventually. It may take ten or 15 years but it's getting there and from where it was two or three year's ago – even last year – it's come on massively.
"So no, it's not going to be a craze. It will be here forever and it will last forever I'm pretty sure about that."
Part 2, released tomorrow, focuses on Buckland Athletic itself – the club and the ladies' side – and the idea that – man, woman, girl or boy – players all wear the same badge.