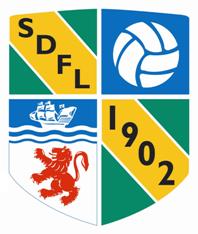 Winner Takes All as Dartmouth Prepare to Host Buckland Res – Local Football Round-Up
It had been on the cards for a while, but when a Watcombe Wanderers own goal saw Dartmouth AFC knock the Greens out of the running for the SDFL title last Saturday, it meant that Dartmouth would play defending champions Buckland Athletic Reserves on the final Saturday of the season – tomorrow – with the winners crowned 2015/16 Premier champions.
What wasn't known at the time was what the implications would be if the match finished level. That would only become clear on Wednesday evening with Buckland travelling to Windmill Hill to take on double cup winners Waldon Athletic, the Clarets having retained the George Belli Cup with a single goal against Upton Athletic last Thursday evening. If the Yellows could win they would only need a point in the title decider; any other result would mean nothing short of victory at Darts would be enough. Buckland were not taking any chances and played a number of first teamers, helping the visitors to a resounding 9-2 win. Jamie Micklewright scored four times, Charlie Johansen netted a brace and there were singles for Ben Robinson, Liam Head and Shane Gill. Dartmouth will be hoping that home advantage will help them over the line in tomorrow's exciting showdown at Longcross.
Buckland Athletic Reserves beat Ivybridge Town Reserves 4-0 last Saturday to leave Ivybridge waiting on results elsewhere to see if they could achieve yet another top six finish. Waldon, who had enjoyed a 4-2 home win over Kingskerswell and Chelston and a 5-1 victory at Newton Abbot Spurs Reserves moved above Ivybridge to secure fifth spot, behind East Allington United. A big win for Upton Athletic at Kingsteignton United could enable them to clinch a top six finish after their final home match ended on a positive note with a 6-2 triumph over Brixham AFC Reserves. Loddiswell Athletic finished the season with more away wins than home after defeating Newton Spurs 4-2 at the Rec; another one, in their final match at Waldon, would see them finish above Kingskerswell and Chelston. Elsewhere, Newton Spurs and Brixham AFC Reserves play for pride after a disappointing campaign for both sides.
A 3-1 home win over Bovey Tracey Reserves puts Ashburton – already guaranteed promotion – on the cusp of winning the Division One double. Buckland Athletic Thirds' 1-0 home win over bottom side Kingskerswell and Chelston Reserves last Saturday had put them back at the top of Division One after Ashburton had been held 1-1 at Stoke Gabriel Thirds (unsurprisingly since the Ashes had claimed the Dartmouth Cup by beating Newton Abbot '66 2-0 at Coach Road the night before). But Wednesday night's win means Ashburton can clinch the title with a home win over Stoke tomorrow with Buckland having to beat Beesands Rovers to have any chance of retaining their title. With Bucks unable to go up whatever happens, there is at least one more promotion spot available. Ipplepen Athletic, who lost 1-0 at home to Beesands last Saturday, gained the advantage in that race by beating Newton Abbot '66 – the only side who can beat them to third – 2-0 at Moor Road on Tuesday night. That result means that a win tomorrow, away at Paignton Villa, will see Pens return to the Premier. Any other result will see Newton '66 (who bounced back by beating Babbacombe Corinthians 4-2 away on Thursday) overtake them if they can win at Totnes and Dartington Reserves. Elsewhere last Saturday, Chudleigh Athletic drew 3-3 at Buckland and Milber to secure a top six finish for Athletic; Tots went eight unbeaten with a 1-0 victory at Corries and Bovey Reserves defeated Paignton Villa 4-2 away.
Roselands wrapped up the Division Two double on Wednesday night despite only picking up one point in their two midweek matches. Simon Walker's side had put themselves on the brink on Saturday with an entertaining 7-2 victory over challengers Watcombe Wanderers Reserves. Doubles from Max Prestwood, Marc Hagland and Tom Dunlop won the hosts the points with Pete Summerfield and Royston Carrington (penalty) on target for the Greens. But the point they needed eluded them on Tuesday night as they lost out 6-2 at Teignmouth Reserves, and they had to fight for it on Thursday, held 4-4 at Buckfastleigh Rangers. Watcombe Wanderers Reserves did all they could to stay in contention, edging Brixham Town 5-4, but will have to settle for runners-up spot this season as the familiar foes take their running battle up another step for 2016/17 ;the Greens finish at home to Waldon Athletic Reserves tomorrow. Harbertonford, who drubbed Paignton Saints 7-0 last weekend, need a point at home to Roselands tomorrow to wrap up third spot with Buckfastleigh ready to take their place should they lose. Rangers, who beat Hookhills United 6-2 at the Duckspond on Saturday, finish with a trip to Paignton Saints. Despite drawing away at both Newton United (3-3) and Kingsteignton Athletic Reserves (0-0), Abbotskerswell's relegation was sealed at Broadpark last Saturday. Abbots now host the Rams in their last Division Two match tomorrow.
Elsewhere, Teignmouth Reserves are still in with a shout of a top six finish. They defeated Newton United 5-1 last Saturday and still have a game against Waldon to reschedule. The Clarets' last home game finished with a 4-1 reverse to Kingsteignton Reserves on Tuesday, three days after they trounced Bishopsteignton United 6-0 away.
Dartmouth AFC Reserves knew that a win at East Allington United Reserves last Thursday would secure them the Division Three title. Josh Webber and Nick Rushe delivered the goods to wrap up the first of the SDFL's titles. Darts then added another nine points to their tally with Ipplepen Athletic Reserves failing to raise a side to visit Longcross on Saturday, Torbay Police also failing to fulfil on Sunday and the champions beating Harbertonford Reserves 3-1 in their last game at Longcross for the season, Armitage, Chalk and Rushe again with the goals. Darts finish their season with an away trip to Upton Athletic Reserves. After drawing 0-0 at AFC Staverton in their final game on Saturday, Salcombe Town faced a nervy wait to see whether Stavy or Liverton (or both) could overtake them and possibly deny them promotion. The busy Lillies were first to drop out of the running; after winning 5-0 against Torbay Police on Saturday and 3-2 at Teign Village on Monday evening, they went on to lose out by a single goal at East Allington the next night. Thursday night also saw them in action, and succumbing to a surprise 2-0 home defeat to Waldon Athletic Thirds but by that time the outcome was academic – as it was to relegated Waldon. AFC Staverton finally handed the runners-up spot to Salcombe with a 3-0 home defeat to Harbertonford Reserves on Thursday, two nights after having comprehensively beaten Buckfastleigh Rangers 5-1 away; Stavy (who also beat Ipplepen Athletic Reserves 5-0 last Thursday evening) finish with a trip to Waldon; Rangers host Liverton. Bottom side Dittisham United enjoyed a big 13-2 win at home to Waldon on Saturday before going down 4-2 at Buckfastleigh on Thursday. The Plums can avoid finishing bottom (but not going down) if Waldon lose and they win their final match at Ipplepen. Other results saw Teign Village sandwich their Liverton loss between a 4-1 home win over Buckfastleigh on Saturday and a 3-3 draw at Waldon on Tuesday; they finish with a home tie against Harbertonford Reserves.
Roselands Reserves' 1-0 loss at Newton Rovers on Thursday evening saw Watcombe Wanderers Thirds crowned champions for the third year running. Watcombe, who travel to Riviera United tomorrow, beat Barton Athletic 4-0 last Saturday while Roselands beat Torquay Town 2-1. Riviera United will finish third whatever happens; away wins at Newton Rovers last Thursday (3-0) and Ashburton Reserves on Saturday (3-1) had stretched their winning run to three but Thursday evening's penultimate match saw them go down 3-2 to visiting Kingsbridge and Kellaton United who bounced back from their 4-2 loss at Newton Abbot '66 Reserves on Saturday. Broadmeadow STFC once again faced Newton Rovers, the team they beat in the Les Bishop Cup final, last Saturday and their 1-0 win keeps them at the front of a three-way battle for fourth despite their 5-2 away defeat at Torquay Town on Wednesday; that result relegated Babbacombe Corinthians Reserves, Broadmeadow's final day opponents. A point behind are Meadowbrook Athletic who end their season away at Kingsbridge and Kellaton. Meadowbrook have picked up consecutive away wins: 2-1 at relegated Ilsington Villa on Saturday and 4-2 at Newton '66 on Wednesday. Barton also have an outside chance of fourth. They recovered from their Watcombe loss with a 7-2 home win over Ilsington on Tuesday and host Newton Rovers tomorrow. Paignton Villa Reserves could yet secure a top half finish after they beat Corries 3-2 last Saturday although they would have to beat Roselands Reserves away. Newton Rovers are also in with a shout despite their 2-0 loss against Torquay Town on Monday night. Torquay Town, who had looked doomed due to late season points deductions, are now looking to end the season with a flourish. They can make it three wins on the bounce if they triumph at Newton '66 in their final match of the season.
Torbay Police Reserves thumped Buckland and Milber Reserves 6-0 at Brixham Community College on Wednesday night to win the first half of the Division Five double, a feat they will be looking to complete in tonight's Bill Treeby Cup final against Newton United Reserves at the Rec. The Bees' decisive win follows Saturday's 3-0 home success over bottom side Chudleigh Athletic Thirds. Following their final, the champions have one final test, away at Watts, Blake and Bearne AFC the following afternoon. Buckland and Milber, who smashed Moretonhampstead 8-0 away on Tuesday, need to beat Barton Athletic Reserves at Long Lane tomorrow to claim the runners-up spot; failure will see Broadhempston United Reserves, who hung up their boots after last weekend's 9-3 victory over Barton, finish second. It is unlikely that Moretonhampstead can improve on fourth; they visit Paignton Saints Reserves, the team they beat 3-1 at home last Saturday. Fifth-placed Riviera United Reserves finished their season last Saturday with their first win in five, beating WBB 4-2 at Whiterock. Newton United Reserves secured a top six finish by defeating Stoke Fleming and Strete 2-1 on Tuesday night after Saturday's surprise 3-2 loss at next-to-bottom Malborough United. Paignton Saints Reserves will finish seventh no matter how their final game, at home to Moretonhampstead, turns out while Newton Rovers Reserves can climb to eighth with victory over Malborough. Rovers have won two on the trot, beating Stoke Fleming and Strete 5-2 away on Saturday and Barton Athletic Reserves 6-4, also away, on Thursday night.