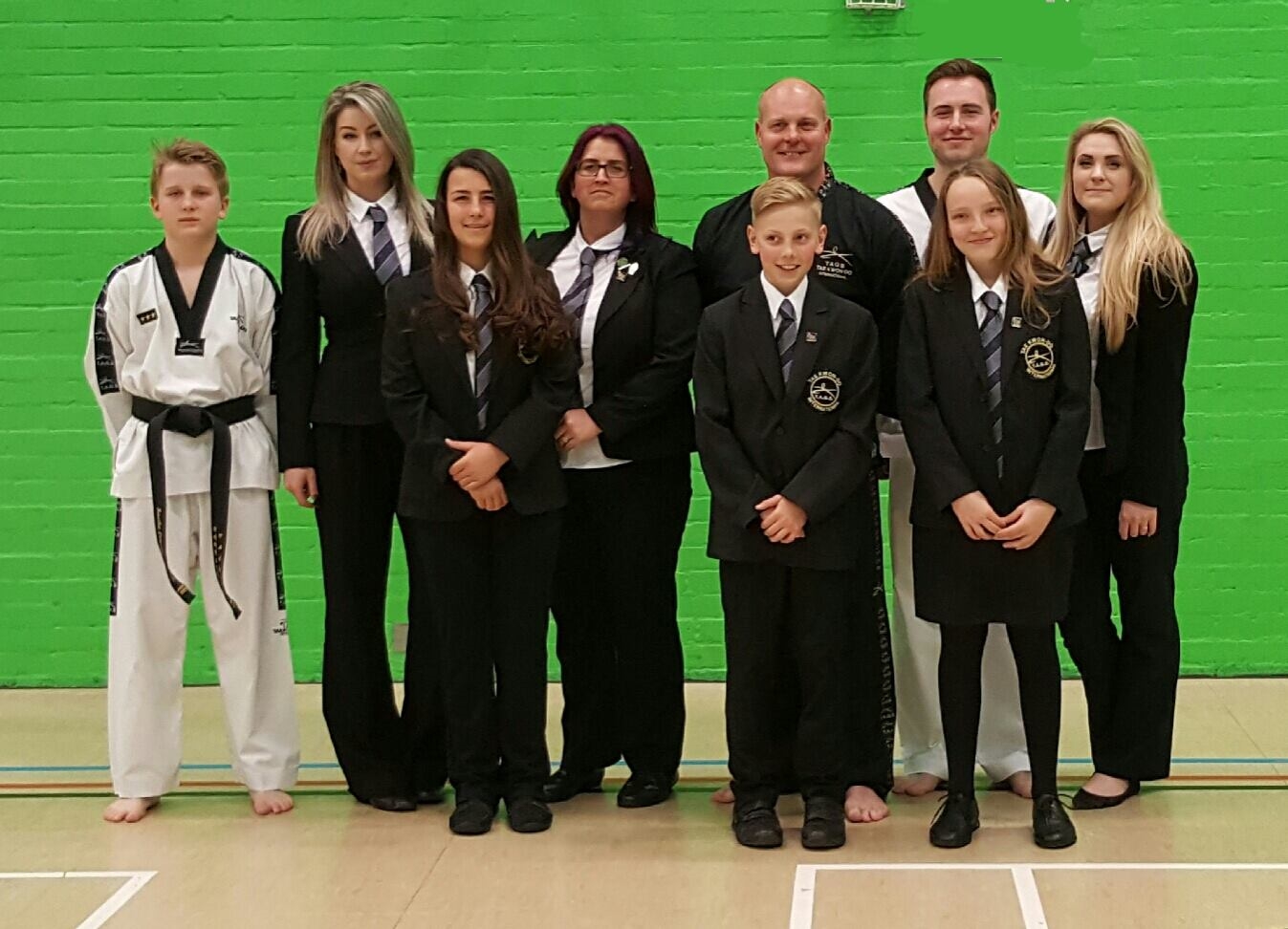 Success at Local and National Gradings for Tae Kwon Do Students
Eight students from MartialArts4Fun School of Excellence attended the biannual black belt grading held at the Tae Kwon Do Association of Great Britain's (TAGB) national headquarters in Bristol.
Over the grading weekend, over 600 students from the organisation took the exam for either their black belt or additional black belt degree grading. On this occasion all eight students were successful: Kayleigh Hall (Newton Abbot), Holly McLauchlan (Newton Abbot), Jacob Wilson (Teignmouth) and Abbie Thomas (Dawlish) all became first degree black belts; Karen Ball (Assistant Instructor at Ashburton) and Sacha Einzig-Pilling (Bovey Tracey) became second degree black belts and Ben O'Neill (Assistant Instructor at Newton Abbot) and Andrew Saunders (Paignton and Torquay instructor) became third degree black belts.
In addition, the following junior students took star gradings – the next step towards their second degree black belt: Jack Baker and Rachel Davis (Teignmouth – first star) and Shawna Ball (Teignmouth – third star).
The School has also held its latest coloured belt grading at Newton Abbot Leisure Centre. Over 80 students took part including some from the neighbouring schools of Torbay Tae Kwon Do, Exeter Eagles Tae Kwon Do and KSTKD Exmouth Tae Kwon Do. MartialArts4Fun had a very successful day with a 100% success rate. A-passes and grading awards were given to white belts Jed Burkhill (Teignmouth) and Sam Barnett (Bovey Tracey) and red belt Hannah Broughton (Newton Abbot). The following students narrowly missed out on an A-grade but came away with a plus pass for their efforts: James Moore (Newton Abbot), Rob Burley (Newton Abbot), Mei Wilcock (Dawlish), Stephen Morgan (Teignmouth) and Megan Foord (Chudleigh). Also worth mentioning are young Danny Moore (Newton Abbot), Hattie Featherbe (Newton Abbot) and Matthew Moore (Newton Abbot) who have each shown a significant improvement since the last grading.
If you are interested in joining this successful organisation, classes with MartialArts4Fun are held across Teignbridge six days a week. The classes cater for both adults and children, so families are able to train alongside each other, and the school offers a month's free training so you can try out this martial art with no commitment. For more information please visit the website www.martialarts4fun.co.uk or contact Senior Instructor, Master Peter O'Neill (6th Dan), on 07718 750390.
[box]
Picture (kindly contributed by MartialArts4Fun):
Back row (L-R): Sacha Einzig-Pilling (2nd Dan), Kayleigh Hall (1st Dan), Karen Ball (2nd Dan), Master Peter O'Neill (6th Dan and Senior Instructor of MartialArts4Fun), Ben O'Neill (3rd Dan), Holly McLauchlan (1st Dan)
Front row (L-R): Shawna Ball (1st Dan 3rd Star), Jacob Wilson (1st Dan), Abbie Thomas (1st Dan).
[/box]