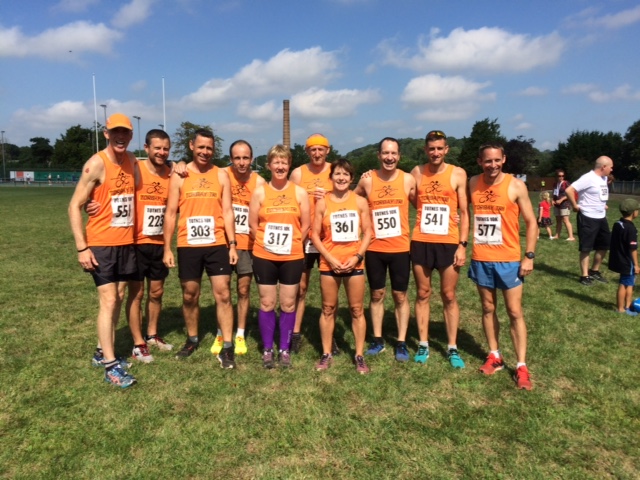 Torbay Tri Win at Totnes 10K
Torbay Triathlon Club members had a yet another busy weekend across the country writes Jon Pressling. 
Totnes 10k
Torbay Tri Club sent a team of ten to the Totnes 10k and came away with the coveted team prize along with a number of individual awards. The newly formed running team are fast making an impression on the run circuit and put out a strong men's team to race along the River Dart to Dartington before returning to the finish at Borough Park.
On a hot summer morning the six men claimed glory with four finishers in the top ten and added a new name to the team trophy which had previously been dominated by Torbay AC. Aaron Tocknell claimed first senior male and second place overall while there was an age group victory for Wendy Urban.
Results: Arran Tocknell 37.33, Lee Turner 37.48, Ian Tyson 39.34, Jon Parkinson 40.30, Andrew Longthorpe 43.06, Nigel Fenn 43.41, Jerry Hocking 44.09, Wendy Urban 49.42, Ian McClean 49.50, Jo Coish 1.09.32
Cotswold Classic Middle Distance Triathlon
Simon Mills and Cassandra Harrison made their middle distance triathlon debuts on a scorching day in the Cotswolds, and were joined by club coach Jon Pressling.
With high temperatures the trio had the option of a wetsuit swim which saw the men opting in favour of them while Cassandra opted without, putting in the quickest swim leg around the 1.2 mile lake course. Onto the bike and all three put in strong performances around the fast and flat course, with Simon unlucky to suffer a puncture under two miles from the end. Starting the run course at the hottest part of the day meant staying cool and hydrated were key to completing the half marathon run to the finish.
The trio battled the heat to cross the line before heading for a refreshing dip in the same lake they had started their race in earlier that day.
Results: Jon Pressling 5.07.11, Simon Mills 5.36, Cassandra Harrison 6.16.19
London Triathlon
London was calling for Paul Whitehead and Angie Allen as they headed to the capital for the AJ Bell London Triathlon. Both opted for the standard Olympic distance of racing which offered closed roads weaving past iconic London landmarks. Starting the day with a 1500m swim in the docks, it was soon onto the 40k bike before a 10k run cheered on by thousands of spectators and a unique finish inside the Excel Centre. Despite twisting his ankle in the warm up Paul was happy with his time of 2.40.34 while Angie crossed the finish line in 3.12.51
Look out for more news and reviews next week.