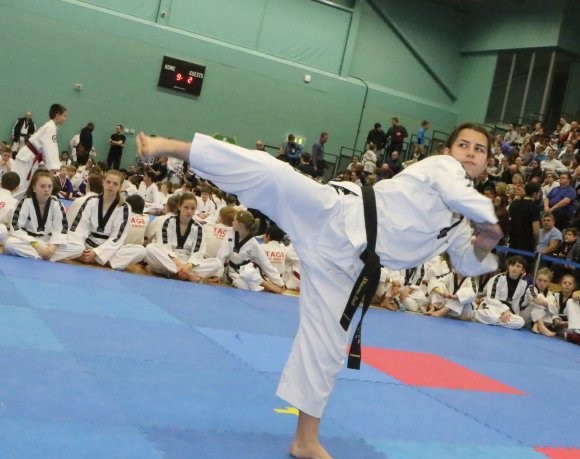 South Devon's Shawna Brings Home Gold from National TAGB Comp
Pictures kindly contributed by Martialarts4fun
The first of this year's Tae Kwon Do Association of Great Britain (TAGB) national competitions was held in Worcester on Sunday 13th March: the English Championships.
Teignbridge-based MartialArts4Fun Tae Kwon Do School of Excellence sent a small representative team of regular competitors and officials to the event which saw around 1,500 adults, cadets and juniors competing. 12 year-old Shawna Ball carried the flag for the school and brought home Gold in the Tag Team Sparring event after teaming up with other South West competitors.
TAGB are the largest single martial arts association in Europe while MartialArts4Fun train locally six days a week across Teignbridge. They welcome both beginners and those returning to training after a break and offer a month's free training.
For more information, please contact Master Peter O'Neill (6th Dan) on 07718 750390, by email at [email protected] or visit www.martialarts4fun.co.uk . All Instructors and Assistant Instructors are fully qualified and hold current DBS and First Aid certificates.