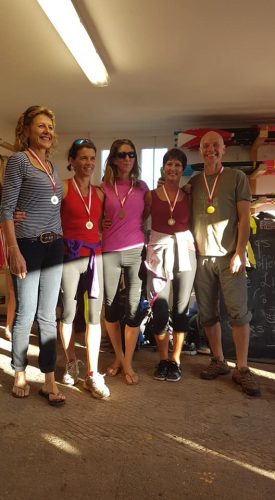 Rowing: Exeter Triumph at Weybridge
A number of rowers from the region travelled up to London to compete in the 2900 metre long Weybridge Silver Sculls Head Race last weekend and came away with a number of impressive class wins in a massive field of over 400 scullers, writes David Godfrey.
The Exeter club's veteran oarsmen and women had a large contingent in action and returned home with 5 wins. Julia Wood was successful in both the Masters D (age 50+) and  E (age 55+) age groups,  while Dave Byrnes was also successful in the same two men's age groups. Last but not least was Eleanor Burke who took top spot in the Masters (age 43+) singles. Byrnes and Burke also linked up to race in the combined Masters C/D/E category where they just missed out on top spot, despite recording an impressive time of 11 mins 24 secs.
Ali Peake from Bideford Blues was 3rd and 4th in the Master's D and C sculling classes.
The annual event is the oldest sculling head on the non-tidal reaches of the Thames, having been founded in 1956. Many famous scullers have won the trophy including Sir Steve Redgrave, Guy Pooley (4 times winner), Chris Baillieu, Dan Topolski and Tim Crooks. The event was expanded a few years ago to include double sculls, and we now offer Junior 14 coxed quads.
Rowers from the Teign Scullers club dominated the 'Exe Raid' regatta at the weekend – winning both the top men's and ladies' races over a distance of 8000 metres and then went on to also finish in top spot in the Mixed and Masters categories.
The South West Coastal League event was organised by the Exmouth club and was held in near perfect weather conditions.
The Teign crew of Patrick Gaskins, Patrick Forster, Fletcher Larkin and Andy Darkin, plus cox Wendy Blackburn were convincing winners of the men's race, completing the course in a time of 36 min 10 secs to finish 47 seconds ahead of the Mayflower crew in 2nd place and in the process opened a slender 1 point lead with just one race remaining.
Yvonne Hudson, Sandrine Heytread, Harriet Langworthy and Wendy Blackburn, plus cox Andy Darkin were equally impressive in the ladies' race where they completed the course in 39 min 53 secs to win by a similar margin to their men's quad and have a 6 point buffer going into the last race.