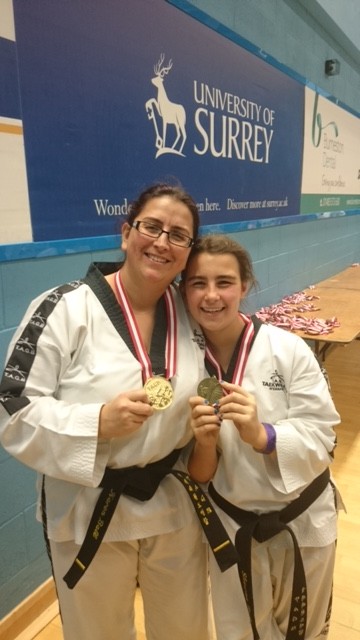 Mother and Daughter Fly Flag for South Devon in Surrey and Derby
Pictures kindly contributed by Karen Ball
Mother and daughter Karen and Shawna Ball, who are both Black Belts from Teignbridge's MartialArts4Fun Tae Kwon Do School of Excellence have had a busy couple of weeks.
The pair started their travels in Guildford, Surrey where they competed in the South East Tae Kwon Do Championships. 11 year old Shawna started the day off with great performances in both the Individual Under-17 Girls' Patterns and Individual Lightweight Sparring events, narrowly missing out on a medal but taking away a vast amount of experience. But Shawna did finish her events on a high, teaming up with students from the Poole and Croydon Tae Kwon Do Schools and taking the gold in Tag Team Sparring. It wasn't a wasted journey for Ball senior either: despite missing out in the Ladies' Patterns event, Karen did come home with a gold by beating higher Dan grades from across the country to win the Ladies' Hand Destruction competition.
The duo's success continued when they travelled to the newly opened Derby Arena for the North Midlands Tae Kwon Do Championships. Shawna managed to improve on her haul from the previous weekend by claiming a bronze in the Individual Lightweight Sparring competition and continued her winning streak by taking gold in the Tag Team Sparring. Karen also continued to dominate the Ladies Hand Destruction by winning another gold!
Both Championships each have around 350 competitors and are good practice for the British Championships, Europe's largest martial arts competition, which were scheduled to take place in Derby yesterday – with around 1,000 competitors from all over the UK expected to have taken part.
Karen is an Assistant Instructor at the MartialArts4Fun Ashburton School and both Karen and Shawna regularly train in the Teignmouth School. MartialArts4Fun offers a month's free training, so if you'd like to come and train alongside them and other students please contact Senior Instructor Master Peter O'Neill (6th Dan) on (07718) 750390 or visit the website, www.martialarts4fun.co.uk, for more information.
Master O'Neill congratulated the students for putting the time into attending competitions and showing that hard work pays off!