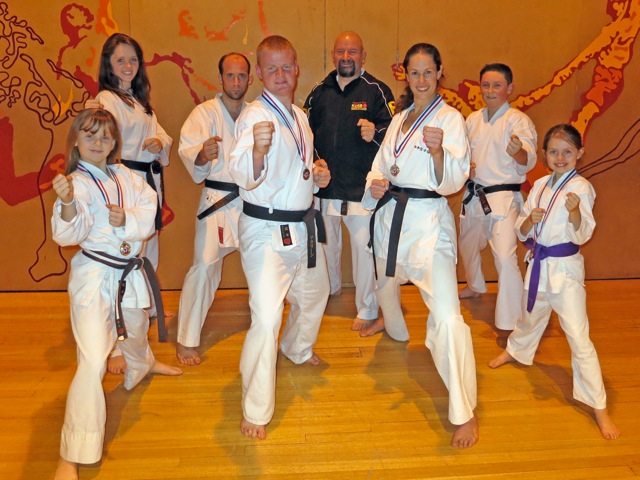 Medals for Team Tsutahashi at Karate Championships
Shotokan karate clubs congregated at the Cranford Sports Club in Exmouth for the annual Karate Union of Great Britain (KUGB) Devon Karate Championships.
The day provided an enthralling display of martial arts skills before the crowd of enthusiastic spectators, where competitors of all ages and experience fought it out for medals in several categories.
The squad from Ivybridge-based Tsutahashi Shotokan Karate Club performed admirably in both Kata (set forms) and Kumite (sparring) events. Elysia Morris won Gold and Grace Wortley won Bronze in Ippon Kumite (under-10s); Tom McClean won Bronze in Men's Black Belt Kumite and Helen Cox won Silver in Ladies Kumite.
£560 was raised for Help for Heroes charity on the day, with more sponsorship money expected.
[box]Tsutahashi Karate Club welcomes new members, adults and children alike, to try Karate at Ivybridge Community College, Harford Road, Ivybridge, PL21 0JA (upper gymnasium). Classes take place Wednesdays and Fridays, 6:30pm-8:00pm and cost only £3.50 per lesson (first two lessons free)[/box]
Contact Sensei Neil Rowley (4th Dan) on 07546 924461 or email [email protected] More details on the club's website www.ivybridgekarateclub.co.uk
PHOTO: Tsutahashi's competition squad (LtoR) Elysia Morris, Beth Morris, Dan Curtis, Tom Maclean, Sensei Neil Rowley (4th Dan), Helen Cox, Josh Loben, Grace Wortley.