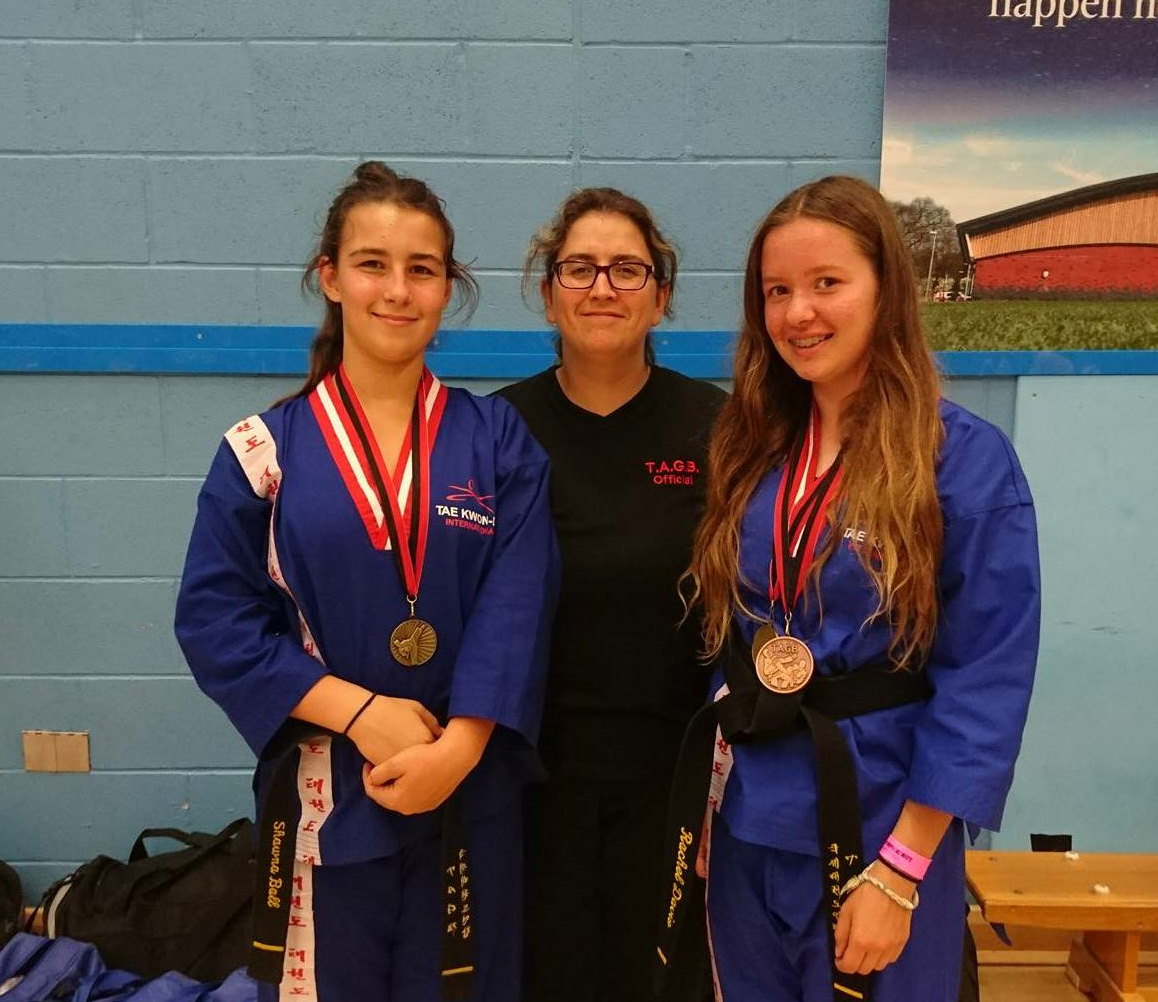 MartialArts4Fun Students and Competitors Continue to Bring the Bling Back to Teignbridge
Image contributed by MartialArts4Fun
Three students from MartialArts4Fun Tae Kwon Do Schools of Excellence, travelled to Surrey Sports Park, Guildford to represent the Teignbridge based schools at the South East Championships. Around 400 students, mainly from the South East but some travelling from as far away as Scotland, attended.
Students competed in the following disciplines: Patterns, Sparring and Destruction/Power Test. Rachel Davis (pictured, right) of the Teignmouth School earned a well deserved bronze medal in Individual Black Belt Girls Middleweight Sparring; she then joined with Shawna Ball (pictured, left), also from the Teignmouth School, to win a gold in Tag Team Sparring. This event was a good training event for the Southern and North Midlands and British Championships that are all coming up before the end of 2016.
Senior Instructor Mr Peter O'Neill (6th Dan Black Belt) commented to say that he was proud that his students were dedicated enough to travel out of their area to compete and pleased that they were able to come back with medals to show for their efforts.
Whilst these students travelled to compete in Guildford, others were taking their next step in their Tae Kwon Do journeys at the grading examination held at Newton Abbot Leisure Centre. The schools achieved a 100% pass rate under the watchful eye of Master Michael Dew (8th Dan Black Belt) with the following students performing above the expected level:
A-GRADES – Tasha Harding (Teignmouth); Jed Burkill (Teignmouth); Mei Wilcock (Dawlish); Sam Barnett (Bovey Tracey). A special mention goes to Tasha Harding who took away the grading award for the Teignmouth School and has managed to get an A-Pass at every grading to date; this sets her in good stead for her Black Belt grading during 2017. Mei and Sam also took away the grading award for exceptional gradings for their respective schools.
PLUS PASSES – Simon Green (Bovey Tracey); Ellie Townend, Kyle Jemmison and Lauren Jemmison (all from Ashburton); Rob Burley and Chloe Pike (both of Newton Abbot); Nat Bonfield (Mortonhampstead).
Senior Instructor Mr Peter O'Neill commented: "The grading at the end of the summer holiday is always hard due to students having time out of training but it shows that if you are dedicated and work hard you can achieve your goal."
MartialArts4Fun are family run schools and train six days a week in seven locations across the Teignbridge area. For more information on a free month's trial please contact Senior Instructor Master Peter O'Neill  on 07718 750390.