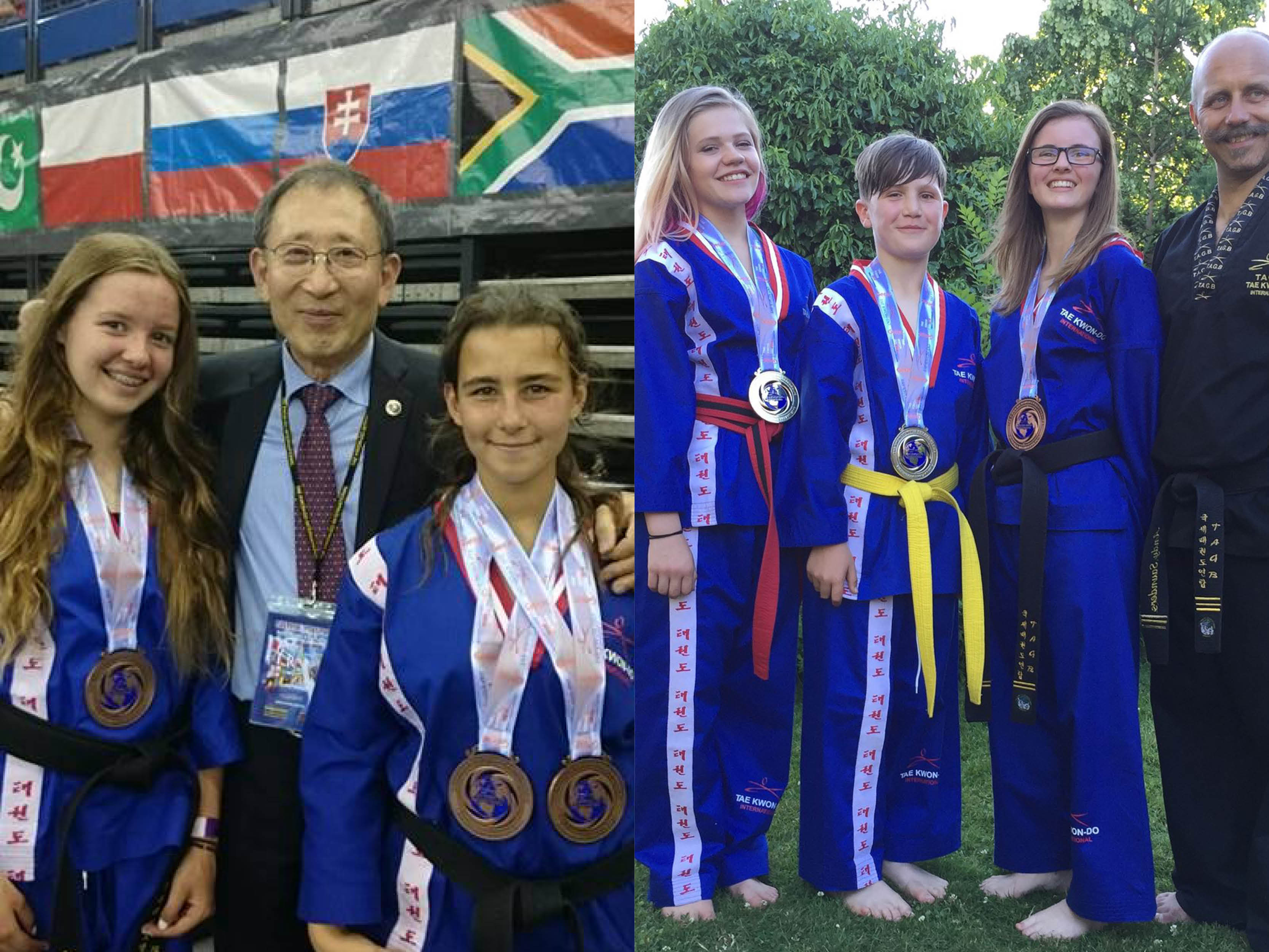 Local TAGB Clubs Crown Three New World Champions at TAGB Internationals
MA4F Photographs (c) Karen Ball; Tae Kwon-Do Torbay Photograph kindly contributed by Andy Saunders
Tae Kwon-Do experts from all over the world descended on Birmingham on the 16th and 17th of July to take part in the XI Tae Kwon-Do International World Championships at the Barclaycard Arena in Birmingham.
3,720 competitors took part in this magnificent display of the Korean martial art with over 30 countries represented. Teams travelled from the USA, Australia, Canada, Argentina, St Maarten (Caribbean), Nepal, Spain and Norway, amongst others, with students from the schools of the Tae Kwon-Do Association of Great Britain (TAGB) forming a large portion of the attendees; these included representatives from both MartialArts4Fun (Teignbridge) and Tae Kwon-Do Torbay.
There were also a wealth of volunteers helping the competition run smoothly from umpires and referees to medics, welfare officers and a media team. The competition was opened by Special Guest C K Choi (9th Dan), one of the pioneers of Tae Kwon Do and the first ever Tae Kwon Do world champion, who flew over from Canada especially for the event (pictured above left with MA4F's Rachel Davis and Shawna Ball).
A small contingent of 11 competitors and officials from MartialArts4Fun Tae Kwon Do School of Excellence (MA4F) in Teignbridge travelled to the Arena and Saturday saw five of them compete and start off well with Shawna Ball taking home a Bronze Medal in
the Black Belt Girls (Under 16) Musical Patterns event, narrowly missing out on a silver. The day continued in a similar vein with Rob Burley joining with two other competitors (one from England and the other from Argentina) to win a Bronze in the Yellow/Green Belt Men's Tag Team Sparring event. And the day finished as it started for Shawna who teamed up with Rachel Davis from the Teignmouth School and Victoria Walton from Mississippi, USA to help the local girls take home a Bronze apiece in the Black Belt Junior (11 to 14) Girls Heavyweight Tag Team Sparring event. Also of note were performances from Sacha Einzig-Pilling and Tilly Einzig-Pilling, a first time International Competitor, who did well in their respective events.
An even smaller group of four Students from Tae Kwon-Do Torbay entered their first World Championships and battled it out with fellow TAGB members and international competitors. Luis Hegarty fought valiantly in sparring and only just got pipped to a medal in Boys' Blue Belt Patterns, securing a fantastic 4th place. Lauren Saunders (pictured above right with Instructor Andy Saunders and club-mates Skye Kelly and Oscar Hegarty) took a well deserved bronze in Ladies Black Belt (2nd Dan and above) Patterns, where she met previous and current World Champions in her first tournament as a senior having just turned 18. Oscar Hegarty, Luis's younger sibling took a fantastic silver in Boys' Yellow Belt Sparring in his first ever tournament and the Torbay contingent's weekend was topped off by 14 year old Skye Kelly who took Gold and became Junior Girls' Red Belt Patterns World Champion, continuing her success in both regional and national competitions.
Sunday was all about the Adult Black Belts and Cadet (15 to 17) categories. Destruction was first up with MA4F's Karen Ball, competing in her first ever Internationals and, what's more, in a new event for her, winning Gold in the Ladies Hand Palm Heel Strike Destruction event. Fuelled by that success, Ball went on to also scoop Gold in the Ladies Elbow Strike Destruction event, crowning her a Double World Hand Destruction Champion. Sam O'Neill finished off the medals with Gold in the Men's Turning Kick Foot Destruction event with his brother Ben beaten into second place in both the Reverse Knife Hand and Knife Hand Destruction categories.
Finally on Sunday, Holly McLauchlan, who passed her Black Belt grading in April and was another competing at her first Internationals, got through to the final round of the Elbow Strike Destruction event.
Senior Instructor Master Peter O'Neill (6th Dan) said after the event, "This was the most successful World Championships for MartialArts4Fun in a long time," adding that he was "very proud of all the students that took part in this prestigious event."
Andy Saunders (3rd Dan) and Instructor for TAGB Torbay said, "I am so proud of all of my team who took part in a high standard of competition ensuring 1st, 2nd, 3rd and 4th at World Championship level. They have all trained ridiculously hard in the run up to these Championships and are an inspiration to not just my current students but also to those wishing to take up Tae Kwon-Do.
"Our schools continue to expand and go from strength to strength and are testament to the success of the TAGB in Torbay and our neighbours at MartialArts4Fun.
"I would also like to thank all of the parents who take time to travel and support my students in many different capacities; without them these results would not be possible."
TAGB Tae Kwon-Do is suitable for any age and ability and classes run throughout South Devon. For more details about Tae Kwon-Do Torbay, contact Instructor Andy Saunders on 07866 500756 or 
You can also follow the club at facebook.com/taekwondotorbay and on Twitter @taekwondotorbay.
For information about MartialArts4Fun contact Senior Instructor Master Peter O'Neill on 07718 750390 or
Thank you to Andy Saunders and Karen Ball for their event reports and photographs.