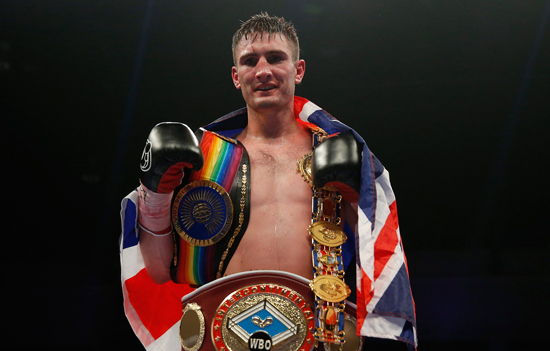 Jack Arnfield Ordered as Mandatory to Tommy Langford's British Middleweight Title
Picture kindly contributed by TR Sports Agency
The British Boxing Board of Control have ordered Jack Arnfield (24-2) as Tommy Langford's (18-1) mandatory opponent for the first defence of his British middleweight title.
The stewards decided to put the British Championship contest to purse bids to be submitted by July 12th, with the fight ordered to take place by the end of October 2017.
Devon-born Langford was due to defend his British belt for the first time against fellow Birmingham-based rival Craig Cunningham earlier this year but was lured away from that contest with a bigger opportunity to challenge for the interim WBO World middleweight title against Avtandil Khurtsidze (32-2-2), who has just been arrested on RICO charges in America.
Langford's intention was to beat the Georgian in order to set up a top domestic showdown with stable-mate Billy Joe Saunders for the WBO World middleweight title but his first step up to world level ended in a fifth-round TKO instead.
The former England amateur captain, signed to Frank Warren, announced his plans to defend his Lonsdale belt immediately after his maiden defeat last April.
He recently asked fans on social media who they would like to see him face next and Jack Arnfield, Craig Cunningham, Jason Welborn and Elliot Matthews were the names that all came out on top.
Arnfield, 28, from Blackpool has gone from strength to strength since his loss to Nicky Blackwell back in November 2015, in what was his first crack at the British crown.
The Blackpool boxer has since reeled off five straight wins whilst collecting the WBA International middleweight title from John Ryder (23-2) and defending the belt twice against Mick Hall (13-1) and Brian Rose (29-4-1).
When the 6ft 2" tall boxer beat Ryder live on Sky Sports last September, the first name he mentioned was Tommy Langford's in a bid to become the stand-in opponent for his British title fight when Chris Eubank Jr. withdrew.
Sheffield's Sam Sheedy got the nod ahead of Arnfield with Langford edging past him on a split decision to lift the vacant Lonsdale belt to add to his Commonwealth and WBO Inter-Continental crowns.
Langford is relishing the opportunity at defending his title against the No.1 challenger, currently ranked 11th in the WBA World rankings, publicly stating on Twitter, "Literally just found out got Jack Arnfield as mandatory. Looking forward to this."
Boxing Monthly currently ranks Arnfield as their no.3 middleweight with Langford placed at no.4.
To follow Tommy Langford on Twitter, click here @Tommy_Langford1
Tommy Langford would like to thank his sponsors TX ODDS, UK Display Stands, JS Wright & Co Ltd, Denco Thermal, All Car Leasing, Bartercard UK, Strategy Plus Web Design, Atlas Pain Relief, Ringside UK and Agent Tim Rickson.