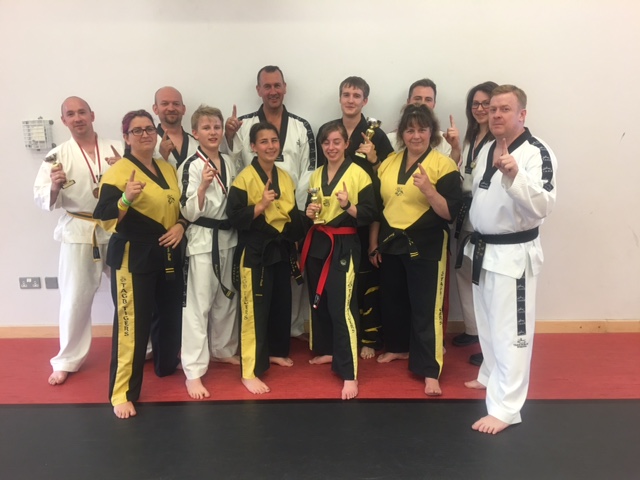 Busy day in Wales for MartialArts4Fun
Picture kindly contributed by MartialArts4Fun
The Welsh Championships, held in Cardiff, was the final TAGB national competition before the 11th Tae Kwon Do International World Championships being held in July in Birmingham.
It was a really busy affair for the MartialArts4Fun crew from Teignbridge as they had competitors in all disciplines (Patterns, Sparring, Team Sparring and Destruction).
The day got off to an ideal start with experienced tournament competitor Ben O'Neill winning a Silver medal in Black Belt Men's 3rd and 4th Dan Patterns, having only passed his 3rd Dan grading and having to learn a new pattern a month before the competition! This was followed shortly after by Tasha Harding winning a Silver in Ladies' Blue Belt Patterns.
In the sparring and destruction elements of the competition the MartialArts4Fun team continued to pick up more medals: Rob Burley (Bronze in Sparring and Bronze in Team Sparring); Sacha Einzig-Pilling (Silver in Team Sparring) and Nathan Wills (Silver in Team Sparring). The day finished on a high with Sam O'Neill winning Gold in Men's Foot Destruction.
Master Peter O'Neill (6th Dan Black Belt), the Senior Instructor of the School, said: "I am proud to have such successful students, all of whom are working hard to improve on their performances in preparation for the World Championships in July. Everyone who took part deserves a round of applause. I'd like to also thank the spectators and officials who help to make the tournament a great success".
If you think that Tae Kwon Do might be a sport you would like to have a go at please contact Senior Instructor Peter O'Neill on 07718 750390 or by email [email protected] for more information about free trial lessons.