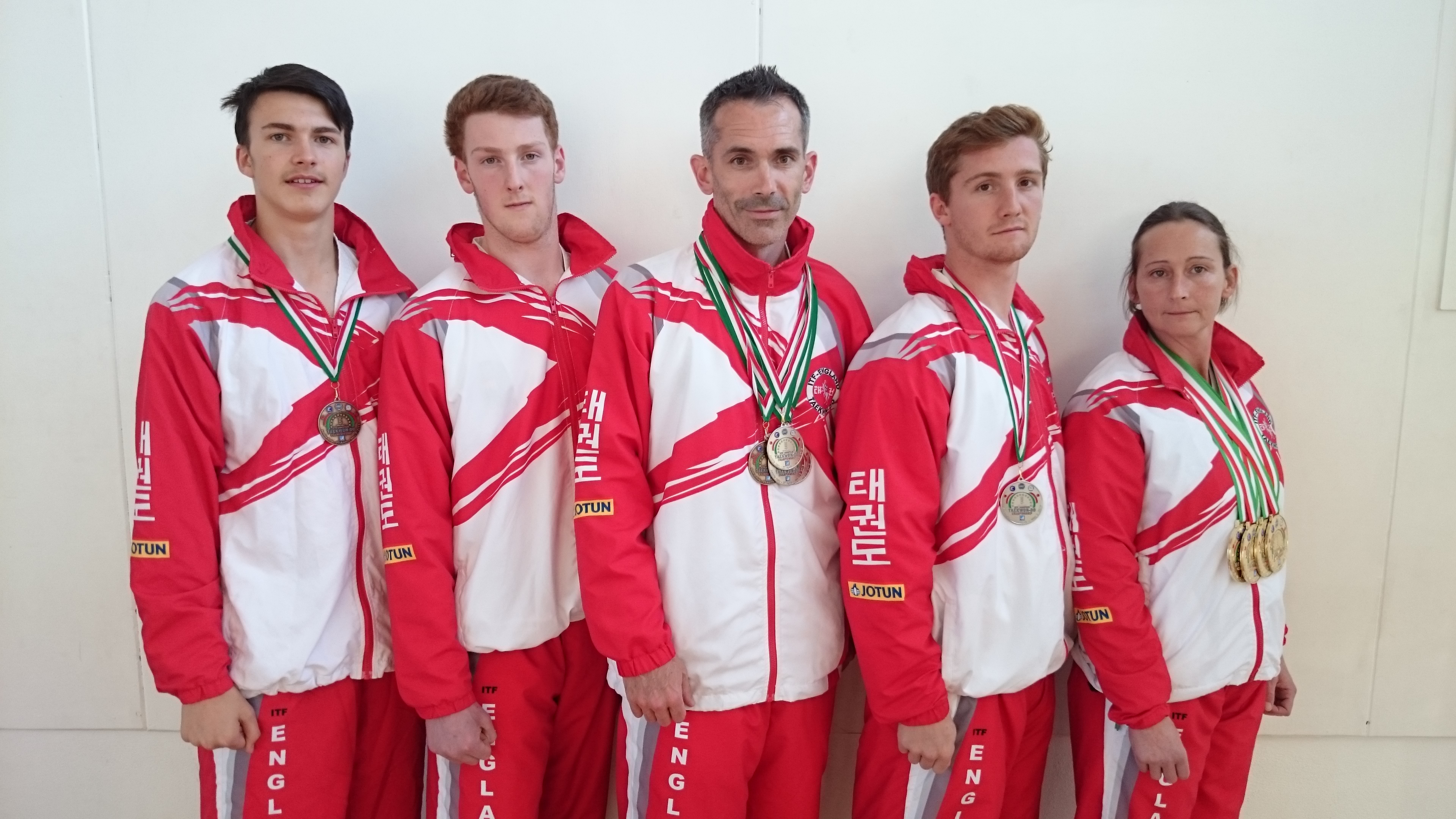 Barge Claims Four Golds as Steve's Taekwon-Do Team Master their Italian Job
Taekwon-Do second Dan black belt Amanda Barge enjoyed a four-gold medal haul at her debut Euro championships as Torbay Taekwon-Do instructor Steve Millis returned from Andria in Italy with plenty to shout about.
Steve and four of his students had all been selected, via national squad training, to represent England on the European stage. And Barge made the most of her opportunity, returning as the most successful competitor of the group with FOUR gold medals in individual patterns, individual sparring, Veteran Team sparring and Veteran Team patterns.  The four times European champion enjoyed her first experience so much that she has already talked about maybe defending her titles next year in Greece.
This was sixth Dan Steve's second European Championship and his experience showed with him winning with three silvers and one bronze, improving on his medal count from the last Euros.  Frustratingly Steve narrowly missed out on Gold in sixth Dan Patterns again, closely beaten by an opponent he had won against in previous years.
Second Dan students, and experienced internationals, Tom Bridge and Christopher Wright both came away with a medal each.  Tom won Silver in 'Power,' with the adult male team smashing their way through the breaker boards only to narrowly lose out on the gold to Bulgaria. Chris had a great fight against the Slovenians in the junior team sparring winning his bout confidently which meant that the boys faced the Russians in the semi-finals.  Unfortunately the Russians proved just too strong for our juniors leaving them with a well-deserved bronze.
Sam Bridge, a first Dan, had a great time at his first international competition but just missed the medal stages in Team patterns, losing to a strong Czech Republic team; in his individual sparring event he looked like he was going to comfortably win but was controversially disqualified for contact towards the end of the bout while overpowering his opponent on the edge of the ring.
Proud instructor Steve Millis said: "All of my students worked really hard to get selected and none of them looked out of place on the international stage; they all performed brilliantly and did themselves, the school and me proud.
Mr Millis's 'South Devon Taekwon-Do Schools' have now produced 15 International competitors, many of whom have won World and European titles.  If you would like to train where all abilities are catered for, you can find out more from their website www.tkd4all.com or by calling Steve Millis on 07779240865.
Photo (LtoR):  Chris Wright, Sam Bridge, Steve Millis, Tom Bridge, Amanda Barge