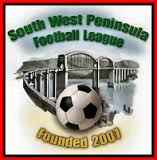 Surprise Exwick Slip Sees Rivals Gain on Stoke
The topsy-turvy title race in the SWPL Division One East took another twist as leaders Stoke Gabriel suffered a surprise reverse at home to bottom team Exwick Villa. With Brixham AFC, Newton Abbot Spurs and Teignmouth all winning, things are looking tight at the top.
Conor Radford, Exwick's teen goalkeeper was the hero for the league stragglers as they started 2017 with only their second away win of the season. Stoke looked to be ready to make light work of their task when they took a second minute lead, Ollie Critchlow deflecting Dean Stevens' high ball past Radford but it was to be the only time the youngster had to pick the ball out of his net. Although Jordan Hopkins came close to doubling the hosts' lead, blasting over from just in front of goal after 7 minutes and dispossessed with a last ditch tackle minutes later, it was Bailey Jason-Ryan for the visitors who was to strike next, winning a one-on-one with Scott Corderoy moments after forcing the big man into a fine save. Tom Kelly almost got Stoke's noses back in front, forcing Radford into another decent save, before Louis Jagger-Cane struck a second for Villa, a close range header.
After the break, the pattern became set with Stoke throwing everything they had at Radford and co. and Exwick digging trenches to protect their lead, permitting themselves the occasional breakaway attack. With 80 minutes on the clock the visitors' defence began to creak as a long-range Tom Kelly strike forced Radford into another unbelievable save and Stoke flooded the Villa penalty area with bodies but the visitors refused to be beaten and Stoke had to finally admit defeat.
Meanwhile, away at Donnacroft, home of Torridgeside, Brixham AFC were on course to narrow Stoke's lead to a solitary point. Marc Bettiss had the chance to give the hosts the lead from the penalty spot but after that effort had been saves, the Fishermen gave themselves a 2-0 lead through Sam Green, after 30 minutes, and Graham Mercieca from the penalty spot. A 75th  minute goal from George Folland gave the home side some hope but when Bettiss was sent off it became apparent that the points were going to the away side.
Newton Abbot Spurs were looking to keep pace by overcoming fellow South Devon side Liverton United at Halford. Things weren't looking good for Spurs though after Josh Cawsley's early long ball fell to Neil Last who broke through the defense, rounded Matt Bojar and slotted home with four minutes on the clock. In the eighth minute, Adam Dyson struck the post after good work from Liam Jones and the returning George Dandridge but Liam Moseley's follow-up was blocked to deny Spurs their equaliser. Three minutes later and skipper Phil Kingman was forced into last-ditch action as Liverton goalkeeper Dom Aplin, on his debut, punched a Ben Clarvis cross towards Liam Jones. Kingman cleared Jones' goalbound header from off the line to maintain the home side's advantage. A jittery visiting defence almost succumbed to a second before the end of the first 15 minutes, Last controlling well and beating Kevin Dadd and Chris Metters before watching his goal-bound drive deflected behind. With 34 minutes on the clock, Spurs finally found a goal and kicked off a purple patch which saw them go in 3-1 to the good. Dyson scored the first, heading Jones' left-side free-kick over Aplin and into the net, before Moseley put Clarvis through to coolly slot a second into the corner on 36 minutes. Clarvis returned the favour four minutes from the break, delivering the free-kick which saw Moseley make it 3-1 from close range.
Things went from bad to worse for Livvy two minutes after the restart, Moseley finding Jones who turned inside the box before sending a wicked drive past Aplin. Chris Drew-Cull almost narrowed the deficit three minutes later, forcing Bojar into a save, before Austen Booth headed over from the corner that followed. Both Clarvis and Last blazed over for their respective sides and Booth tested Bojar in the 75th minute from a Connor Stewart free-kick. Liverton's misery was then compounded when Stewart picked up two cautions in the final eight minutes. The Spurs win sees them two points behind Stoke.
After their shock 6-1 reverse against Axminster, Teignmouth were in no mood for another harsh lesson against the University of Exeter and a debut headed goal for Matt Yeabz was as good as it got for the rusty visitors as Teigns added their presence to a tight title-challenging pack with a 3-1 victory at Coombe Valley.
The second South Devon derby was held at the Foxhole Ground where Bovey Tracey Reserves were looking to add to Totnes and Dartington's misery with an away win. Things were looking ideal for the Moorlanders when Callum Livingstone put them two up but Tots roared back to run out 3-2 victors!
Galmpton United were hoping to carry their late 2016 form into the New Year by ending Appledore's unbeaten run. The game stayed goalless until the 70th minute when Brian Levien set up last year's Premier Cup hero Tom Marsh to head home. Sub Jack Langford then played Levien himself in to score a second for the Fishermen who won 2-0.