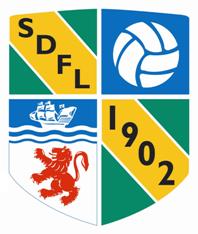 Stage Set for May 21st SDFL Title Decider – Local Football Round-Up Part 2/2
It's looking increasingly likely that May 21st will see Buckland Athletic Reserves and Dartmouth AFC fight it out for the Premier Division title as both sides continue to gather the points ahead of their final day meeting.
Darts wrapped up their seventh consecutive win on Tuesday evening with a 2-0 win away at fourth-placed East Allington United that moves them top of the table with two matches to play. In-form Danny Rushe scored an early header at Poole Lane before Mark Sneap wrapped up the points with a volley. That result followed Saturday's 4-1 home win over Kingsteignton Athletic, Dan Rankin with a hat-trick in that match, White with the other goal. Defending champions, Buckland Athletic Reserves haven't kicked a ball since Tuesday 3rd May and finish with three away matches against Ivybridge Town Reserves, Waldon Athletic and Dartmouth. Watcombe Wanderers defeated Kingskerswell and Chelston 3-0 away last Saturday to briefly go back to the summit but anything other than a win at home to Dartmouth on Saturday will knock them out of the title running (as a reminder, Dartmouth won 7-0 in the reverse fixture!)
Stoke Gabriel Reserves became the first side to complete their season and their bottom of the table status was mathematically confirmed on Saturday with a heavy 11-2 loss at Waldon Athletic, although Clarets' chairman Keith Aplin was quick to commend the scratch side of youngsters for their attitude and for fulfilling the fixture. Zak Gleason grabbed the lion's share of the goals with four, Spike Bond hit a double and there were singles for Gary Doyle, Josh Mason Thomas Ogilvy, Jordan Piercy and even manager Rab Milligan who came on as sub and put away a penalty. The result meant that Loddiswell Athletic were officially safe despite losing 3-0 at home to Ivybridge Reserves. Lodds went on to pick up a point the next afternoon as they drew 0-0 at East Allington. Elsewhere, Upton Athletic warmed up for tonight's George Belli Cup final with the only goal at Newton Abbot Spurs Reserves.
Also preparing for a divisional cup final are Ashburton. They moved top of Division One on Tuesday evening, following up Saturday's 4-0 home win over Chudleigh Athletic (Roles scoring twice in that one) with a hard-fought 3-2 victory away at fellow promotion-chasers Newton Abbot '66, who just happen to be their opponents in tomorrow night's Dartmouth Cup final. Defending champions Buckland Athletic Thirds, who can't go up, drop to second despite battering Buckland and Milber 15-0 on the weekend. With Newton '66 also having lost 1-0 at home to Beesands Rovers on Saturday, Finley Bullen scoring the only goal at Osborne Park, the way was held open for Ipplepen Athletic to move up to third on Tuesday night, which they duly did following a 3-1 triumph at home to bottom side Kingskerswell and Chelston Reserves who also lost 4-2 at Babbacombe Corinthians on Saturday, Corries moving into the top six thanks to goals from Curtis Marshall (2) Callum Crews and Josh Haycox. Elsewhere, Bovey Tracey Reserves defeated relegated Stoke Gabriel Thirds 2-0 away while Totnes and Dartington Reserves went seven unbeaten with a fine 4-1 win over Paignton Villa.
After Watcombe Wanderers Reserves' Fred Hewings Cup final win last week, it was Roselands' turn to crack open the bubbly as they edged Watcombe 2-1 in last Friday night's Lidstone Cup final. Max Prestwood and man-of-the-match Tom Dunlop delivered the goals for Roselands who also beat Watcombe in last season's Ronald Cup final.
Only Roselands and Watcombe can now win Division Two, the latter closing the gap on the former to three points with a 3-1 Sunday afternoon win over Kingsteignton Athletic Reserves. Roselands briefly pulled away again after an emphatic 6-0 win at neighbours Hookhills United on Monday night, but Watcombe cracked the 100-goal mark and kept up the pressure with a resounding 12-1 hammering of Bishopsteignton United on Wednesday. Harbertonford moved third by beating bottom club Abbotskerswell 7-0 on Saturday and then winning 1-0 at next-to-bottom Waldon Athletic Reserves in midweek; Waldon did manage a point on the weekend though, holding Newton United to a 1-1 draw away from home, Ben Drinkwater scoring for United. Buckfastleigh Rangers took part in a ten-goal draw at Teignmouth Reserves on Wednesday while Hookhills, who had won 2-0 at home to Teigns on Saturday, secured a fifth place finish with a 2-1 home win over Kingsteignton in their penultimate game. Brixham Town also have just one more game to play; they currently have a tenuous hold on sixth place after Saturday's 4-0 victory at Paignton Saints.
Dartmouth AFC Reserves are almost over the line in Division Three. A win at East Allington United Reserves tonight will all but mathematically confirm Darts as champions (Liverton United Reserves could technically still catch and beat them on goal difference). Darts blew Chudleigh Athletic Reserves out of the water on Saturday to finally climb to the top of the Division; Nick Rushe scored four times and Robbie Chalk hit the net twice in a 9-1 win with the remaining goals contributed by Joe Kirby, Liam Wadeson and Cameron Webb . Then, the Lillies failed to raise a side for their trip to Longcross on Monday night to inch the leaders closer to their target. Liverton did manage to fulfil their home fixture against second-placed Salcombe Town on Wednesday, edging their opponents 3-2 at Halford with Luke Milton and Kieran Stallard netting for Town. AFC Staverton held on to third with a 2-1 Tuesday evening win at Upton Athletic Reserves but Harbertonford Reserves are not giving up the chase; they followed up Saturday's 5-3 victory at Upton by narrowly beating Waldon Athletic Thirds 3-2 on the same evening. Without a point since March, the Clarets are in danger of following Dittisham United into Division Four, the Plums cementing their bottom two placement with a 4-1 reverse at Torbay Police. However, with 12 points each still to play for, neither Buckfastleigh Rangers Reserves (who lost 2-1 at East Allington) nor Teign Village (who lost 3-2 at Ipplepen Athletic Reserves) can count themselves safe quite yet.
Watcombe Wanderers Thirds picked up nine points in five days to put themselves in pole position for the two-horse title run-in against Roselands Reserves. The Greens enjoyed a 4-1 home triumph at Torquay Town on Saturday, thanks to two goals apiece from Samuel Pyne and Jamie Carter, and then moved top with Town unable to raise a side for the reverse fixture two days later. They then increased their lead to five points with a decent 4-0 Wednesday night victory at Meadowbrook Athletic, Sean Finch making an appearance and joining Sam Pyne and Owen Stockton among the goals (Pyne again scoring twice). Roselands Reserves, who thrashed Newton Abbot '66 Reserves 9-0 on Saturday, have a game in hand but the title is in Watcombe's grip. Riviera United look good for a respectable third place finish following a 4-0 home victory against Newton Rovers in a match that saw a Lee Fletcher goal ruled out for Rovers and a sending off for each side (Riviera's Alex Dart and Rovers' Sirin Guloglu) following a post-challenge off-the-ball incident. United took the lead after the Rovers defence failed to clear and allowed Nathan Metcalfe to fire home. Rovers then missed the chance to go in level when Shane Essam hit the post and after a period of United pressure went two down, Metcalfe with a thunderous volley. Ben Milton made it three, following a free-kick, before Joshua Passmore-Tarpey completed the quartet, after Derek Bridgeman's shot had been parried away by Rovers 'keeper Matt Hard. United have a game and a five point advantage over fourth-placed Broadmeadow STFC who beat Paignton Villa Reserves 6-4 away on Wednesday evening. Paignton Villa had scored six on Saturday, winning 6-2 at Ilsington Villa who had looked doomed to go down until Torquay Town were stripped of nine points by the league this week. Ilsington still have their work cut out to fashion an escape after falling to a fourth consecutive loss in midweek, 2-0 at Newton Rovers. Babbacombe Corinthians Reserves are now out of the bottom two though despite losing 1-0 at home to Meadowbrook on Saturday with David Topham scoring the decider. Finally, Kingsbridge and Kellaton United inched closer to safely by beating Ashburton Reserves 4-2 away.
Torbay Police Reserves continue to head the four-way Division Five title race following Saturday's 5-1 home win over Paignton Saints Reserves, whose consolation was scored by Paul Green. But Buckland and Milber Reserves, who won 5-3 at Barton Athletic Reserves on Saturday thanks to Matt Windsor's brace and singles from Danny Harry, Jake Lofthouse and Cory Brennan, moved ominously within striking distance by beating the Bees 3-1 at Long Lane on Wednesday, Harry with a double in that one and Brennan also on target again; the two sides meet in the reverse fixture on 18th May! Broadhempston United Reserves moved level on points at the top the same night, hammering Newton Rovers Reserves 7-1 four days after winning 5-2 at Watts, Blake and Bearne AFC. But Saturday's home game against Barton Reserves is Broads' last fixture so it is unlikely they will end up with the title. Moretonhampstead kept their fading hopes alive with a 5-3 victory over Stoke Fleming and Strete. Malborough United condemned Chudleigh Athletic Thirds to the wooden spoon with a 5-1 home win against the bottom side. Elsewhere, Saturday's derby between the reserves of Newton Rovers and Newton United ended honours even with two goals scored apiece, Guttridge and Austin on target for United. Newton United Reserves also scored two away at Barton Reserves on Tuesday night, both through Austin, but lost out 3-2, Barton's goals delivered by Young (two) and Bart Ormsby-Jones.