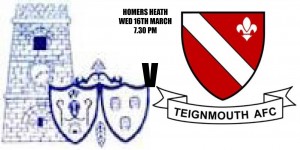 Spurs and Teigns to Clash in County Cup Semis: Local Football Round-Up Part 2/3
Teignmouth and Newton Abbot Spurs came through two very different Throgmorton Devon Premier Cup quarter-finals to set up a semi-final derby at Homers Heath on 16th March.
Spurs were at home to unbeaten Plymouth & West side Plymouth Marjon and struck an early blow with Adam Dyson's bundled-in opener after 12 minutes, Shaun Bowden doing well to make space for the cross. The visitors survived a penalty shout after Will Matthews appeared to have been tugged in the box before they scored their second, on 22 minutes, when Liam Hooks parried a thundering Chris Metters' header into the path of Carl Bradley who slotted home. After a tempestuous spell, which saw Matthews' name taken by the referee, Spurs scored a killer third, Dyson on target again following a superb pass from Darryl Kewley. Matthews and Bowden fired over the bar before half-time, with Chay Henry's header the only half-chance the visitors could muster in the entire half.
There were more heated moments after the break which saw the University side fight for a way back into the match. Spurs' defence held firm though, to the extent that when Scott Bellamy parried away Jake Taylor Lewis's 70th minute effort it was the first time his gloves had been dirtied all match. At the other end, both Bowden and Dyson had chances to put away a fourth before the latter finally claimed the match ball with a finish off the underside of the crossbar in injury time after Joe Andrews' accurate flighted ball had landed in his path.
Teignmouth were also at home, against North Devon side Braunton. This was a much closer affair despite the visitors losing Simon Townsend to a 10th minute red card after a controversial incident which saw the Braunton player punished for his reaction to what the North Devon side claim was a punch. Despite the one man deficit, Joe Seldon's second half header looked to be putting the underdogs through until Hayden Roe finished off Terry Breslan's cross to win the hosts extra-time. No goals came in the next 30 minutes but both sides were 100% successful from the spot until the sudden death stage which saw Teigns edge through 6-5.
Buckland Athletic Reserves were on course to fill a third semi-final spot for South Devon, but after going two up within the first 30 minutes, Devon & Exeter hosts Elmore clawed their way back, scoring in the sweet spots just before and just after half-time. 2-2 at the end of extra-time, Buckland once again faced penalties, just as they did against Galmpton in the previous round. This time it wasn't to be as the home side enjoyed a 4-2 success from 12 yards. Elmore will play Appledore, who scored an extra-time winner against Roborough, a week before the Spurs-Teigns clash so the derby winners should know in advance who they will play in May's final.
On to the Peninsula Premier League, and Stoke Gabriel lost two away games in five days. On Tuesday 16th they fell to yet another 2-1 defeat of the season, this time away at Plymouth Parkway. The narrow loss came despite Olly Critchlow's first-half opener, direct from a corner. Dan Lewis's second-half brace won the points for Parkway in a match which saw Dan Kingscote and Mike Smith dismissed after a scuffle broke out among the players. On Saturday, Stoke's poor record against Cornish sides continued with hosts Falmouth Town scoring  a goal in each half and newly returned goalkeeper Dom Aplin sent off.
A Friday night fixture in Division One East saw St Martins extend their lead at the top to five points with a 3-0 triumph over Liverton United, but it was better news for South Devon on Saturday with both Brixham AFC and Galmpton United securing wins. Brixham beat bottom side Okehampton Argyle 4-1, while the Greens edged mid-table Axminster Town 2-1 to move up to third in the table above Teignmouth.