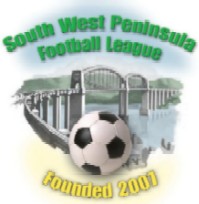 South Devon Clubs Set For Double Derby Day in SWPL
Bovey Tracey, Galmpton United, Stoke Gabriel and Teignmouth are all in local derby action tomorrow in the South West Peninsula League Division One East.
Stoke will be looking to keep up the pressure on the leading pack with a win against an improving Galmpton side who have picked up four points in their last two games but still sit next to bottom in the table. Stoke lost out 1-0 at leaders Crediton United in their last league match, only their second defeat of the season.
Bovey Tracey are enjoying home advantage in their 'away' fixture against Teignmouth and will be hoping to quickly put Wednesday night's 8-1 drubbing by Torridgeside behind them. Teignmouth have to look back to early September for their last win although they did dig out a creditable point away at St Martins last Saturday.
Elsewhere, the Fishermen of Brixham AFC host the Vikings of Sidmouth Town while Liverton United travel to Exeter side St Martins.
Friday night also saw two South Devon sides battle each other with Chris Porter's Newton Abbot Spurs overcoming brother Tim's Totnes and Dartington 2-1. An edge of the box strike from Liam Jones gave Spurs a 28th minute lead but Curtis Booth levelled things up eight minutes before half-time with a close range header. Liam Moseley restored the hosts' advantage on 52 minutes with a cross that turned into a shot as it nestled into the net.
[box]
Recent South Devon Club Results
Brixham AFC:
Sat 15th October (League Cup, Second Round) – Brixham AFC 2 – 7 Saltash United
Sat 1st October – Brixham AFC 0 – 5 Stoke Gabriel
Fri 23rd September – Newton Abbot Spurs 2 – 0 Brixham AFC
Sat 17th September (League Cup, First Round) – Brixham AFC 5 – 1 Callington Town
Bovey Tracey:
Wed 19th October – Bovey Tracey 1 – 8 Torridgeside
Wed 12th October – Bovey Tracey 2 – 2 Appledore
Sat 1st October – Axminster Town 5 – 2 Bovey Tracey
Wed 28th September – Bovey Tracey 3 – 2 University of Exeter
Sat 24th September – Sidmouth Town 2 – 1 Bovey Tracey
Wed 21st September – Bovey Tracey 3 – 1 St Martins
Sat 17th September (League Cup, First Round) – Camelford 3 – 0 Bovey Tracey
Galmpton United:
Sat 15th October (League Cup, Second Round) – Galmpton United 0 – 2 Bodmin Town
Sat 1st October – Galmpton United 2 – 2 Totnes & Dartington
Sat 24th September – Exwick Villa 1 – 4 Galmpton United
Tue 20th September – Crediton United 2 – 1 Galmpton United
Sat 17th September (League Cup, First Round) – Vospers Oak Villa 0 – 2 Galmpton United
Liverton United:
Sat 15th October (League Cup, Second Round) – Liverton United 1 – 2 Plymstock United
Sat 1st October – Liverton United 2 – 4 Sidmouth Town
Sat 24th September – Liverton United 3 – 0 Axminster Town
Sat 17th September (League Cup, First Round) – Liverton United 5 – 1 Millbrook
Newton Abbot Spurs:
Fri 21st October – Newton Abbot Spurs 2 – 1 Totnes & Dartington
Wed 12th October – Newton Abbot Spurs 0 – 3 St Martins
Mon 3rd October – Newton Abbot Spurs 7 – 0 Liverton United
Sat 1st October – Alphington 1 – 5 Newton Abbot Spurs
Fri 23d September – Newton Abbot Spurs 2 – 0 Brixham AFC
Sat 17th September (League Cup, First Round) – Newton Abbot Spurs 1 – 3 Plymstock United
Stoke Gabriel:
Sat 15th October (League Cup, Second Round) – University of Exeter 0 – 1 Stoke Gabriel
Tue 4th October – Crediton United 1 – 0 Stoke Gabriel
Sat 1st October – Brixham AFC 0 – 5 Stoke Gabriel
Sat 24th September – Stoke Gabriel 2 – 2 University of Exeter
Sat 17th September (League Cup, First Round) – Stoke Gabriel 4 – 1 Cullompton Rangers
Teignmouth:
Sat 15th October – St Martins 1 – 1 Teignmouth
Sat 24th September – Appledore 4 – 1 Teignmouth
Sat 17th September (League Cup, First Round) – Budleigh Salterton 6 – 2 Teignmouth
Totnes and Dartington:
Fri 21st October – Newton Abbot Spurs 2 – 1 Totnes & Dartington
Sat 15th October – Totnes & Dartington 2 – 4 Appledore
Sat 1st October – Galmpton United 2 – 2 Totnes & Dartington
Sat 24th September – Totnes & Dartington 2 – 1 Alphington
Sat 17th September (League Cup, First Round) – Totnes & Dartington 2 – 6 Plymouth Argyle Reserves
[/box]
Follow South Devon SWPL sides on Twitter: