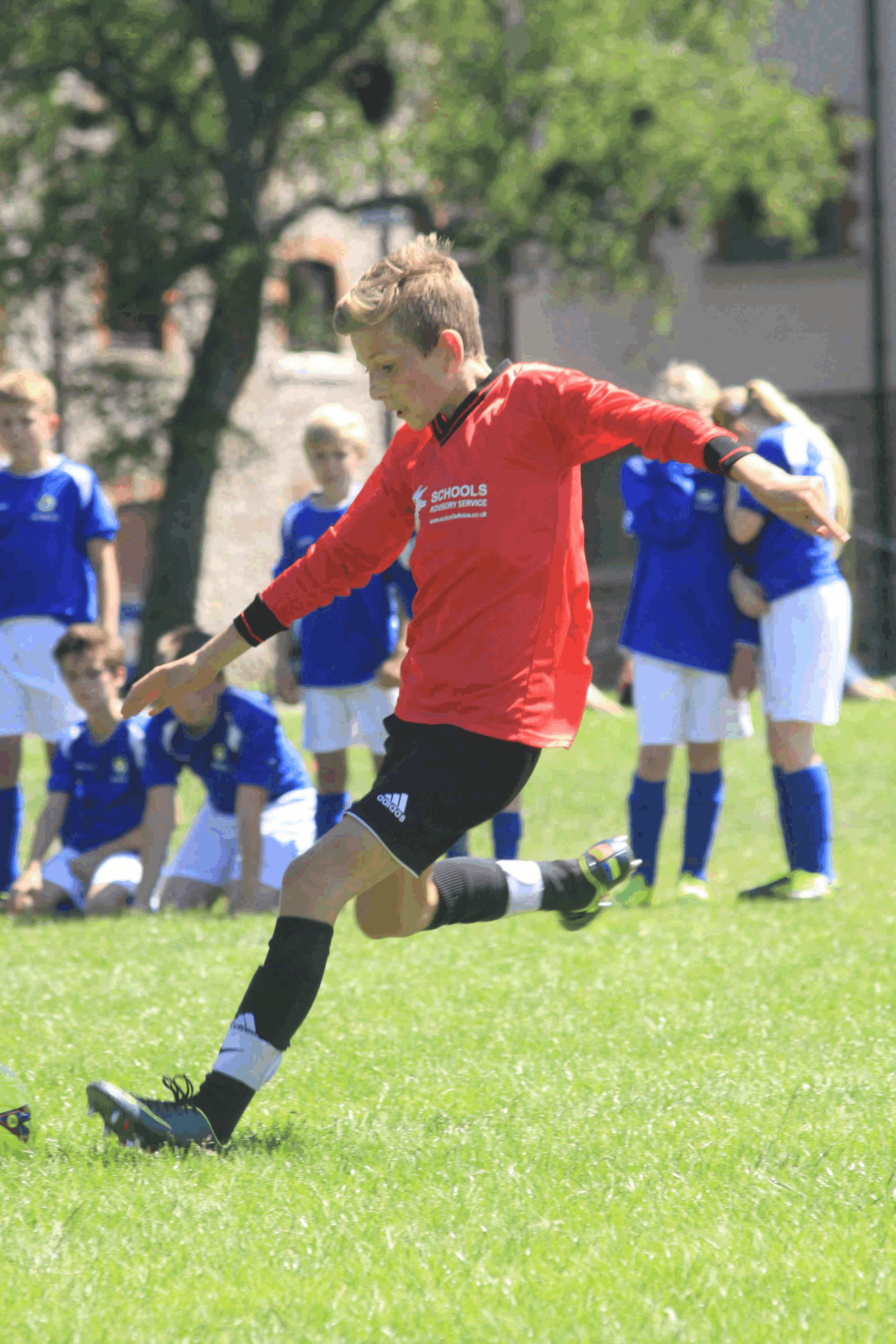 Shoot-out Success for Bradley Barton in Premier Sport Tournament
The Torbay wing of Premier Sport, the national schools' sports coaching providers, hosted their second football tournament in beautiful sunshine on Friday 19th June at Newton Abbot's Osborne Park.
Their inaugural event, back in May 2013, featured four schools but this time out saw an improvement with six schools turning out. Defending champs Canada Hill were there, with their distinctive maple leaf kit, as were local outfit All Saints Marsh, kitted out in their smart navy Premier Sport kit which was given to them two years ago – the day they played their first match in 25 years! Joining them for the afternoon were Bradley Barton, Highweek, Ipplepen and Kingskerswell.
"We do a variety of courses: PE, after school clubs, breakfast clubs, holiday camps and lunch clubs as well," said tournament organiser and Recruitment and Compliance Officer Adam Wallis. "We're in over 30 schools just in the Torquay area and south of Newton Abbot and employ over 20 coaches to go and deliver every day. We do a range of sports including archery and fencing.
"Our aim is to inspire children and get them into sports. We're obviously hitting that target here by doing this tournament.
"When we got the children sat down they were all raring to go and as we called every school's name there were nice and loud cheers which we wanted to hear. We're seeing plenty of teamwork and respect from all the children as well, shaking each other's hands at the end of the game and giving three cheers as well. We're seeing plenty of respect towards the officials as well which is really good."
After the preliminary rounds, the semi-final line-up saw Bradley Barton take on Highweek while Canada Hill aimed to defend their title against Ipplepen. Despite some determined defending by Highweek, Bradley Barton booked their final place with a 2-1 win while the other match was goalless and went to penalties, Ipplepen making it through and marking their success with some exuberant celebrations.
Canada Hill then won the third-place play-off against High Week while, on the other pitch, Kingskerswell made the most of an early glut of goals to beat All Saints Marsh in the Fair Play match.
All eyes then turned to the main stage as Bradley Barton and Ipplepen battled to get their hands on the Premier Sport trophy. Ipplepen made a good start, but couldn't get past the Bradley Barton goalkeeper and fired another shot over the bar. Bradley Barton's captain then split the Ipplepen defence apart with one pass and his team-mate finished well to give them the lead. But even before the celebrations died down it was all square as Ipplepen hit back immediately. After the switch around, Ipplepen's Number Seven then toe-poked home to put them in front before Bradley Barton equalised, their goalscorer converting a cross from the left.
So Ipplepen faced the dreaded penalty shoot-out again. Both goalkeepers starred by saving spot-kicks, but it was Bradley Barton who claimed the trophy, the decisive penalty hit low and to the goalie's right, sparking joyful celebrations.
Sian King of All Saints Marsh also came away with a smile after scooping the Individual Fair Play award for her commitment to the team.
With another successful tournament under their belt, Adam Wallis and co. are looking to make the event a permanent fixture on the annual schools' football calendar.
"There's no reason why not," Wallis said. "Football's a multi-language sport; anyone can play regardless of ability and obviously that's what we've got here today.
"We see different schools joining us every time now and some who apologised for not being able to make it said they would love to next time."
Premier are looking to expand into Plymouth and Cornwall while hoping that their existing schools will continue to support them, even when their Olympic funding, earmarked only for sport, runs out in September.
"It's important because a lot of government aims are about keeping children active and we go a long way towards doing that," said Wallis. "We provide thousands of hours of PE every week and by taking part in events like this children understand the importance of being healthy and keeping active.
As for the team in the smart Premier kit, All Saints Marsh, they have gained more valuable tournament experience as they continue to develop.
"We've certainly seen a lot of improvement from them," revealed Wallis. "They play well as a team, give each other lots of encouragement and it's nice to see them still here taking part and wearing the kit we sponsored for them two year's ago. But winning is a bonus as long as they're enjoying it, which they clearly are."
[box]
Photographs (C) MiraclePR.com except Sian King and full group photograph (C) Premier Sport.
Sport South Devon will shortly be providing a private link to Premier Sport to allow parents to browse/purchase tournament photographs.
[/box]