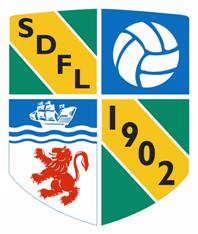 Collins Goal Enough as Bucks Retain SDFL Title – Local Football Round-Up
Last Saturday dawned with two outstanding titles to be settled. Buckland Athletic were looking to retain both the Premier and Division One crowns with their Reserves knowing that a point away at Dartmouth AFC would be enough to clinch the Premier Division and their Thirds hoping that Stoke Gabriel Thirds would do them a favour by denying Ashburton the three points that would win them Division One.
In the Premier, a second half Gavin Collins strike made all the difference as Buckland Reserves stood firm against a powerful Dartmouth attack to earn the point they needed. The hosts were as relentless as the rain as they pursued the opening goal which would turn the title tide in their favour, Dan Rankin and Karl Baker huffing and puffing all half but unable to breach the Yellows' defence. After weathering the storm for the best part of 70 minutes, Buckland got their chance as Jamie Micklewright, who had scored four times against Waldon in midweek, released Collins down the left. Out came goalkeeper Ryan Walton to close Buckland's 2014/15 Young Player of the Year down but Collins placed the ball past him and into the net. Dartmouth refused to give up the chase and were rewarded when Rankin's left-footed shot found the corner of the net with five minutes remaining. Bucks were also reduced to ten-men, a substitute picking up two yellow cards. But Darts couldn't take advantage to get the second goal they so desperately needed and may also have been a touch unlucky not to have been awarded a late penalty after a possible handball. Nothing was given and the Yellows returned to Newton Abbot celebrating back-to-back league titles.
Elsewhere, Herald Cup and George Belli Cup winners Waldon secured a top five finish in another fantastic season for them which ended with a 5-1 home win over Loddiswell Athletic. Kingsteignton achieved their highest finishing position since their promotion back to the Premier, securing seventh spot with a 2-0 win over Upton Athletic who finished a disappointing eighth. Newton Abbot Spurs' season fizzled out with a 2-1 loss at home to Brixham AFC Reserves and they will be hoping that the return of their floodlights to working order will herald a brighter season next time out.
In Division One, the Ashes took control of their destiny with a comprehensive 6-1 win over Stoke Thirds in both side's last game in the division, Ash Beetschen with a consolation goal for the visitors. Despite a big 7-1 victory over Beesands Rovers, Buckland Thirds had to settle for the runners-up spot. Ipplepen Athletic knew that victory away at Paignton Villa would see them finish in what should be the promotion places. They won that match comfortably (9-2) to finish above Newton Abbot '66 whose narrow 2-1 success at Totnes and Dartington Reserves will be in vain unless more than two teams are granted ascension after June's AGM.
Harbertonford will have enjoyed doing the double over Division Two double winners – and SDFL top scorers – Roselands after Saturday's 3-1 triumph at The Hams. Runners-up Watcombe Wanderers Reserves hung up their boots after a fine 8-1 home victory over Waldon Athletic Reserves. Buckfastleigh Rangers ended their campaign with a four match unbeaten run following a 6-3 triumph at Paignton Saints (Matt Reed with a brace and Gareth Hunt a single for the losers) while Kingsteignton Athletic Reserves moved temporarily into sixth by beating Abbotskerswell 11-3 away in the latter's last match before relegation to Division Three. Teignmouth Reserves reclaimed their top six place in Tuesday night's 4-2 home success against Waldon.
With the last of the Division Three threads having been tidied up in midweek there was little left to play for last weekend. Double-winning Dartmouth AFC finished their season with their 25th win on the spin (counting walkovers), a 6-2 result at Upton Athletic Reserves. AFC Staverton secured third spot with two goals at Waldon Athletic Thirds but they already knew that it would not be enough to deprive Salcombe Town of their runners-up place. Harbertonford Reserves' 2-2 draw at Teign Village and Liverton United's 5-2 win at Buckfastleigh Rangers Reserves saw the Lillies finish fourth; they claimed another three points in last nights's 6-3 home victory over Upton. Finally, Dittisham United's 2-2 draw at Ipplepen Athletic Reserves wasn't enough to move them from the bottom of the division.
Watcombe Wanderers Thirds, who had claimed the Division Four title in midweek celebrated in style with seven goals and a clean sheet away at Riviera United on Saturday. Runners-up Roselands Reserves recovered from their midweek loss by thrashing Paignton Villa Reserves. With Meadowbrook Athletic held 2-2 at Kingsbridge and Kellaton United and Barton Athletic going down 5-3 at home to Newton Rovers, Broadmeadow STFC secured fourth spot with a narrow 2-1 win at relegated Babbacombe Corinthians Reserves. Torquay Town had wriggled free of the drop themselves with successive wins but lost out 5-3 at Newton Abbot '66 Reserves on the final day of the season.
Debut Division Five winners Torbay Police Reserves added the Bill Treeby Cup to their haul with a 4-2 victory over Newton United Reserves at The Rec last Friday night. The Bees then let loose the following day by recording their second highest victory of the season, 10-0 at Watts, Blake and Bearne AFC as they joined the century-goal club. Runners-up Buckland and Milber Reserves consoled themselves with an 8-1 home win over Barton Athletic Reserves, their fifth win in the last six, while Newton Rovers Reserves made it three on the bounce by edging Malborough United 4-3 at Bakers Park. The final Division Five action of the season saw Moretonhampstead complete the double over Paignton Saints with a 4-0 triumph at Clennon Valley last night.
Please note: All mentioned promotions/relegations are subject to confirmation of the 2016/17 constitution. This will happen at the SDFL AGM which takes place on 13th June.