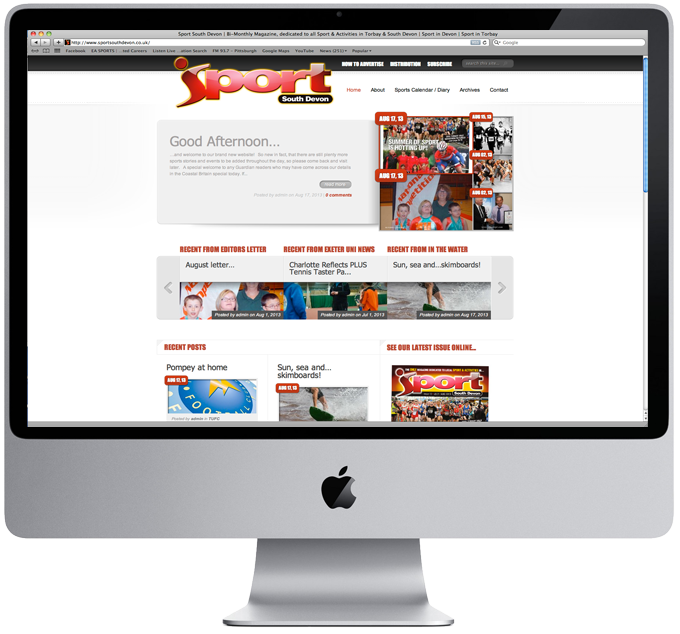 Welcome
…to our brand new website!
So new in fact, that there are still plenty more sports stories and events to be added throughout the day, so please come back and visit later.
A special welcome to any Guardian readers who may have come across our details in the Coastal Britain special today. If you're planning to visit the region, make sure you check out the Calendar page which now contains handy colour-coded event entries, venue directions and website links. We have highlighted our big events (e.g. the Torbay Royal Regatta) in red to help your planning. Our FREE high quality coffee-table style print magazine comes out bi-monthly and is available in supermarkets, gyms, clubs and sports outlets throughout the region. We employ the best local photographers, graphic designers and printers to create a product that showcases South Devon sport in all of its glory.
If you want to find out more about any of the sports and events listed, don't hesitate to get in touch. We like to see ourselves as the place to go for any regional sports news and information, so we're always willing to help if you're struggling to find out where the nearest gym is, how to find that elusive football ground or who to contact to find out more about a specialist sport. We've even had readers call us on the way to an event to find out starting times and directions.
Finally, please 'Like' our Facebook page (there's a little button on your bottom right). We regularly update our Facebook and Twitter pages with breaking news, useful information and updates (e.g. event cancellations or changes) and even cover some events live throughout the day. There is also a chance to win a hoodie from street dance fitness providers 'Street Fit®', just by commenting on our Prize Draw post.
Enjoy your visit
Neil Hocking – Editor