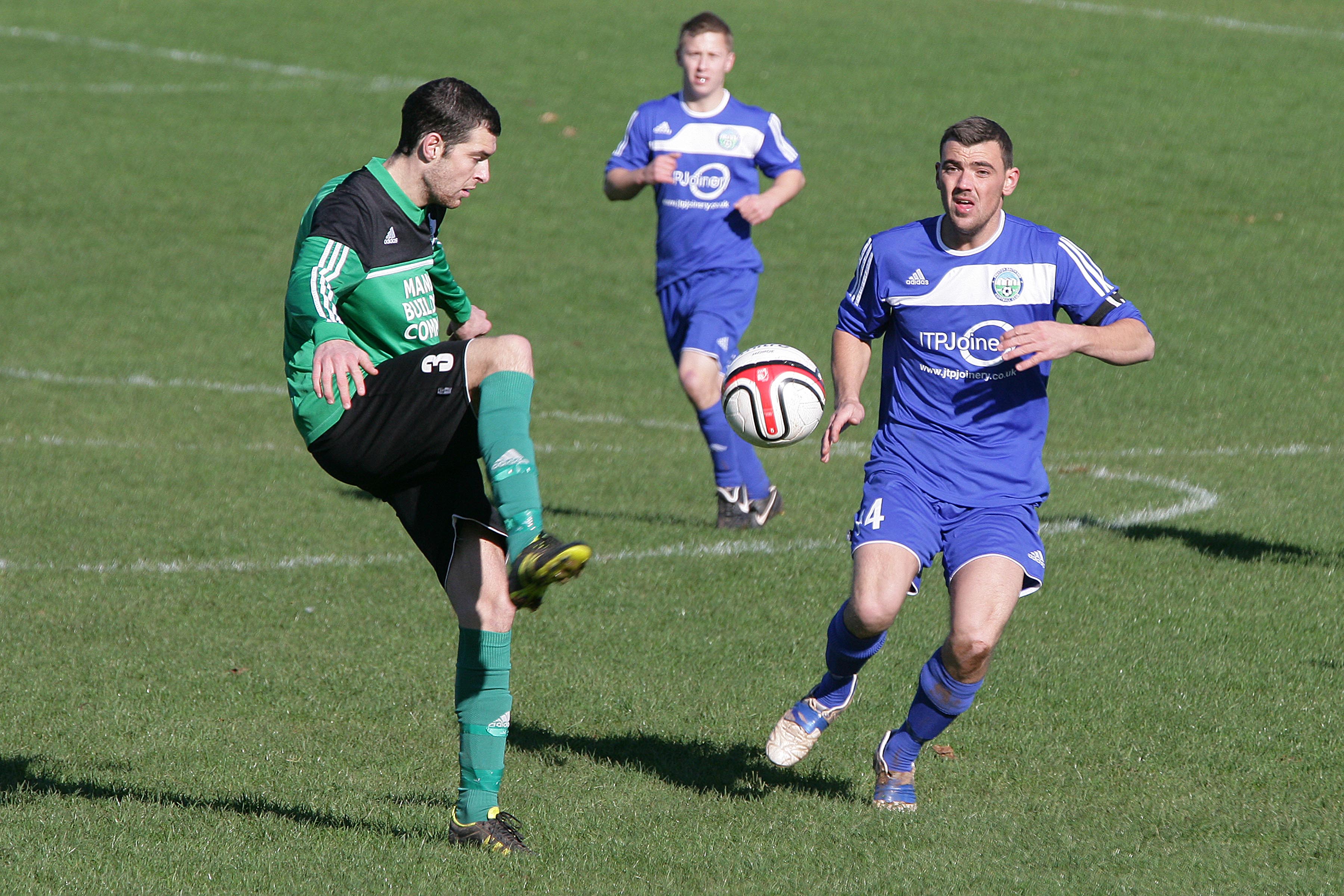 Watcombe Close in on Trophies
Watcombe Wanderers secured two final places and a semi-final spot in an outstanding afternoon for all three of their clubs.
With memories of last season's spectacular late semi-final winner still fresh, Lewis Woodmore (pictured) found the net and once more helped Watcombe firsts to end Brixham AFC's Herald Cup aspirations – this time at the quarter-final stage. Sean Finch and Curtis Booth joined the defender on the score-sheet with Sam Green scoring Brixham's sole effort.
On the adjacent pitch, the thirds set up a date with Kingsbridge & Kellaton United in the Ivor Andrews Cup final, narrowly beating Division Six title rivals Barton Athletic 2-1. Luke Rhodes and Kirk Finch, from the penalty spot, put Wanderers through, with Jamie Tozer on target for Athletic.
Meanwhile, over at the Rec, Jordan Finch (2), Luke Barton and Joshua Lowles found the net against Newton Abbot Spurs Thirds in a 4-1 victory for the reserves, the prize a place in the Fred Hewings Cup final.
Watcombe's focus now switches to Thursday's Devon Premier Cup semi-final, where the first team will hope to book their first final date.
Back to the Herald Cup, and the possibility of Watcombe meeting Buckland Athletic Reserves in the final for a third successive season was kept alive as Bucks soundly beat Division One outfit Buckfastleigh Rangers 4-0 to make the last four. Matt Beer struck twice for the defending league champions, with Jamie Clifford and recent signing Darren Vicary also scoring.
East Allington United endured disappointment in successive weeks, running Premier side Stoke Gabriel Reserves close at Poole Lane before bowing out 4-3 after extra-time, five goals delivered in extra-time. Si Hannaford found the net twice, with Tom Harvey also on the score-sheet, but the hosts miss out again.
And Senior Cup finalists Dartmouth AFC completed the final four, sending Broadhempston United packing in the all-Division One clash, Karl Baker sinking five and Dan Broadway two in an 8-2 victory at Longcross.
Just as in last season's final, Buckland Athletic Thirds struck an extra-time winner to send Totnes and Dartington Thirds out of the Fred Hewings Cup. The Yellows have a special affinity with the trophy and will seek to defend it against Watcombe Reserves.
Upton Athletic will be among the favourites to win the George Belli Cup final after putting out struggling Kingsteignton Athletic 5-3 in the quarter-finals.
Newton Abbot Spurs Reserves had a gilt-edged chance to move top of the Premier League, but instead it was Waldon Athletic who bagged a fully-deserved – and much-needed – three points. The Clarets took the lead after 26 minutes, Brian Doughty firing home after a failed Spurs clearance, and just two minutes later, Stuart Bowker headed home a left-wing cross to double the hosts' advantage. The scoring was completed on 59 minutes as Chris Harrity poked the ball home from close range. Spurs missed four one-on-ones but failed to test McVitty in the home goal.
Loddiswell Athletic moved to within striking distance of the leaders with a resounding 5-0 win at Watts, Blake and Bearne. Ipplepen risk being cut adrift; their 5-1 reverse at Ivybridge Reserves leaves them six points from safety.
An injury timer winner at Coombe Valley put Teignmouth Reserves through to the Dartmouth Cup semi-finals at the expense of Chudleigh Athletic.
In Division One, leaders Bovey Tracey Reserves made amends for their home loss to Brixham Reserves, winning 1-0 at Wall Park. Back-to-back wins sees Kingskerswell & Chelston Reserves break the top three; they defeated Tots Reserves 4-1. Abbots stay bottom after a disastrous 8-1 home loss to Newton 66.
Stoke Gabriel Thirds won 2-1 after extra-time to reach the Lidstone Cup semis, deposing Newton United courtesy of Beeschen and Horrocks, Dyke with United's consolation.
In Division Two, Lee Morgan and George Boehm ensured Beesands moved top with a 2-0 win at Harbertonford as Paignton Villa went down 3-1 at Kingsteignton Athletic Reserves. Brixham Town followed up their shock victory against Beesands with a 5-2 derby triumph at Brixham Thirds. Ipplepen Athletic Reserves suffered consecutive home defeats, Upton Athletic Reserves winning a vital three points at Moor Road.
Les Bishop holders Buckland & Milber are now one step away from the Ronald Cup final after smashing Bishopsteignton United 8-2. Josh Moore helped himself to five goals with the remainder added by Roland Blowers, Arron Throssell and Liam McEwen.
Division Three leaders Ashburton moved ten points clear with the only goal at Waldon Athletic Reserves. Liverton finally have a positive points tally after holding Loddiswell Reserves 1-1; Hoops scored through Dee Rowe. Back-to-back wins for Teign Village lifts them into the top six.
Paignton Saints Reserves won a penalty shoot-out against Meadowbrook, while South Brent Reserves hit an extra-time winner at home to Dittisham to move into the last four of the Les Bishop Cup.
In Division Four, Roselands' winning home form stretches on as they beat Ilsington 3-1. Waldon Athletic Thirds celebrated a 9-0 hammering of Paignton Villa Reserves, while an Ollie Stallard hat-trick assisted Salcombe Town to a 4-2 victory against Harbertonford Reserves, Denzil Corbin also scoring for Town. Dartmouth Reserves were leading Bovey Thirds 2-0 with ten minutes to go when the match was abandoned.
Despite Mascilo's penalty, Preston South End edged Babbacombe Corinthians 2-1 to move in to the semi-finals of the Les Bishop Cup.
In Division Five, Newton Rovers' James Davies and AFC Staverton's David Rowntree traded goals in sticky conditions. Leaders Stavy played much of the match a man down through injury but battled on for for a point. Goals from Josh Castle and Chris Meekings couldn't prevent Buckland & Milber from losing out 8-2 to a dangerous-looking Buckfastleigh Reserves side. Rangers scored through Ryan Porter (3), Bradlei Davison, Stewart Mitchell, Arren de Young, Declan Cowley and Alex Haynes.
Moretonhampstead thwarted Torbay Police, winning 2-1 to move to within a whisker of lifting themselves from the foot of the table; dependable Rui de Garces, and Jason Manley scored for Ted Locke's side.
Roselands Reserves bounced back from last week's disappointment to win 4-1 at Broadhempston United Reserves and climb into the top three. Matt Crane and Paul Gutteridge scored the goals that won Newton United Reserves their first win since November, with a surprise 2-0 triumph at Polonia Torbay. Riviera United enjoyed a 3-0 home win against Newton 66 Reserves.
In Division Six, Kingsbridge & Kellaton enjoyed a fourth win in a row, beating Teign Village Reserves 2-1. Stoke Fleming & Strete demolished Torre 9-0 to avenge their narrow loss in December. Bottom side Ashburton Reserves enjoyed their first point and goal since November, holding Malborough 1-1.
And finally, there will be no SDFL team in the Devon Intermediate Cup final after Hartland squeezed out Watts, Blake and Bearne Reserves 4-3.