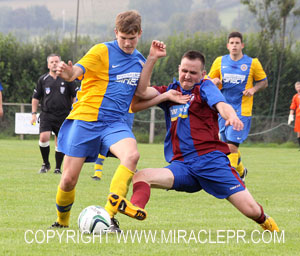 Stoke Stun Bodmin While Teigns Bounce Back – Local Football Round-Up Part 2/3
A Resurgent Stoke Gabriel side returned from two away games against top five opponents with a remarkable four points, which included a 0-0 at second-placed Bodmin, the first blank the hosts had drawn this campaign.
Before that Wednesday evening success, the Railwaymen had completed the double against Godolphin Atlantic, the team they trounced 5-0 to begin their purple patch late last month. In that fixture, Godolphin could be excused for an under par performance, having to field goalkeeper Shaun Semmens as one of their outfield players. But this time out, it was Tim Porter who gave up his gloves to ensure Stoke could field a full eleven. Nevertheless, the visiting side started the better and Semmens – now back in the nets – was kept busy in the first half. Dom Aplin also had his share of the workload though as Atlantic attacked down the hill while Phil Lowry hit the side netting. The first goal came around the half hour mark: Ollie Aplin was brought down by Semmens and, due to the last man having been floored in a challenge with the visiting striker, the referee duly dismissed him and awarded the spot-kick. Robbie Bowker stepped up and beat stand-in 'keeper Aaron Dilley to give the Railwaymen the advantage. That wouldn't last until half-time though, Jake White bringing down Alex Cole on the Godolphin left to present Scott Flannigan with the chance to restore parity. Aplin did his best to keep the ball out, pushing it onto the crossbar, but it bounced down and over the line.
With the slope now in their favour, it wasn't long before Stoke were pressing for a second, Ollie Aplin seeing his shot, from Ollie Booth's cross, cleared off the line in the opening exchanges. Godolphin came back into the game and for the remainder of the match there were chances squandered and saves made at both ends. Then, with less than 20 minutes left, the visitors struck the decisive blow, Aplin with the goal at his mercy after Robbie Bowker's shot had cannoned off the post and across the goal mouth. Bowker again hit the woodwork – the bar this time – in the closing stages and Booth saw his goalbound effort deflected over as Stoke sought to kill off the game. At the other end, the visiting defence rallied to keep out any hopes of an equaliser and help earn Stoke a priceless three points in their bid to stay clear of the relegation places.
The stakes for Bodmin Town were just as high as they were still in with a shot of catching league leaders St Austell due to their games in hand. So three points will have been needed and expected when Stoke came knocking on a Wednesday evening. Bodmin's well-respected strikeforce looked at odds throughout with Adam Carter struggling with an injury and the returning Sam Matthews receiving little service out on the left. After a poor first half, Bodmin came close to breaking the deadlock when Nick Hurst's early second-half effort hit the post but visiting defender Ryan O'Callaghan will be kicking himself for taking an air shot when left unmarked at the back post on the hour mark. Andrew Neal, one of Town's better performers, drew a save from Dom Aplin with 12 minutes remaining and that was about that as Stoke held on for the unlikeliest of points.
With Tiverton Town Reserves almost uncatchable in the Division One East title race, Teignmouth are now part of a three-club battle for second spot with St Martins and Exeter University (and Galmpton and Newton Abbot Spurs as outside bets). After their loss to St Martins, Teigns bounced back with a comfortable 4-1 victory over struggling Totnes & Dartington.
Galmpton picked up four points in four days, but that scenario didn't look likely half way through Tuesday night's derby away at Bovey Tracey. The Moorlanders led 2-0 at the break through Dan Taylor and Luke Durham, but a storming second half saw Jamie Chamberlain score twice, once from the spot, and Dan Broadway contribute another to see Galmpton through 3-2. This was on top of a decent draw away at Axminster Town. In that match it was Galmpton who lost a two goal advantage after George Dandridge and Curtis Clarke had scored before Gary Spiller's double rescued the hosts from defeat.
Newton Abbot Spurs were held 0-0 by Budleigh Salterton, the Robins coming closest in the first half when Reece Stevens tested Ryan Bougourd, making his first start for Spurs, with a powerful shot half-way through the first half. But the home custodian came out on top, with the help of his crossbar, and Spurs, who had had some good chances via Shaun Bowden and Carl Bradley, stayed on course for successive clean sheets. Bougourd was thanking the goal frame again in the 70th minute as Jack Greenslade's lob hit the bar and ensured a first 0-0 at the Rec since September 2013.
Brixham's run of form continued with a 4-1 win away at Liverton United, but the Fishermen found themselves one down courtesy of another Sean Finch strike before they managed to turn things around. An injury to Finch added to Justin Yeates' existing striker crisis and Brixham took full advantage, scoring through Reece Sommers, Graham Mercieca and Scott Dodgson, who managed two.
Prior to their Tuesday evening derby defeat, Bovey also lost out at home to Sidmouth Town. An outstanding performance from goalkeeper Adam Seedhouse kept the visitors out for the first hour, but Camron Vere's strike then opened the scoring, with young defender Jamie Newbery powering home a header ten minutes later and Vere finishing well five minutes after that to wrap up the points. Dan Taylor managed a consolation goal after an Anthony Griffiths handball gifted Bovey a late penalty.
And Tiverton's march goes on and on, the unbeaten leaders beating Liverton 5-2 on Wednesday evening. Pete Summerfield's first half goal helped the Lillies to half-time level, but four second half goals ensured the points were never in doubt. Sean Finch managed a second consolation for the visitors.