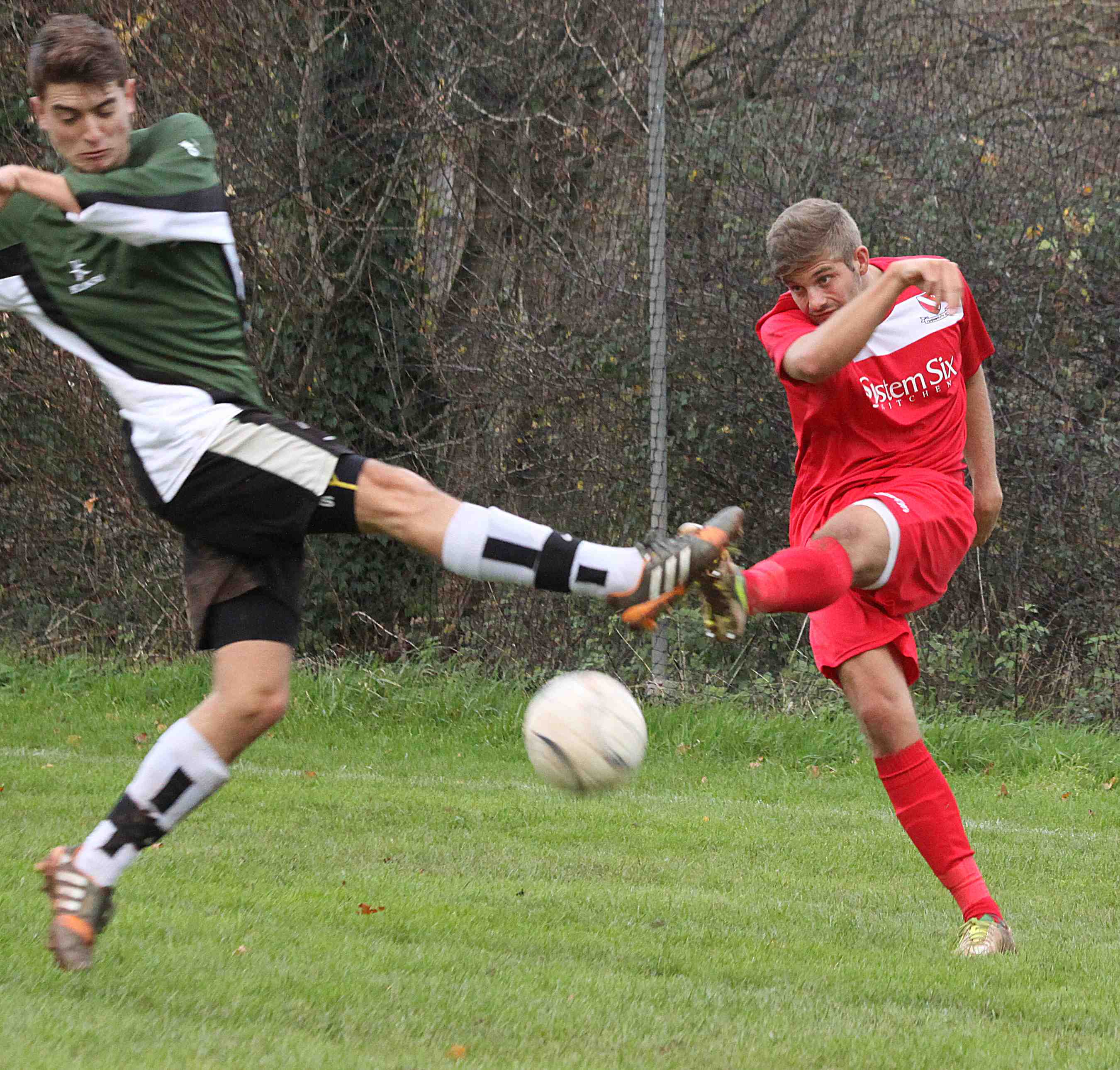 Stoke Derail St Austell; Teignmouth Set for Strong Finish – Local Football Round-Up Part 1/2
Picture (c) MiraclePR
In terms of the Southern League promotion race, Buckland Athletic's surprise home reverse against Longwell Green Sports last Saturday proved irrelevant as Barnstaple Town's 2-0 win over bottom club Welton Rovers would have finally knocked the Yellows out of the running anyway. But losing is never a good feeling, especially when your opponents are among the league's strugglers, and the home side were left feeling bitterly disappointed with plenty of possession, a couple of attempts that hit the woodwork but little in the way of energy and creativity and no end product. Second half strikes by Conor Davies and Toby Clifton proved decisive and left Buckland with the Les Phillips Cup as their sole remaining chance of ending the season on a high note. Of some consolation was the fact that Longwell Green Sports followed up their win by beating Barnstaple 2-0 on Tuesday night. That loss practically hands the title to Odd Down, although Barum are certain of promotion with the Bath side ineligible for promotion and Bristol Manor Farm having lost 3-2 to Brislington on Saturday.
Buckland's final away match last Wednesday looked to be heading for more disappointment as the Yellows trailed hosts Cadbury Heath 2-0 at the break, former Golden Boot winner Matt Huxley with two goals in three minutes. Ellis Laight, who will take the reigns at Buckland next season, pulled a goal back four minutes into the second half before Andy Robertson restored parity on 71 minutes. Gavin Hammon finally edged Buckland in front on 78 minutes before substitute Charlie Johansen wrapped up the points two minutes later. Buckland finish their league season with a home tie against struggling Clevedon Town; should they win they could finish above Bristol Manor Farm in third place – which would have been enough prior a few weeks back, prior to Barnstaple's unexpected ground grading reversal.
Stoke Gabriel's Peninsula Premier survival bid took another twist last Saturday as the Railwaymen kicked off a horrible four day spell for title-chasing St Austell by returning from Poltair Park with a valuable point. Despite a good start from the visitors, Lee Whetter put the hosts ahead with a first half penalty, Dom Aplin getting his gloves to the powerful strike but unable to keep it out. But a thunderbolt from Ollie Critchlow levelled the match on 67 minutes and Stoke held out for a deserved draw, opening the door for Bodmin to move level top a day later. Worse was to come for St Austell as they went on to crash 4-1 at Tavistock Town in a match which hit the headlines for the wrong reasons, defender Marcus Martin attacking the referee after being dismissed. The club issued an apology and immediately suspended the player who is likely to face severe action by the Devon FA and Peninsula League. As for Stoke, they now travel to St. Blazey, one of their rivals in the relegation dogfight.
With Exeter University losing to Newton Abbot Spurs on Tuesday night, Tiverton Town Reserves have finally clinched the Division One East crown. But Teignmouth (pictured) seem determined to finish their campaign strongly with three wins and three clean sheets in five days last week. They started off with a hard-fought 2-0 victory away at Sidmouth Town last Saturday, player-manager Geoff Breslan scoring from the penalty spot and directly from a free-kick. Next up were Appledore, the very next afternoon, and Teignmouth romped to a 4-0 win in that one thanks to goals from Ben Smith, Hayden Roe, Craig Stonelake and Scott Telford. Then, after a two-day break, it was off to Alphington who were fresh from a 3-0 Monday night victory against Totnes and Dartington. It was Alpha's last game of the season and, having already guaranteed themselves a top half finish, there was little to fight for as they lost 2-0 to the visitors. Teignmouth entertain the new champions tomorrow and are currently three points behind both Exeter University and St Martins with a game in hand. With the two Exeter sides going head to head tomorrow, Breslan and co. will be hoping that they can overcome the champions and gain ground on at least one of their rivals for second spot.
Galmpton United can finish no lower than fifth following a decent draw away at St Martins on Wednesday night, Richard Whatman and Matt Barkwell with the goals. Unfortunately for the Greens they are unlikely to finish any higher either as they trail Teignmouth by six points and have played a game extra. Galmpton's match last Saturday was a trip to bottom side Okehampton Argyle but the Greens soon found themselves behind after Steve Kinsey finished off Dale Chadwick's header from a corner 19 minutes in. Galmpton levelled proceedings eight minutes later through a deflected Lloyd Clark effort, again following a corner. Barkwell put the visitors ahead before the break through a direct free-kick, although his strike was again deflected to beat home 'keeper Harry Geering. Okey pushed hard for the equaliser after the break, but were caught on the counter on 62 minutes, Curtis Clarke following up after Geering had parried the initial effort. The home side refused to lie down and die and gave themselves a chance after substitute striker Ross Voaden was felled in the box and Toby Gostling converted the penalty. Gostling managed to hit the bar in the last minute but Okehampton couldn't find the equaliser which would at least have given them a solitary point on the board.
Two wins from their remaining three games will see Newton Abbot Spurs finish in the top six. Adam Dyson's men had a mixed week with their Tuesday night success against the University of Exeter sandwiched between defeats away at Axminster Town and Exwick Villa. Axminster were unfortunate not to take an earlier lead at Tiger Way on Saturday, Jon Hurford and Liam Cheal both hitting the woodwork and Joe Andrews clearing captain Mark Scott's effort off the line. The deadlock was finally broken in the 71st minute, Hurford returning Mark Brooke's clearance with interest and beating debutant Ryan Brittain with his low drive. Two minutes later the game was effectively over, Cheal collecting a cross from the right before hitting another low shot past the Spurs goalkeeper. After losing Sam Hancox to an ankle injury, ten-man Spurs almost went three down, but Brittain kept out Hurford's penalty after Will Matthews had brought down Aaron Daniels. Golden Boot contenders Dyson and Ben Mogg once more went head-to-head on Tuesday night, but chances were few and far between in the first half. All that was to change after the break; having already smashed the bar with a free-kick, Exeter University's Alex Graham opened the scoring with another free-kick, on 56 minutes, which found a gap in the wall and just about beat Ryan Brittain too. The lead lasted until the 63rd minute when Jake Chisholm directed Chris Metters' header over the last defenders on the visitors' goal-line. Six minutes later and the University were back in front, Ben Mogg collecting a long ball which had panicked the Spurs defence; the league's leading scorer blasted an effort against the underside of the crossbar and in to increase his tally. Ten minutes later it was all square again though, Matt Williams with a header after Joe Andrews' cross. With time running out, Spurs made a concerted push for a winner and, having had an overhead kick kept out a minute earlier, Joe Andrews received a defence-splitting pass from Shaun Bowden before hitting a first-time shot to lob visiting goalkeeper Mark Roberts. With three minutes on the clock, the University boys were unable to find an answer and Spurs won 3-2. Two nights later, Spurs were on their travels again with a trip to the College Sports Hub to play mid-table Exwick Villa. Lee Radford struck from the edge of the box after 19 minutes and that goal proved enough to earn Villa the points.
Exwick had also pulled off a 1-0 win against Liverton united on the Monday night, and with the Lillies having gone down by the same scoreline to Exeter University on the Saturday (Alex Graham scoring), Justin Yeates' side find themselves still bottom of the South Devon sides, albeit with a couple of games in hand over local rivals Totnes and Dartington and Bovey Tracey. With only one team going down from Division One East this season, all three sides are safe while Okehampton will play the bottom side in Division One West on May 13th to decide who goes down. Bovey Tracey lost 4-0 away at Alphington before finishing on the wrong side of an eight goal six-pointer at Tots on Wednesday night. Ryan Moody, Sam Stewart, Peter Darke and Sam Webber had given Alpha an unassailable lead on Saturday before Kyle Howell dislocated his knee on 78 minutes. The match was abandoned but Bovey manager Robert Holman showed sense and sportsmanship by agreeing to let the result stand. Bovey's scratch side then found Myles Chalcraft in inspirational form as the Tots hitman scored four times in Wednesday's 5-3 derby victory. It was a great end to a week of mixed fortunes for Tots who had drawn two apiece at home to Budleigh Salterton on Saturday before losing 3-0 at Alphington on Monday, Peter Darke, Sam Stewart and Aaron Land scoring. Liverton have four matches remaining and can finish above Tots and even Bovey by winning them all. The Moorlanders' final game is away at Appledore next Saturday while Tots have two games remaining; they are three points ahead of Liverton and four behind Bovey.