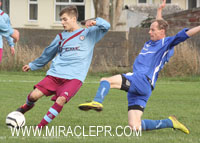 SDFL Titles Going to the Wire
In under 30 minutes, the SDFL programme will kick off around the region, with potentially two titles decided by the end of the afternoon.
The Premier Division championship hinges on two matches, with Buckland Athletic Reserves needing just a solitary point at Ivybridge Town Reserves to dethrone defending champions Watcombe Wanderers. Should Bucks fail in their task, the title is likely to be decided in next week's final round of games unless Watcombe fail to beat Loddiswell Athletic at the King George V this afternoon.
The other title that could be finalised today is in Division Four. The top four are playing each other this afternoon with Liverton United Reserves taking on Buckfastleigh Rangers Reserves at Halford and AFC Staverton away at Dittisham United. Should the Lillies beat Rangers or Staverton fail to defeat the Plums then Liverton's double celebrations can begin.
In Division One, four teams are still in with a chance of the title: Brixham AFC, Beesands Rovers, Buckland Athletic Thirds and Broadhempston United. Although nothing can be finalised today, Brixham realistically need a win to have a hope of fending off the challenge of Beesands and Buckland who play each other today.
Division Two, which is now a two-horse race between the Ashes and the Foxes, will almost certainly be decided next Saturday with Ashburton hosting Foxhole United (pictured left) at Chuley Road for the glory.
Division Three will also more than likely go to the wire. Watcombe Wanderers Reserves and Roselands should be capable of banking three points today – they play the bottom two.
The Division Five title has already gone to Watcombe Wanderers Thirds but the race for the runners-up spot is still too close to call. Two points separate Torquay Town, Barton Athletic  and Broadmeadow, with Ashburton Reserves also in with an outside chance.