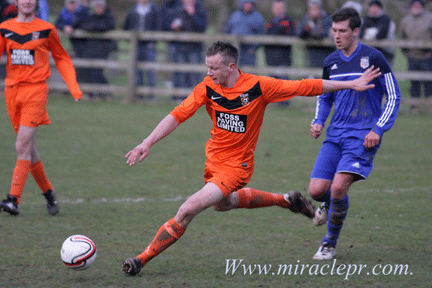 SDFL SPOTLIGHT: Ivybridge Town Res v Buckland & Milber (Herald Cup, 2nd Round)
HERALD CUP, SECOND ROUND
IVYBRIDGE TOWN RESERVES (PREM) 
V
BUCKLAND & MILBER (DIV 3)
by Julieanne Fewings (Buckland & Milber)
What a game and what a result!
We turned up at Erme Park to play in this cup game knowing that is was a game where we had nothing to lose seeing as they are three divisions higher than us.
The pitch was small and the grass was very, very long. The match started at a decent pace with Ivybridge having a lot of the possession but never creating any chances. We looked strong on the break with prolific striker Josh Moore (pictured, left) and Dan Steer leading our attacks. After about 30 minutes, the Ivybridge defence, while passing the ball around, laid one back to their keeper. Dan Steer chased it down and managed to tackle the keeper, but whereas a lot of players might have struck for goal with two covering defenders in, Dan squared the ball across to Josh who slotted home well, making that 23 goals in eight games. Buckland then changed formation to five in midfield to keep it tight until half-time. BMFC keeper Stewart Noone had a quite quiet first half with only a few crosses and corners to deal with. Half-time arrived and Ivybridge were stunned to be one down.
The second half started with Buckland & Milber reverting back to a 4-4-2 and, straight away, we started putting pressure on the Ivybridge goal. With Chris Darke and Craig Derrick winning the midfield battles once again, the Buckland & Milber goal was never threatened. Half way through the second half, Ashley Preston came on for Roland Blowers with BMFC going back to 4-5-1 to keep things tight. With Shaun Waldron and Rob Kerr playing out of their skins at the heart of the defence, Stewart was never tested with a shot. Leigh Saunders and Arron Throssell played with such great commitment and determination at full-back that they never gave the Ivybridge wingers many chances to get crosses in easily. With about 15 to go, Danny Harry broke down the left wing and produced a great cross that was just cleared to Dan Steer at the edge of the box. Steer unleashed a thunderbolt of a shot, hitting the back of the net lovely to put BMFC two-nil up. The game was then played end-to-end but still Ivybridge couldn't get a shot at goal. BMFC created more chances with the Ivybridge keeper (their man of the match) making some great saves. In the last two minutes, Moore had a great opportunity to make it three when Derrick produced a pinpoint cross only for Josh to head wide from two yards out. The final whistle arrived soon afterwards with BMFC celebrating a superb win over the Premiership team.
Note: This article was kindly contributed by Buckland & Milber FC and edited by Sport South Devon. Sport South Devon make no claims as to its fairness and accuracy
Photo (c) Al Macphee/MiraclePR.com. All Rights Reserved.