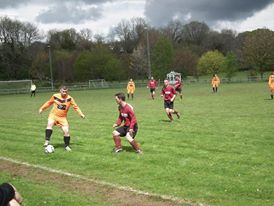 Ronald Cup: Early Joy Sees Buckland & Milber Over The Line
BUCKLAND & MILBER (2)3 – 2(1) SOUTH BRENT
Pictures (c) Dean Joliffe
Buckland & Milber came into this match having lost twice to South Brent in the league and with main scorer Josh Moore out through suspension. But if they harboured any doubts there were no obvious signs. Instead there were shades of last year's emphatic Les Bishop Cup victory as Ross Fewing's side stormed into an early lead. Kieron Joy (main picture, in possession) opened their account from their first attack, one minute in, placing a powerful header past young Daniel Cork from Chris Darke's corner.
Liam McEwan headed wide from Shaun Waldron's free-kick on five minutes and then, just one minute later, headed into the arms of Cork who was looking increasingly exposed and vulnerable at the back. By the time Darke's eighth minute corner had sailed over the bar, South Brent had barely ventured over the half way line. Rob Heveran's free-kick, into the arms of Stewart Noone, comprised the South Hams' side first attempt on target after ten minutes, but there was no let-up, Heveran immediately required to sprint back to defend another attacking spell which saw Cork spill a Joy strike just past his upright. Cork's relief was short-lived as Darke's short corner found Danny Harry who cut inside and slammed home a second. Dan Steer sent a corner from the far side over the bar before South Brent mustered their best chance, Richard Keene firing wide on 15 minutes. Then a completely unmarked Steer should have made it three but hit the side netting instead; he also had a penalty claim waved away by referee Steve Beer. Despite Buckland & Milber's dominance, Matt Parry pulled a goal back just before the break to set up the second half nicely, while David Kilbride fired wide of the mark to warn Buckland & Milber that it wasn't all over yet.
"It was a great team performance, but there were a few individuals who were superb out there." – Chris Darke (Buckland & Milber)
At the other end, Cork's weak kick found Joy, who set up a chance for Harry whose ball across the box missed everybody. But the South Brent 'keeper redeemed himself moments later by saving another Harry drive. The introduction of Ben Kakura and Kenny Cunha for South Brent in the second-half threatened to change everything, with the pacey midfielders giving their opponents' defence a torrid time, particularly with heavy showers making conditions slippery. Cunha immediately surged down the left, searching for an opening, but Leigh Saunders just about kept him at bay leaving a frustrated Heveran, in acres of space behind Cunha, screaming for the ball. Moments later, it was Kakura, bursting down the right, who was causing problems for the previously iron-clad Buckland & Milber defence. Roland Blowers' epitomised this new challenge as he sliced away a clearance from an onrushing Kakura, the ball dangerously looping over his own bar.
Harry Elms whipped in the corner but Nicholas Errington headed wide. Kilbride won another corner for South Brent, but Noone intercepted Kakura's delivery to snuff out the danger. In fact, Noone was something of an unsung hero, called upon regularly in the second half to demonstrate his qualities, getting his body behind the squirming ball on numerous occasions and making difficult saves look easy. And as Heveran and Kakura pressed down the right, Buckland & Milber broke away to score a vital third, Steer turning and slotting past Cork. South Brent carried on pressing though, Kakura and Leighton Bartlett drawing good saves from the Buckland & Milber goalkeeper, and Paul Underwood, Cunha and Heveran working tirelessly to open up another chance to reduce the deficit. Their efforts paid off when Errington's ball in was met by an aerial flick off the back foot from Heveran who deserved his goal on account of his work-rate throughout. Shortly after his goal though, Heveran was involved in a touchline bust-up with Blowers, leading to bookings for both players.
Kilbride and Heveran, joined by substitute Simon Parsons, worked hard to find another opener, with some stout defending from Robert Kerr keeping them out. Buckland & Milber looked dangerous at the other end, Harry's curler drawing a save from Cork and Joy firing wide moments after Bartlett had nearly gone through on goal; Waldron also had a free-kick bundled wide. The conditions were still causing mayhem at times, another sliced clearance giving Kakura another chance to deliver a quality corner, but Noone was equal to it again. Into the last ten minutes, and South Brent began to sense time was running short. Errington and Parry won corners; Saunders made a superb save to dispossess Kilbride, on the edge of the box and Heveran's cross had everything but a man in purple at the end of it, as the South Hams side made one valiant last attempt to force extra-time. But it was Joy who nearly had the last word, coming close again at the death.
 "It was a great team performance," said Buckland & Milber captain Chris Darke. "But there were a few individuals who were superb out there. Rob Kerr was one of them and Kieron Joy, Dan Steer and Liam McEwan all put in great shifts. It was a superb result.
 "(Losing Josh Moore) is always a concern because he scores a lot of our goals, but the boys up front took his place and took their chances. "I was surprised that the two lads who came on (Cunha and Kakura) weren't starting but they came on and I thought we we were quite strong."
After lifting the Les Bishop Cup at the same ground last year, Darke already has an eye on more success to come.
"It feels even better than last year, and we're going to put in a strong finish and kick on from here and go and win the league now."
Teams:
Buckland & Milber: S Noone, L Hayman, R Blowers, R Kerr, L Saunders, L McEwan, S Waldron, C Darke, D Steer, D Harry, K Joy  (Subs: C Brennan, A Throssell, C Derrick, D Hopkins, S Middlehurst)
South Brent: D Cork, R Heveran, N Errington, P Underwood, M Parry, L Bartlett, B Rawlings, H Elms, R Keene, D Kilbride, D Rowley (Subs: B Kakura, J Stone, K Cunha, R Stanbury, S Parsons)
Sport South Devon Man of the Match :  K Joy (Buckland & Milber)