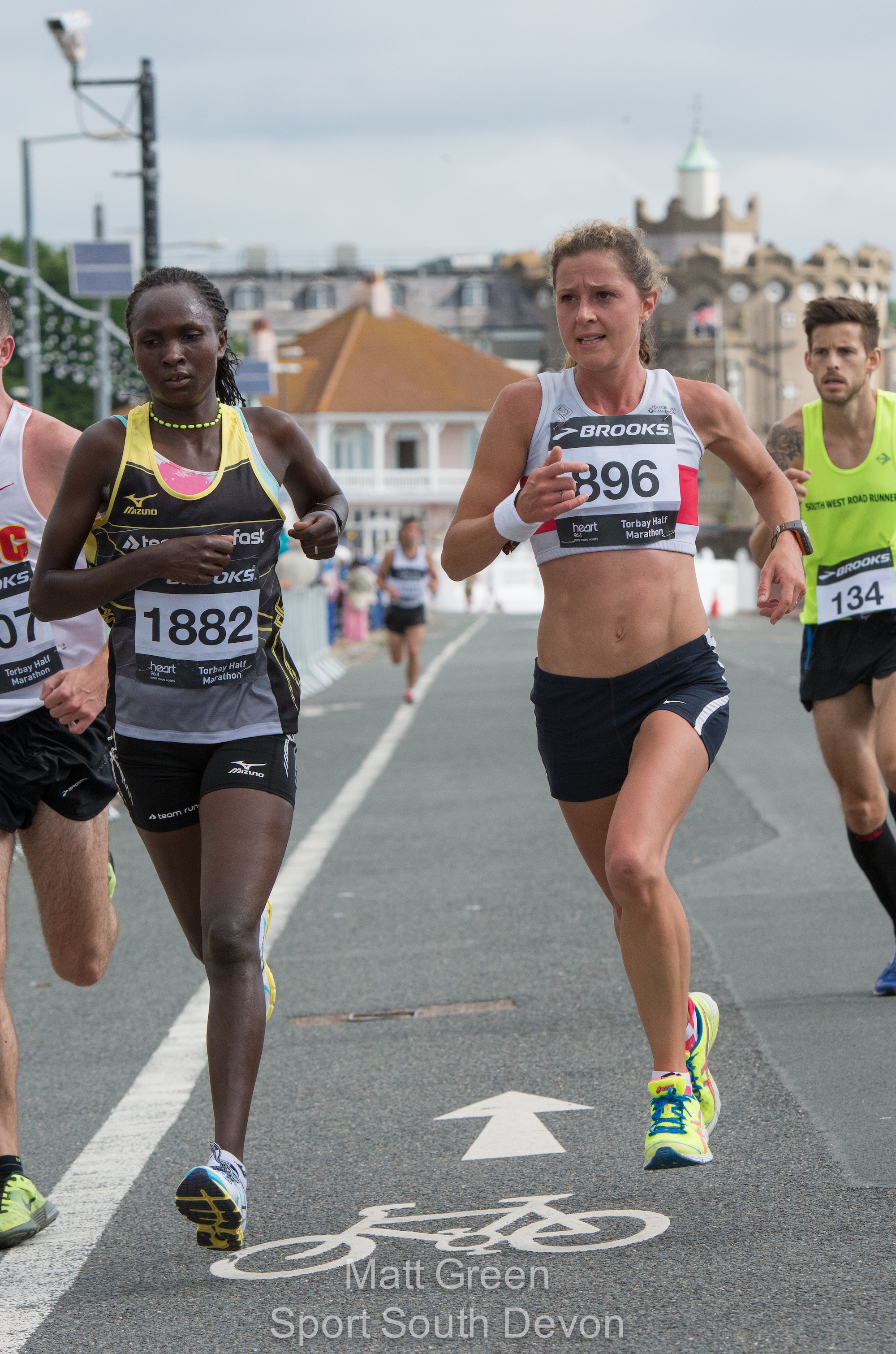 One Second Short! Yator Misses Out on Record in Sunny Torbay Half
The 2014 Torbay Half Marathon somehow managed to find a glorious window of sunshine in an otherwise damp weekend to entice the usual throng of competitors and fun-lovers to Paignton green for the 23rd Torbay Half Marathon on Sunday 29th June.
And the story of the day was close but not close enough for the athletes at the head of the field looking to set course records. Ever since Kenyans
Isaac Kimutai and Collins Tanui stormed the 2011 race for Run-Fast, the London club have been engaged in a mini-tournament of their own. But this year's race winner Peter Emase was unable to beat the course record with a time of 1:05:38, 17 seconds shy of the time set by Boniface Kongin Kiprop last year. Kiprop himself crossed the line a second after Emase with Bournemouth's Steve Way taking third (1:07:49).
Things were even more agonising for fellow Kenyan Gladys Yator who missed out on the women's course record by a mere second. Yator's time of 1:17:14 puts her in an exclusive group of female runners who have cracked the 1:20 mark, but Vicky Pincombe's 2011 time is still safe – for now! Yator's performance does mark a welcome return for female runners into the top ten after two years of male dominance.
Bristol & West AC runner Jenny Jagger (1:17:40) also made the top ten , with club-mate Lucy Macallister the third lady back with a time of 1:19:53.
As for the local clubs, Torbay AAC's Dominic Round was first in for the South Devon contingent, finishing in 1:19:12 in his first race for the club. Other club winners were Colin Peters (South Devon AC – 1:24:16), Chris Broadbent (Teignbridge Trotters – 1:27:31), Ross Pyne (Dawlish Coasters – 1:34:10) and Chris Miller (Brixham Harriers – 1:38:50). Alison McEwing of Erme Valley Harriers also picked up the honour of first female in the 25-29 age bracket, finishing inside the top 50 with a time of 1:25:23, while Jacki Woon of Teignbridge Trotters was first back out of the over-50s (1:40:50)
There were also over 300 young competitors challenging for the Fun Run, with Samuel Yearling winning ahead of Torbay's Oakley James. Megan Webber led club-mates Lillian Bates and Avalon Vowles in as Torbay took the first three girls' positions.
Finally, Richard Powell once again put the Royal Navy in their place, finishing sixth for the US Marines in their ongoing 'Warriors Across the Sea' challenge, though his time was slightly slower than last year (1:13:03). Alex Lockett pulled out the best time for the Royal Navy with 1:18:32 and 13th spot.