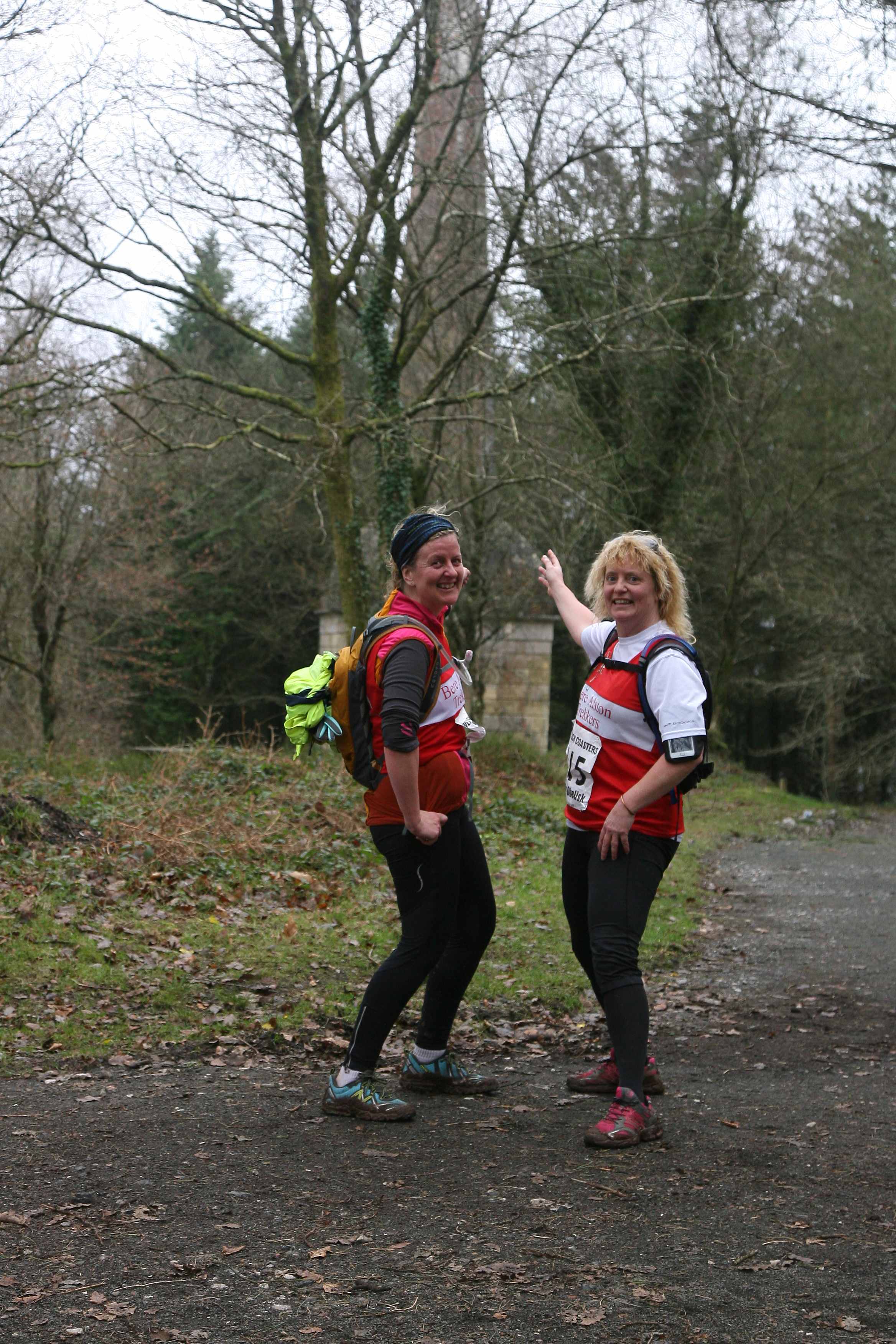 Oh My Obelisk!
It was chilly, it was windy and there was plenty of mud but the sight of the Mamhead obelisk at the summit of Dawlish Coasters' annual 'Oh My Obelisk!' event, with its stunning views of Exmouth and the River Exe estuary was the reward for the 300 plus competitors who braved the weather to turn out at Dawlish Leisure Centre yesterday morning. As an added bonus, the forecast heavy rain politely held back until the last runner had crossed the finish line.
"We usually have about 40 members and we're more of a social, not too competitive friendly little club." – Lorna
But despite measuring 100 feet tall at an altitude of over 240 metres above sea level, the location of the landmark, set back from the track amongst the trees of Haldon Forest meant that many of the runners weren't aware they had arrived until it was pointed out to them by the race marshals! One of the marshals, Lorna, explained a bit about how the Dawlish Coasters formed:
 "We started as a ladies' only running club, when it was the Sisters' Network, and then the local men said 'can we come out with you?' So we said we'll try for a year and see how we get on.They were all very good and behaved themselves, and that's how we became the Dawlish Coasters.
"We usually have about 40 members and we're more of a social, not too competitive friendly little club."
Oh My Obelisk! is one of three annual events hosted by the Coasters, the others being the Coastal Dash on the beach and paths around the  Warren in June, and the short, evening Flyer on the tracks around Haldon Forest Park, held in the late summer/early autumn.
Sunday's race was directed by Gary Herridge, with Chief Marshal Les Elms in charge of positioning the other marshals around the track. After checking the condition of the course, which shifts from country lane to forest track over a distance of around ten miles, the race got underway at 10.30, with clubs from Plymouth, Exeter, Tiverton and even Bristol represented along with the familiar South Devon contingent of Torbay AC, South Devon AC, Teignbridge Trotters and of course the Coasters.
The winner of the event, coming in with a time of 1:13:58 was Teignmouth's Henry Irvine:
"It was nice and muddy out there with a few good hills, so it was an interesting course," said Irvine after collecting his winners' award and bottle of wine. His win comes at the start of a challenging year of competition for the as yet unaffiliated runner who announced his intention to join South Devon Athletics Club later this year.
"I've got the Grizzly coming up, and the London Marathon in April is my main goal."
First lady back for the second year in a row was Ellie Sutcliffe with a time of 1:23:44
After competing in over ten marathons since taking up running just three years ago, the Exmouth Harrier has decided to stick to shorter races this season:
"I'm also targeting the Grizzly and would also like to improve upon my 10k time," Ellie said. "Today was hard work and highlighted a lack of endurance that I need to work on."
The Grizzly, held on Sunday 9th March, is hosted by Axe Valley Runners, and it was Axe runner Amy Greenhalgh who came in second for the ladies with a time of 1:25:46. In third place was South Devon Athletic Club's Michelle Moore, clocking 1:28:25.
David Tomlin, another unattached athlete, came in as runner-up for the men with a time of 1:16:10, with Exeter Harriers' Simon Minting finishing third in 1:17:03. Tomlin was the overall winner in 2012 and his former team – Teignbridge Trotters – scooped both the men's and ladies awards.
Among those runners who were pleased enough to just best previous performances was Naomi Flanagan  from South Devon AC. Naomi was pleasantly surprised to find she had finished over seven minutes quicker than in 2012:
"I found it hard because I haven't run that far in a long time; I've been doing six to eight miles," Naomi explained. "So in the last few miles my legs were really heavy, but I like a challenge." Naomi is another athlete targeting the London Marathon this spring, and will be moving on to half marathons as her training schedule intensifies.
Sport South Devon would like to thank Gary, Les, Lorna, Sarah, Pat and all the other race officials for their support and information during the day.
Photographs from the day were taken by Al Macphee of Miracle PR and can be viewed by clicking this link: https://miraclepr.photium.com/sport-south-devon-magazine-oh
Click this link for full race information and to find out more about Dawlish Coasters.