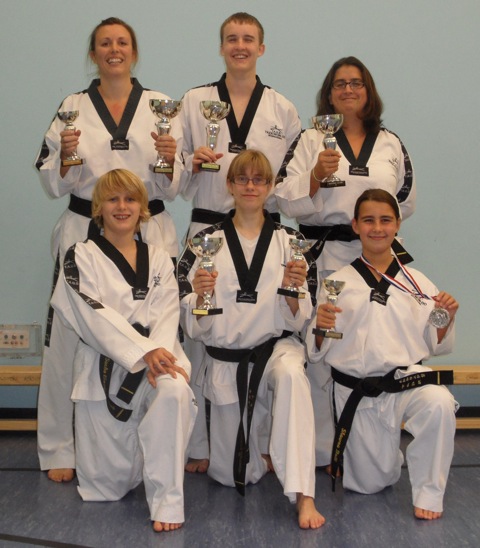 More Medals Than Competitors! Local Tae Kwon Do School Star at SW Championships
Six students and officials from Teignbridge based MartialArts4Fun Tae Kwon Do School of Excellence travelled to Swindon for the Tae Kwon Do Association of Great Britain's (TAGB) South West Championships 2014, with Patterns, Sparring, Destruction and Team Sparring events during the day. The students achieved a total of seven medals and trophies at the Oasis Sports Centre.
Senior Instructor Mr Peter O'Neill, 5th Dan, congratulated his students on the fantastic results: Sam O'Neill, 1st Dan, gold in Patterns; Leanne Burrows, 1st Dan, gold in Patterns and bronze in Sparring; Karen Ball, 1st Dan, gold in Hand Destruction; Shawna Ball, 1st Dan, bronze in Sparring and silver in Team Sparring and Sacha Einzig-Pilling, 1st Dan, bronze in Team Sparring.
Also pictured is Chloe Richards, 3rd Dan, senior instructor at Bridport, Weymouth and Maiden Newton TAGB Tae Kwon Do School, who regularly trains with MartialArts4Fun.Chloe gained a bronze in Sparring and gold in Foot Destruction.
Mr O'Neill thanked the following Black Belts who gave up their time to officiate at the championships: Pete Gamble, 3rd Dan, and Claire Quelvennec, 3rd Dan, (Referees); Gill O'Neill, 1st Dan, and Michelle Bailey, 1st Dan, (Welfare Officers); Charlie Einzig-Pilling, 2nd Dan, and Jo Boardman, 1st Dan, (Medics). Mr O'Neill commented: "Without these volunteers, events such as these would not be possible. Thank you."
The students are now preparing for the South East Championships which will be held in Guildford and British Championships in Worcester later this year.
MartialArts4Fun Tae Kwon Do are family run schools and train seven days a week across the Teignbridge area. For more information on a free month's trial please contact senior instructor Mr Peter O'Neill (5th Dan Black Belt) on 07718 750390.