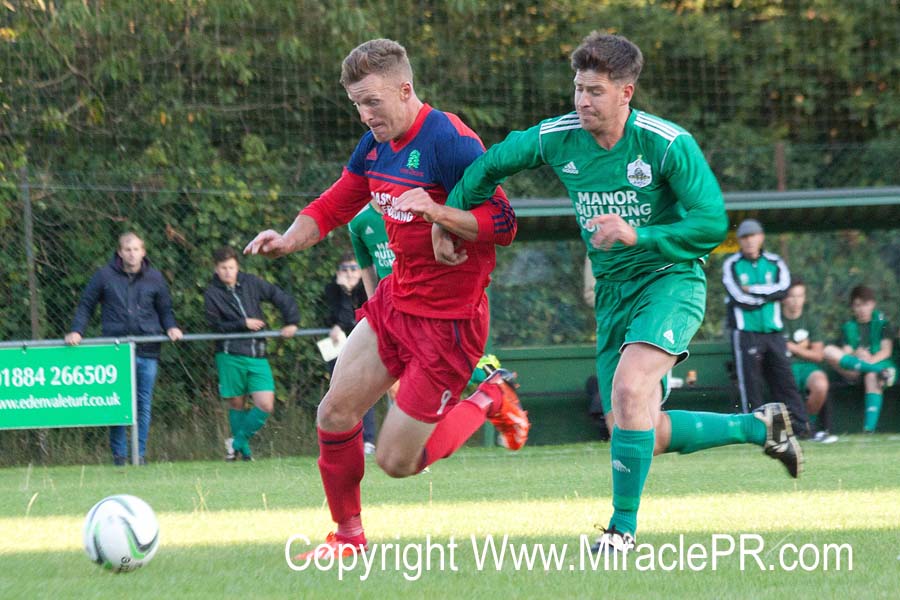 Mixed Fortunes for Upton Athletic
Upton Athletic experienced mixed fortunes as the first matches of the South Devon Football League season got underway a week ahead of the first full fixtures this Saturday.
A controversial penalty in the last three minutes of a typical local derby denied Upton Athletic a share of the Throgmorton Charity Shield and added another trophy to Watcombe Wanderers' impressive haul from last season.
It was not the only debatable event in a match that was open and competitive throughout but featured its fair share of hefty challenges and heated altercations.
The game exploded into life from the whistle with three goals in the first 15 minutes, Lewis Woodmore converting Sean Finch's pass after just four minutes to put the Greens ahead. Upton equalised soon after, Ryan Hare (pictured with Watcombe's Pete Summerfield) capitalising on a slip by Wayne Bergin to win the ball in Watcombe's half before taking it around Scott Corderoy and firing home in the 9th minute. Two minutes later and a fine strike by Andrew Walker from the edge of the box found its mark with Watcombe's rearguard looking sluggish.
Then came the first real talking point, Stephen Woodcock racing out to meet the onrushing Louis Bergin leading to a collision which saw both players ending in a heap, Woodcock floored for a full five minutes. The decision to award the free-kick Bergin's way was greeted with disbelief by many, although the defender may have been penalised for coming out with his foot raised. Then Woodmore and Hare got involved in a barging match with the Watcombe defender then appearing to put a hand in the striker's face. But whether he saw it or not, referee Andy Distin decided to put both players in the book.
Upton started the second half on the front foot but after soaking up the pressure Watcombe began to play their best football of the match, Booth, Finch and Summerfield looking dangerous and Harvey having a shot cleared off the line. Upton seemed to have abandoned their usual passing game and were relying on long balls to Hare up front to extend their lead. Instead, Royston Carrington surged through on the right hand side and scored from a tight angle to level the match in the 78th minute. The odds were then stacked against Upton when Hare received his marching orders following a robust challenge. Watcombe brought on young Connor Finch and Luke Rhodes as they sensed the chance to complete the turnaround, but when Finch Junior went down in the penalty area in the 42nd minute, it was dependable Carrington who stepped up to blast home the penalty. To rub salt into their wounds, the usually unflappable Scott Davies was sent off after kicking the ball away in frustration following the penalty decision.
"We worked hard and showed if we battle we succeed. We've always got a chance in us," said Casey Cooper after the match.
Upton manager Steve Kingscote applauded Watcombe for their win, but was clearly unhappy with some of the decisions.
"There is always rivalry between these clubs and will be through the season. I think the referee could have dealt with things half an hour before. I don't think he had control of the game," he said. "But I don't take anything away from Watcombe who won it fair and square."
Another controversial penalty – this time awarded Upton's way – saw Lee Chamberlain score the first league goal of the season as Athletic travelled to East Allington United last Saturday. Andy Davis equalised in the second half for a Pirates side missing Tom Rowdon and Jamie Chamberlain but a late strike by Andrew Walker settled the points in Upton's favour. Upton now have an early chance to atone for their Charity Shield loss as they travel to Watcombe on Saturday afternoon.