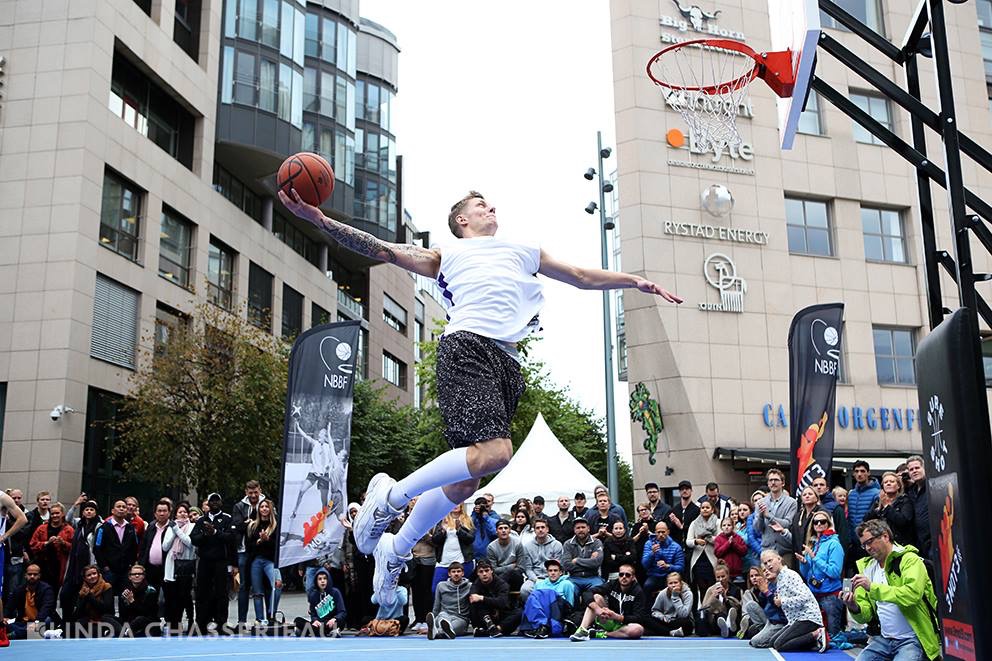 Live on Sky: Torquay Dunker Clark Aiming High
Pictures (c) and kindly provided by Linda Chasserieau. For more of Linda's work, please visit www.lindachasserieau.com
Broadcast globally via Sky Sports, tomorrow's British Basketball League Cup final will see Newcastle Eagles take on Leicester Riders at Birmingham's Barclaycard Arena. But there's a lot more going on than the match itself particularly for one South Devon sportsman.
"It's like an art form…It's all about the creativity and emotion." – Clark Agambar-Froud
Sandwiched between that match and the earlier final of the Women's British Basketball League Trophy is the BBL Slam Dunk 2016 competition, with Torquay dunker Clark Agambar-Froud representing the South West of England.
And the 25 year-old South Devon athlete is not just there to make up the numbers. He aims to follow up previous successes, which include winning the 2013 Kickz.com #Shutupandplay Slam Dunk Competition, by finishing in the top three – no mean feat since he will be up against Canadian slam dunk legends Justin 'JusFly' Darlington and Jordan 'Mission Impossible' Kilganon, both part of the prestigious Dunk Elite team.
In fact, Kilganon recently racked up millions of YouTube views for one slam dunk (see our Video of the Month).
"I would love to place this one," admits Clark who aspires to be England's first professional dunker. "I want to win, but realistically finishing first, second or third would be great."
So what is slam dunking all about?
"It's like an art form," explains Clark. "When you see professional divers, it's all about the creativity and emotion. Dunking is scored like that."
Each performance is given a score out of ten by a panel of 3-5 judges, and the dunker with the highest overall score proceeds.
Clark explained how the dunking scene has massively evolved over the past two years, pushed into a new direction by the Dunk Elite phenomenon.
"It's changed the game completely," he said. "It's very different to what you used to see in games. Now we'll catch the ball, turn around, throw it up, catch it, pass it through our legs, perform a 360…it's crazy."
And apparently you don't need to be a seven foot giant to compete:
"I'm not overly tall for a basketball player," says Clark, who stands a "mere" six foot two from the ground. "Some are six foot six or seven inches, but being a bit shorter can actually help with scores as the extra height needed looks more impressive."
We will be catching up with Clark later in the year to find out more so don't forget to like our Facebook page and select the option to receive updates, but for now we wish him the best of luck for tomorrow afternoon!
To see Clark in action, at around 2pm, Sky Sports subscribers will find a story on the home page of any Sky Sports platform. Everyone else can tune in via webcastsport.com. For more information on accessing the footage, see the dedicated BBL on Sky page.