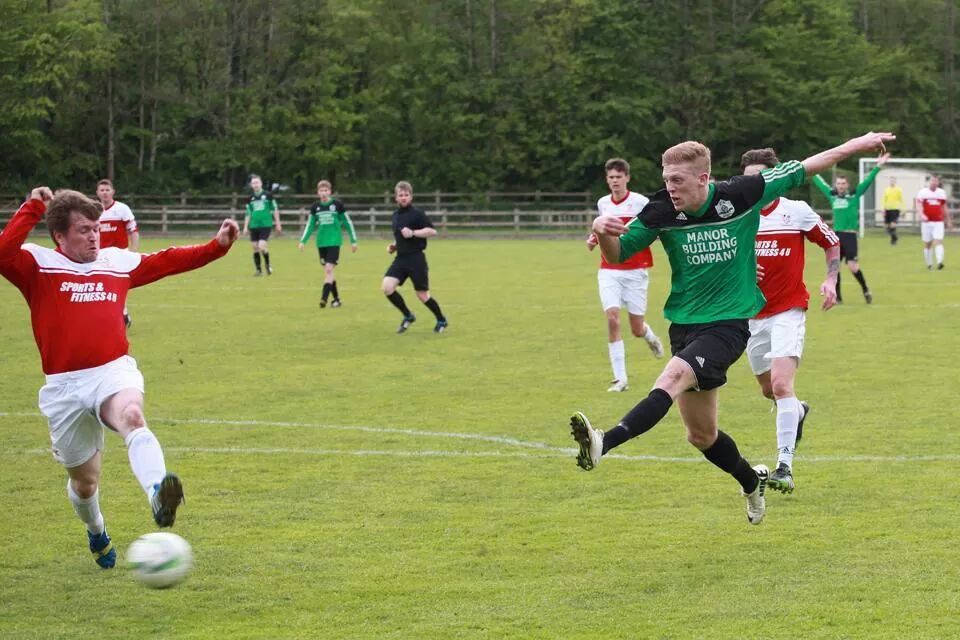 Les Bishop Cup: Watcombe Wagon Rolls On
ROSELANDS (1)1 – 2 (1) WATCOMBE WANDERERS RESERVES
Pictures (c) Pyramid Torbay Photography
Watcombe Reserves bagged the club's second trophy of the season with a narrow but determined win over Divison Four title rivals Roselands in the Les Bishop Cup.
Both sides arrived determined to play football, and the spectators were treated to a gripping match that belonged to a higher division. The game was played in the right spirit, and referee Paul Kent kept good control throughout.
Roselands signalled their intentions as early as the second minute, Lloyd Martin bursting forwards in the Watcombe half and laying the ball off to Max Prestwood who tested Ross Ireland's gloves. Three minutes later, Gary Aldous tried to find a way through while, at the other end Andrew Cousins headed away one of a series of long throws by Ashley Grimes. Roselands' tall striker Thomas Dunlop threatened for Roselands, but his shot following a corner was blocked by a tenacious Watcombe defence.  
The opening goal came on 18 minutes, Watcombe moving down the left and finding Jordan Finch (main picture) whose pace took him past his marker, enabling him to coolly slot past Luke Pillar.
Roselands immediately went on the offensive and as Ireland rose to intercept Marc Graham's free-kick, there were some claims that the ball had crossed the line. On 22 minutes, there was no doubt: Watcombe looked to have comfortably dealt with a Roselands corner when Gary Aldous received the ball over 25 yards out. His curling drive had enough lift to rise over the head of Ireland – marginally off his line – before nestling in the top corner
Watcombe then had several chances to go back in front, Joseph Mascilo's header from a Grimes throw finding Pillar, Simon Ross heading wide after Finch had ghosted past Danny Rainbow and Marc Graham to supply the cross and a sublime turn and shot by Zane Turner blocked by Roselands' defence.
There were few flashpoints in this match, but Mitch McMillan and Prestwood were involved in a heated exchange by the touchline and, soon after, the referee pulled out a rare yellow card after Andy Raybould was adjudged to have deliberately impeded a Jordan Finch run. One of Raybould's long balls from the back was headed goal-ward by Dunlop, and Prestwood won a corner which led to another headed chance, but Ireland was equal to both. The last chance of the half came to Finch, but pressure from Cousins was enough for the striker to fire wide of the mark.
A free-kick one minute into the second half gave Prestwood the chance to put Roselands ahead, but his shot sailed harmlessly wide, hitting the hoardings to the right of the Watcombe goal. The introduction of Sonwabile Mlenze in the second half added pace down the right for Roselands, and the excellent Alex Kidd did well to dispossess him. The ball fell to Martin Luker who mustered the first shot on target of the half. As Kidd, Grimes and Joshua Lowles dug in to defend their goal, Watcombe's goalkeeper seemed to be struggling with a knee injury. Roselands pressed harder, Dunlop firing wide and then blasting over with perhaps better options around him. Then Grimes' foul on Luker gave Graham the chance to try out a free-kick from the edge of the area, but his effort missed the target too. Watcombe's first effort of the half came soon after, Simon Ross's header saved, and a period of end-to-end play saw Mlenze's long-range shot blocked, McMillan produce a fine tackle on Prestwood and Kidd send in a great cross for another shot at Pillar's goal.
On 71 minutes, Finch had a gilt-edged chance to put the Greens ahead, but skied his shot with only the 'keeper to beat. Moments later, Mlenze looked to have fluffed his lines after beating McMillan, but the defender was penalised for pulling the winger back. Graham's free-kick and Luker's follow-up were both blocked by the resolute Watcombe defence. An innocuous ball into the Roselands box presented Finch with yet another chance for a second while Andrew Raybould's free-kick from inside his own half found its way through to Samuel Massey, whose shot was blocked and cleared the bar. On 79 minutes, Ireland dropped a corner, leading to a goalmouth scramble but still nobody could deliver the killer blow.
That blow came at the other end four minutes later. After hitting a free-kick narrowly over a minute earlier, Watcombe sub Luke Barton delivered a superb ball from another. It seemed to catch the Roselands defence napping as two Watcombe players slipped their markers, including former Roselands player Zane Turner, who glanced the ball home. Simon Ross nearly added another three minutes later, a clearly deflated Pillar nearly letting his shot slip.
Watcombe were forced onto the back foot for the last few minutes but when Connor Jones, drafted in as a late replacement for the injured Aaron Theacker, hit his shot wide from a corner, it became clear that the chance for extra-time had passed Roselands by.
 "It wasn't our best performance," admitted Jordan Finch after the match, "but we held out and luckily we pulled through and got the win.
"It was a very close game and Roselands are a very good team but I think we just did enough in the second half to top it."
 Finch admitted that the pressure of maintaining the club's success  was keenly felt: "The third's set it off, won the first cup, and it's come to us and now it's going to go to the first team. I hope they can cope with the pressure as well as we did."
Teams:
Roselands: L Pillar, M Luker, D Rainbow, A Raybould, A Cousins, M Graham, M Prestwood, T Dunlop, G Aldous, L Martin, S Massey (Subs: S Mlenze, C Jones, C Lewis, R Travnor-Smith, M Beech, S Staddon)
Watcombe: R Ireland, J Taylor, M McMillan, D Swift, A Grimes, J Finch, S Ross, Z Turner, J Lowles, J Mascilo, A Kidd (Subs: L Barton, Ad Uglow, B Lyon, C Bridger, Aa Uglow)
Sport South Devon Man of the Match :  M McMillan (Watcombe)