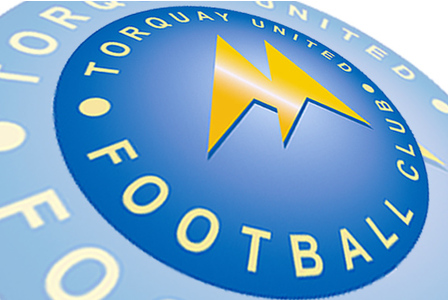 Hargreaves Starts Building
Torquay United manager Chris Hargreaves has started to build his squad for next season's campaign.
Local lad, Ashley Yeoman has agreed a new one-year deal to remain at Plainmoor for next season.
As with last year, Ash forced his way into the team toward the end of the campaign, scoring three goals over the closing weeks, including a dramatic winner against Bury and a thunderous strike in the victory at Exeter.
His performances in front of goal have merely reinforced the view that Yeoman is probably the most natural finisher at the club and the reward is a deal for the young striker to stay at the club.
''The summer has come at the wrong time, again,'' said Ash. ''It was the same last year because I didn't look like having a chance around February and March.
''I went out on loan to play some games and came back here for the end of the season. Fortunately, I scored some big goals in big games and that has obviously helped.
''I must admit I felt I may not get another deal when I was out on loan at Dorchester with just a couple of months left in the season, but the gaffer kept saying I was only on loan to get sharpness.
''I always knew I had a slight chance of being involved and the winner against Bury was probably a breakthrough night for me. I wasn't playing particularly well on the night but the ball dropped for me in the right place, and it was amazing to score.
''The goal at Exeter stands out for me as well because we were struggling at half-time. Courtney Cameron scored a great free-kick and then I just ran onto the ball, and smashed it as hard as I could.
''The excitement for next season is already starting to build and the day the fixtures are released is when you start picturing going to these places at different points in the year.''
In contrast in the striker department, Elliot Benyon have both been placed on the transfer list. Benyon's second spell at Plainmoor has not been as he would have planned and a lack of goals last season has not helped his case to be part of next season's squad.
Also new contracts have been offered to Goalkeepers Michael Poke and Martin Rice, as have midfielders Lee Mansell and Damon Lathrope, plus Niall Thompson. On the contracts offered Hargreaves said, ''They have all been offered deals that reflect the changing financial status of our club and our new position in the football pyramid".
''We are now making offers that we feel are realistic in the context of what happened last season and I want people to know that we are wiping the slate clean in terms of how we approach player contracts.'' added the United manager.
United have invited two talented youngsters back for pre-season following a trial game at Plainmoor on Monday.
The manager was extremely impressed with the pair, who showed terrific promise on Monday and with one a winger and the other a striker, it is an exciting development in the Yellow forward department.
''These are two very exciting prospects that are starting pre-season training with us,'' said Hargreaves. ''They both excelled in the trial game and will be in pre-season for us, with a view to signing next season. They both look like they could do some real damage in the Conference.''
In defence United have given Tom Cruise a chance to prove his fitness. ''Tom will be given the chance to prove his fitness in pre-season,'' said Hargreaves. ''I like him as a lad and I think he's got the potential to be a good player, but three games in 20 means he has to prove his fitness for us".
The United manager also this week released Danny Stevens and Ben Harding from his squad for next season, as he tries to bring league football back to Plainmoor at the first attempt when the new season kicks off on the 9th August.