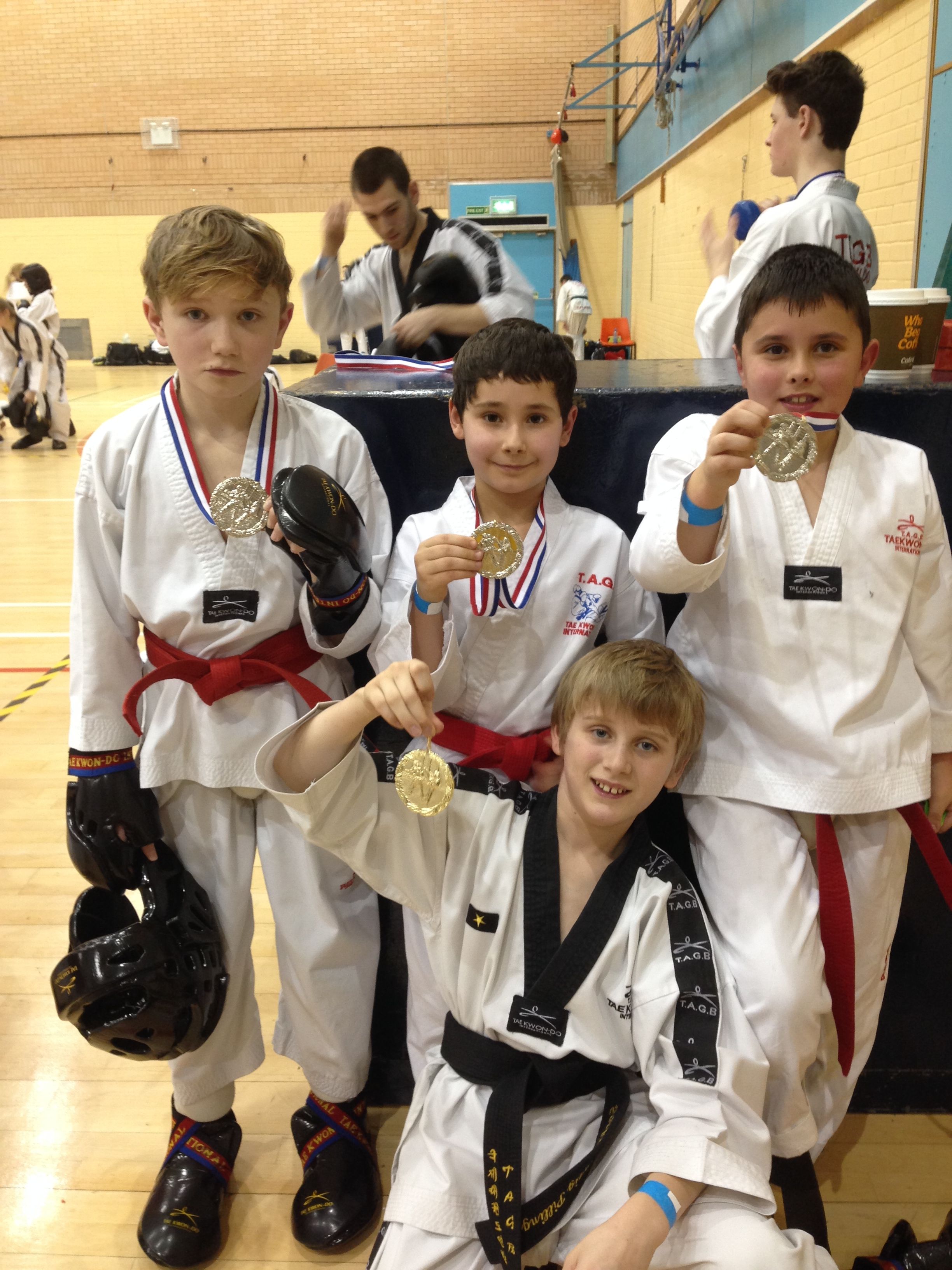 Great start to 2014 for Teignbridge Tae Kwon Do School
It has been a busy start for Peter O'Neill's MartialArts4Fun students with the South West Championships and the spring grading examination.
23 students took part in the challenging exam, in front of Master Michael Dew (8th Degree Black Belt). The school continues the high standards with a 100% pass rate and some students given special commendations for their high standards.
Chloe Pike and Tasha Harding received A-Passes, with Hannah Broughton, Rozanna Bond, Hayley Moon, Kevin McKenna, Rebecca Featherbe and Sophie Fischer being awarded a Plus-Pass for their efforts.
Chloe was also a first-time competitor at the South West Championships, winning a silver in the "Yellow Belts Patterns" category. Other performances to note were in the "Mens 1st Degree Black Belt Patterns" category where the Teignmouth students dominated and won all three medals! Well done to Sam O'Neill (gold), Kyle Foster (silver) and Connor Redman (bronze) for fantastic performances.
The remainder of the medals won at the Championships were:
Patterns – Gold for Giles Boon; Silver for Leanne Burrows, Taya Wills, Kevin McKenna and Jemma Carpenter; Bronze for Naomi Hall, Ivan McKenna, Hayley Moon and Oliver Chiplin.
Sparring – Gold for Leanne Burrows; Silver for Kyle Foster, Giles Boon and Sacha Einzig-Pilling; Bronze for Rachel Davis, Shawna Ball, Emily Cunniff, Taya Wills, Nathan Wills, Kevin McKenna, Ivan McKenna and Caitlin Harry.
Team Sparring – Gold for Jack Webb, Jemma Carpenter and Sacha Einzig-Pilling; Silver for Shawna Ball, Naomi Hall, Taya Wills, Leanne Burrows, Austin West, Oliver Chiplin, Nathan Wills and Alex Tabbron.
Finally, there was a gold in Hand Destruction for Michelle Bailey.
The above medal tally meant that the Newton Abbot branch of MartialArts4Fun finished the day in 3rd place overall with Teignmouth not far behind in 5th.
Everyone that took part gained valuable experience and all are keen to compete again in the next competition: the English Championships in March. Mr Peter O'Neill (5th Degree Black Belt), the senior instructor at MartialArts4Fun, said: "Well done to everyone for another successful grading, keep up the hard work. It is great to see so many students supporting the South West Championships. It had a great atmosphere as usual and it is brilliant to see how well our local clubs have done. Thanks go to all of the officials who helped the day to go smoothly and well done to everyone who took part."
More information regarding MartialArts4Fun Tae Kwon Do can be obtained by contacting Mr Peter O'Neill 5th Degree Black Belt on 07718 750390 or www.martialarts4fun.co.uk .