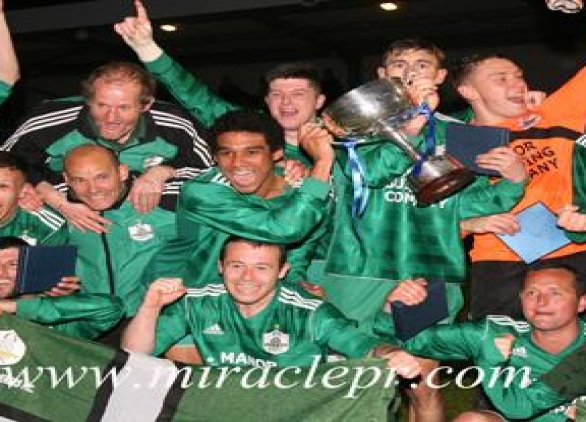 Watcombe Wallop Bucks in Herald Cup Final…
Watcombe Wanderers stormed to a convincing 4-0 victory over Buckland Athletic Reserves to claim their second Herald Cup as they prepare to make the step up to the SDFL Premier Division next season.
It was a repeat of last season's thrilling final, but this time Wanderers were at full strength, with their first team goalkeeper Ross Ireland and top scorer Sean Finch in the starting line-up. Buckland also put out a strong side, although Kain Bond was absent due to a shoulder injury sustained in the Devon Premier Cup final.
Straight from the kick-off, Wanderers went on the offensive, with Finch coming close with a header within the first minute. Then, with two minutes on the clock, Finch surged down the right. Danny Harvey couldn't connect with his low cross but Pete Summerfield did with clinical accuracy to give Watcombe an early advantage.
Buckland responded by going on the attack, winning numerous set-pieces, mainly corners, with Tom Armstrong delivering quality balls that the Premier champions just couldn't convert. Carl Roles came closest, with a header into the side netting from a corner. Jordan Havlin did his best to create some magic, but the defensive quartet of Luke Worth, Dan Redhead, Lewis Woodmore and Wayne Bergin were quick to close down any threat.
Watcombe were palying on the break, and always looked dangerous, Finch firing over and Summerfield clipping the bar with a well-placed chip over the advancing Chris Lanyon. With 27 minutes gone, Finch missed a golden opportunity to put Watcombe two up, controlling superbly before shooting over with the goalkeeper to beat. A minute later and the linesman flagged for a Buckland penalty, but referee Keith Hawkins overruled the decision. In a flurry of activity near the end of the half, Havlin came close with a header for Buckland, while Harvey was unlucky not to get a free-kick on the edge of the box after a foul by Lee Passmore. Moments later, on 39 minutes, Finch raced through the centre and slotted home to put Wanderers two up.
After the interval, Summerfield and the bustling Mark Broome came close before Passmore misjudged a Finch flick on, leaving Mike Fieldhouse clear to blast home a third with just eight minutes gone. Three minutes later and the referee was pointing to the spot after a foul in the box. With Summerfield having missed spot-kicks in the quarter and semi-finals, it was no surprise to see Harvey given the responsibility. He despatched expertly to the left of the goal to put the game beyond Buckland.
To their credit, neither side once took the foot off the pedal, with Broome and substitute Matt Beer firing over for Bucks and Lanyon tipping Taimak Wilson's shot over the bar. As the match neared its climax, Havlin and Broome continued to create half chances, while substitute Jordan Finch looked to capitalise on any breaks. The superb Lewis Woodmore continued to win his battle with the subdued Josh Webber, putting in a superb double tackle in stoppage time to ensure there would be no consolation for Bucks.
The final whistle was greeted with euphoria as Wanderers captain Dan Redhead lifted the Herald Cup aloft, with their opponents applauding in a heartening show of sportsmanship.
"They deserved it, every one of them," said joint manager Jerry Carter. "They didn't stop playing from start to finish."
The only disappointment was a suspected broken ankle for man of the match Pete Summerfield.
Official Man of the Match: Pete Summerfield (Watcombe Wanderers)
Sport South Devon Man of the Match: Lewis Woodmore (Watcombe Wanderers)
Pictures from the night will be available from MiraclePR.com at www.miraclepr.com
Teams:
Buckland Athletic Reserves – C Lanyon, C Mitchell, G Denbow, C Pople, L Passmore, R Mills, T Armstrong, C Roles (c), M Broome, J Havlin, J Webber (subs: R Harrison-White, M Beer, J Scotte-Hatherly, B Brown, G Yates)
Watcombe Wanderers – R Ireland, W Bergin, L Woodmore, D Redhead (c), L Worth, P Summerfield, M Fieldhouse, R Carrington, S Finch, D Harvey, N Dewdney (subs: C Cooper, T Wilson, P Reilly, K Finch, J Finch)
Officials:
Referee: K Hawkins
Linesmen: M Urban, R Hedges
Fourth Official: S Beer