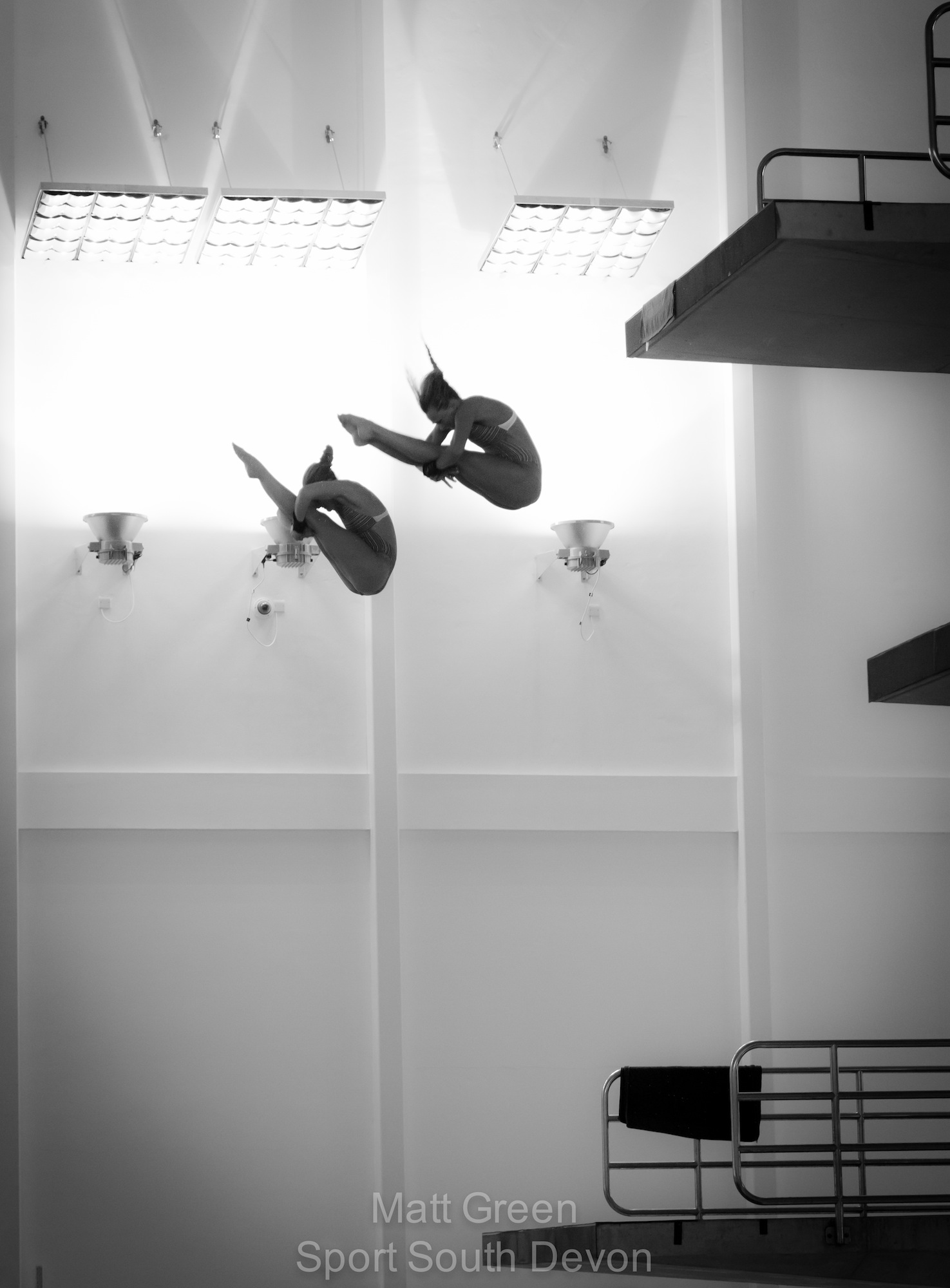 Fantastic Silver For Barrow & Couch
Sarah Barrow and Tonia Couch produced a fantastic series of dives to take home the Silver Medal in round three of this years World Series Diving Event in London.
Returning to the London Aquatic centre, the girls delivered 5 consistent dives and scored 321.24 points to beat of competition from Canada and Malaysia. Only the ever strong Chinese pair of Ruolin Chen & Huixia Liu beat the Plymouth duo from taking the Gold medal. 
After the opening two rounds the GB pair where in top spot, totalling 108 points, 4.80 points ahead of Chen & Liu. "Our required dives we're the best we have ever done", Couch Said, "which put us in first place and gave us the confidence for our other 3 dives" .
The GB duo, trained by Andy Banks, where also delighted with how the technically difficult inward 3.5 went in round three. "We executed the dive the best out of all the other competitors and it left us in a very strong place with two dives remaining" Barrow said. 
Speaking after the competition to Sport South Devon Barrow added "I'm really pleased with how the competition went, obviously because we won a silver! Preparation has been a lot better going into this event. This week we have been coming away from training pretty happy so that has improved our confidence. Our first two required dives were the best we have ever scored and we were really happy with how much we have improved on our synchro distances and timings over the last month. It was great being back in the Olympic pool, the crowd were amazing and so supportive!".
After 3 tough events the duo remain in 4th place overall in the series rankings but are now just 6 points behind current bronze medal placed Malaysia pair of Leong & Pamg.
Before heading off to London the pair told Sport South Devon that their aim was to be third after the Moscow leg of the series, well with this performance you wouldn't bet against their target being realised. 
Couch added, after sucuring the silver medal today, "I'm so happy to walk away with a silver medal with my synchro partner. We have trained so hard and focused on the dives that really needed work on. Our hard work paid off, it felt extra special to get a silver medal in front of the home crowd!".
The pair will now compete in Sunday's individual 10m Platform event and hope to take a One Two finish for Team GB, before moving onto Moscow for round four next week.   
Don't forget to look out for Sarah Barrow's exclusive blog with Sport South Devon, before the pair compete again in Russia.