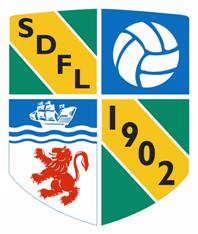 East Allington Share SDFL Top Spot After Scoring FOURTEEN
As rain decimated the SDFL fixture list, East Allington United took their chance to move level top of the Premier Division, sharing with defending champions Watcombe Wanderers. The Pirates pulled out their biggest win of the season so far – 14-0, at home to bottom team Bovey Tracey Reserves. The match was due to take place at Bovey's ground, but the weather forced a late switch to Poole Lane where conditions quickly cleared up to provide fine weather for the match.
East Allington scored seven in each period, Si Hannaford adding another four to this season's haul, Tom Rowden and Ben Robey scoring hat-tricks, Matt Price with a brace and singles for Andy Davis and James Ivatts. Despite the result, East Allington praised the spirit of their opponents, particularly given their agreement to reschedule the fixture at the last minute.
The only other surviving Premier fixture was at Windmill Hill, Rab Milligan's Waldon Athletic moving into the top four with a 4-1 home win over Loddiswell Athletic, Hammett with the Hoops' consolation.
---
In Division One, Newton Abbot 66 earned a point at Ipplepen Athletic to take pole position. It was a decent result for the Pens who seem to have steadied the ship after a poor start to the campaign. Totnes & Dartington Reserves pulled off a fine 3-1 win at Headlands as Broadhempston United suffered consecutive home league defeats. Teignmouth Reserves manager Nick Maynard was pleased with his side's performance as Teigns won 4-0 at Barton downs to climb above hosts Babbacombe Corinthians. The first half hour was closely fought but as the half drew to a close Teigns turned the screw and Jamie Bowen opened the scoring just before the break. With a very solid back five of Pearce in goal plus Craig Breslan, Moss, Shrubb and new signing Whatmore Teigns never looked flustered, letting the creative ability of Pilbro and Andy Breslan pull the strings in midfield and Procter, Bennett, Bowen and Fay to turn it on up front. This they did with man of the match Bowen getting another and Bennett and Andy Breslan making it 4-0.
---
In Division Two's sole fixture, on fire Ashburton stretched to four league wins out of four with a 7-2 win at Newton United. Webb scored a double and was joined on the score-sheet by Scott, Winter, Uglow, Westwood and Johnson; Jordan Armstrong and Liam McGrath netted United's consolation goals.
---
In Division Three, Liam Strong's strike at Bishopsteignton United was enough to preserve Watcombe Wanderers Reserves' hundred per cent record. Wanderers battled through a man down after Sam Edney was given his marching orders early in the first half. It's now five defeats on the bounce for Waldon Athletic Thirds, four in a row at home. East Allington United Reserves were the latest side to come away from Windmill Hill with the points, winning 3-0.
---
The top two were at home in Division Four. Leaders AFC Staverton cruised to an 8-1 triumph over nine-man Ilsington Villa; Dan Box and Steve Colville scored two apiece with goals also provided by Jon Parsons, Adam Slater, Dean Carns and Lee Clarke. Riviera United keep pace with a narrow 2-1 win at Whiterock, Scott Bastin's goal for visitors Meadowbrook Athletic insufficient to prevent a fourth defeat. Roselands Reserves lifted themselves from the foot of the table with their first win of the season, beating Polonia Torbay 7-1 on the rain-resistant surface at Paignton Community College.
---
In Division Five, Watcombe Wanderers Thirds enjoyed another good day, stretching their lead to eight points and ending Broadmeadow's flawless start with a 5-2 victory. First team regular Pete Summerfield found the net twice, as did Sam Pyne. Jamie Tozer was also on target as Wanderers became the first team to reach fifty goals, although they have also played more games than any other team. Barton Athletic took advantage of the defensive frailties of Newton United reserves, Anthony Jones' hat-trick helping the Torquay side to an 8-2 home win. Manager Czesiek Solecki weighed in with two and there were further goals from Shaun Minto and Jody and Frankie Rooney as Barton move up to third; Gutridge and Swann scored for United. Stoke Fleming & Strete climbed the table with their first success of the season. They defeated South Hams neighbours Malborough United 3-1 at Stoke Fleming Village Green.