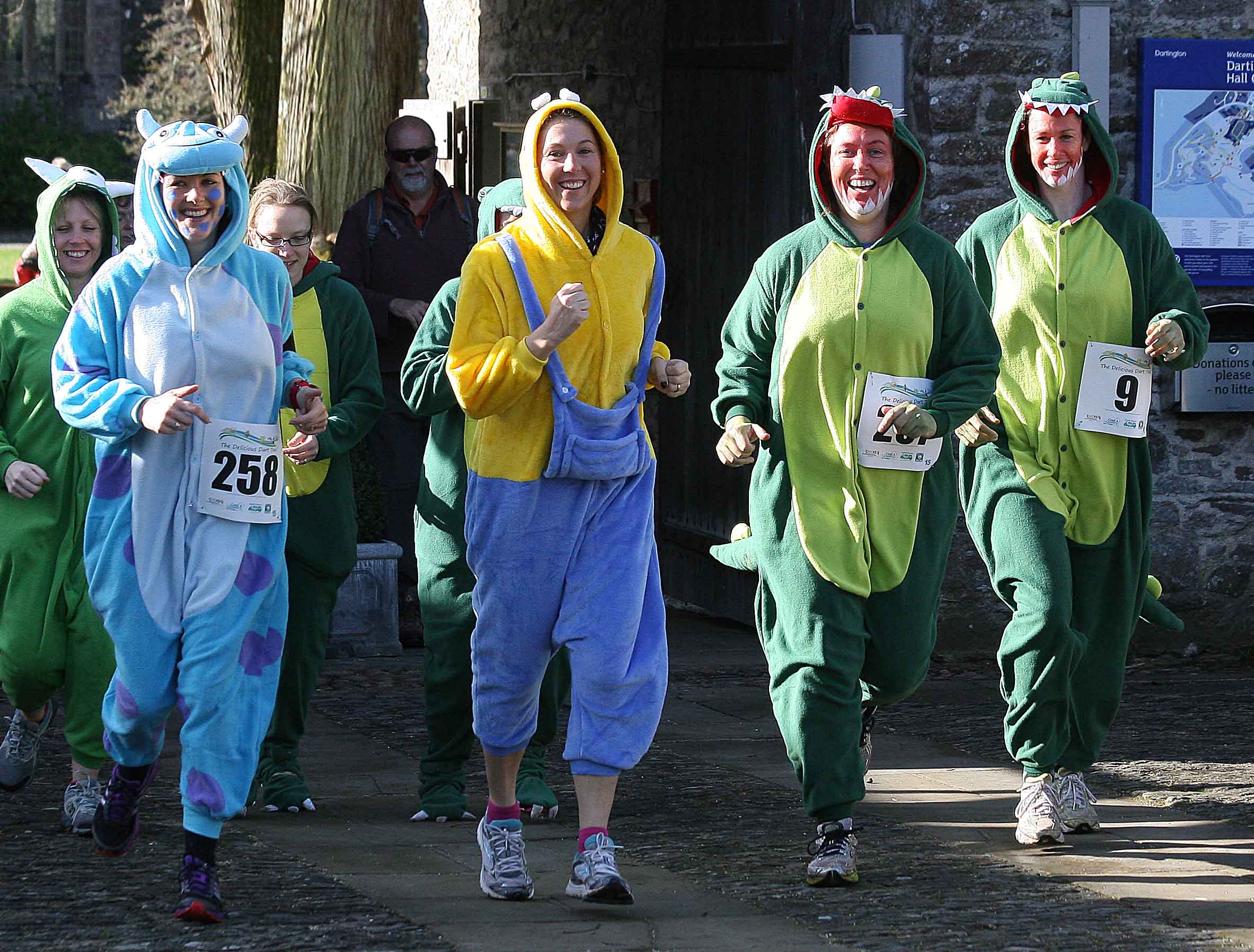 Delicious Dart II: Kate Unleashes Monster Sequel
Report by Neil Hocking of nhwriting and Sport South Devon. Pictures by Al MacPhee of MiraclePR
Driving through the narrow, undulating tracks on the approach to Dittisham, the country greens and browns are suddenly interrupted by a flash of fluorescent yellow. 'Caution: Runners' says the sign, indicating that my destination is near. Just as well, since the SatNav on my smartphone had stopped talking to me half a mile back.
Then, from a break in the hedgerow to my left, a couple of ladies dressed in a vibrant mixture of pink, yellow and turquoise chiffon emerge to cross in front of me. Moments later I'm taking a sharp left past a pub called the 'Red Lion' and there sits a welcome sight: a white minibus with the colourful kite logo and lettering of the CHICKS charity Yes, I am definitely on track.
"Turn left on to The Level and then turn left on to Manor Road". Great, at least Mrs SatNav is talking to me again, but 'The Level'? Whoever named that street had a sense of humour I think as I heave my car round another disorientating bend. But it's not long before I'm sauntering down the final hill towards the Ferry Boat Inn, and the waft of something delicious hits me in the nostrils.
It's Barry Dafforn-Jones From the Inn's Otter Bar – or more accurately it's Barry's sizzling paella sending heavenly scents across the stunning River Dart which has suddenly opened up ahead of me.
"We always like supporting charities," Barry said. "This is our very famous paella; it's got chorizo, chicken, prawn and mussels, all cooked from scratch. It took about an hour to cook; hopefully I've got enough to go round."
To give you an idea of the surreal environment I've rolled up to, imagine a scene from Mos Eisley spaceport canteen in Star Wars – and transpose it to the banks of the River Dart. Barry's capacious cauldron is surrounded by all manner of weird and wonderful creatures: an Egyptian mummy exchanges pleasantries with a black leather-clad superhero (or villain) with red spikes protruding from its head; two gargantuan monsters with huge flapping mouths chase children across the ferry pontoon; a gaggle of fraggles sing the old theme tune to anyone who will listen and a man strolls into the pub wearing his internal anatomy on the outside like an escapee from a von Hagens exhibition.
Welcome to the Delicious Dart Trail, one of the more colourful (and indulgent) runs on the annual racing calendar. Based on a continental blueprint, the trail starts at Dartington Hall before winding its way through the South Hams to Dartmouth, stopping off at a number of local eateries and purveyors of fine beverages along the way. All proceeds go to charity which this year is CHICKS (more about them later).
"A CHICKS break inspires new confidence, nurtures self-esteem and sparks new motivation and enthusiasm for life" – Jo Smith-Scott (CHICKS Fundraiser)
Back to Dittisham, and fortunately one of the beings, a green-clad alien-type seems to be in charge of proceedings and turns out to be none other than race marshal Liz Maynard; I asked her how things were going on her patch.
"People are just starting to arrive, and everyone seems happy," Liz told me. "Last year was such great fun that I was happy to volunteer again. I get off quite lightly, but Kate and Steve got about two hours sleep and were out at half past nine putting out markers."
Ah yes, Kate. That would be Kate Treleaven, event organiser and general whirl of infectious enthusiasm and it's not long before Kate is on the scene, herself dressed up as a colourful spotty beast. Beneath the colour and the fun; the drink and the revelry there is a huge amount of organisation that has co-ordinated vendors, marshals and runners. I wondered how Kate seems to manage it all with the air of someone who's just organised a friendly get-together at the pub.
"I used to work for a company that organises trail events and one that organises literature festivals so I guess it's ingrained. This event was inspired by one I had done myself so with that first-hand experience of knowing what works and what doesn't it worked well.
"This year, the relationships were already set up with most of the businesses so it was just a case of getting hold of them and saying let's do it again. Some producers were actually coming to me to ask to get involved, so that was easy."
I asked Kate what the most challenging aspect of organising the event had been.
"On the day communications between 12 different stops," she said. "Quite often the stops have two to three businesses involved and keeping touch in an area where there is very little mobile signal was challenging.
"But we have a little system where the stop phones ahead to tell the next stop that the runners have arrived, and that worked very well today."
"It was a little different from last year. We had more numbers, over 350 this year, more people dressed up in fancy dress, which was incredible, but also the route changed a little. We had a couple of different stops due to one pub being shut for refurbishment and another one closed for good: we went to the Watermans Arms in Ashprington and we went to Fingals Hotel.
"People especially liked that I cut out the big hill at the end, at Kingswear, and they could finish at the station."
As mentioned above, the charity this year was CHICKS and Jo Smith-Scott gave us the lowdown on the organisation:
"CHICKS is a national children's charity that provides free respite breaks to disadvantaged children from across the UK – children that live in poverty, suffer abuse, are young carers or have lost parents.
"For the children we help, a CHICKS break inspires new confidence, nurtures self-esteem and sparks new motivation and enthusiasm for life. More than anything they have fun, enjoy being children and make some happy memories."
If you would like to find out more about CHICKS and how you could get involved in volunteering, fundraising events or how to donate please visit www.chicks.org.uk
Although there are no first-finishers' prizes on offer for the Delicious Dart, Kate does award three prizes.
"There was a lady who had painted Monsters Inc. characters on all her team-mates' t-shirts so I gave her the fancy dress prize not just for her own effort but for creating 15 others."
"The top fundraiser was Victoria Starr who raised over £420 personally for CHICKS (of over £5,000 expected overall). She wins dinner, bed and breakfast at Soar Mill Cove Hotel near Kingsbridge."
"Embracing the spirit of the trail went to East Essex Triathlon Club who arrived dressed as pirates, all with different abilities but enjoying sport together."
I spoke to one of the raucous motley crew, who arrived en masse waving flags and rending the air with pirate cries.
"It's a good social event and a great cause," the corsair otherwise known as Peter Harley said. "One of the running club members spotted the event so we signed up 24 runners to come down."
Not all runners had come so far of course. I spoke to Carol Sells and Jan Pryor from Brixham Harriers who wholeheartedly recommended the event to other runners.
"Quite a few have signed up from Harriers. A couple of ladies from our club did it last year, but this is our first one. It's for a good charity, it's local and we've been so lucky with the weather."
Not if you're a member of the undead though. I plucked up the courage to approach one of a group of vampires, who fortunately turned out to be none other than Ian Lynch Of the Haldon Trail Runners.
"We all dressed up as Dracula at the start, but with all the sweat all the make-up has come off, so we probably all look quite normal now," laughed.
Well, maybe if you're of the goth persuasion…
"It's a great day out and a wonderful place," Ian added . "Everybody turns out and cheers us on, so it's a fantastic atmosphere. Well done to the organisers."
While some competitors were attracted by the costumes, the weather and the free food and drink, others had a more serious objective:
"I'm training for my first London Marathon in April," revealed a nearby fraggle – aka Crispin Brabner.
Whether all of the runners actually emerged from the Ferry Boat in time for one of the remaining actual ferry boats to Dartmouth I couldn't say for sure – some seemed quite comfortable in the Inn – but for those who did, there was still one more culinary treat to savour: a tray of the nation's favourite dish from the Rockfish in Dartmouth.
Our hard-working snapper, Al, followed the runners all the way from Dartington to Dartmouth, so if you want to gain a glimpse into the event – or relive it – please browse the photo gallery by clicking any photograph or this link: https://miraclepr.photium.com/delicious-dart-trail-2014
And if we've tempted you into running this event next year (there's also a similar event planned for Tavistock in October), contact Kate through the Delicious Dart website.