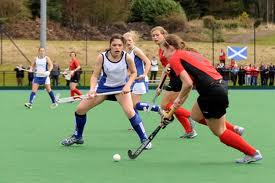 Countdown to 65th Torbay Easter Hockey Festival Begins
The 65th Torbay Easter Hockey Festival takes place in the South Devon area from Friday 3rd to Monday 6th April .
There will be 15 participating teams this year – one up from the 2014 Attendance – and including three newcomers: The University of the West of England, Southgate (London) , and the London Branch of St. Andrews University Alumni will all be sampling the delights of an Easter in Torbay for the first time .
However , the vast majority of the teams (nine) will have exceeded 50 years of attendance , with a further one on 49 .
With the Headquarters again being the Redcliffe Hotel, Paignton, teams will play on three pitches: Clennon Valley Leisure Centre , Torquay Girls Grammar School and Dawlish Leisure Centre.
 Friday's Opening Flag Raising Ceremony, by Festival President Ms. Nicole Amil, is set for 9.45 am, followed by the Official Bully off between Council Chairman, Councillor Jane Barnby, and Miss Torbay .
A Civic Reception for team captains and secretaries takes place on the Saturday and will also be attended by players (and their partners) who have been attending the Festival for 25 years.
2014 winner of the Bill Stickles Cup (awarded for the highest scoring team) were the Stags (West Bromwich Hockey Club), with 30 goals, while the Redcliffe Fair Play Cup was won by the Pink Panthers (Torbay Hockey Club and Friends).
[box]
Contact Details:
Tel: 01803 526397
www.torbayhockeyfestival.org.uk (includes a list of teams and full fixtures)
[/box]